StanChart bullish on BRI gains
People's Daily
1558360836000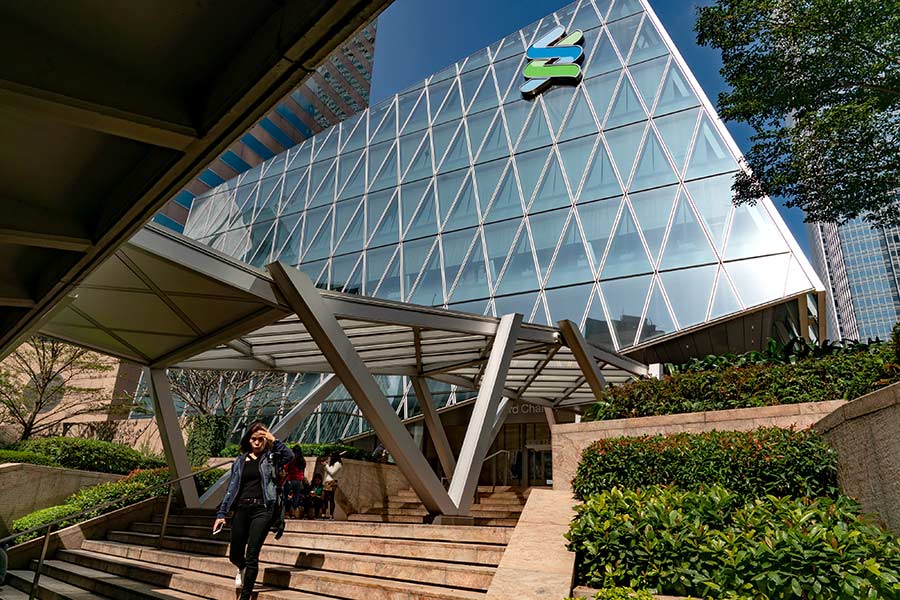 Pedestrians walk past the Standard Chartered Wealth Management Centre in Hong Kong. [Photo/Agencies]
Group chairman stresses need for multilateral ways of engagement
Emphasis on quality over quantity of projects and multilateral ways of engagement are two critical talking points for the Belt and Road Initiative, which has entered into a new stage, said Jose Vinals, group chairman of Standard Chartered Plc.
"Instead of thinking of a China-recipient country relationship, think of a relationship between many international parties that are the best at what they do and can provide the best contribution to particular projects," said Vinals during an interview outside the Second Belt and Road Forum for International Cooperation last month.
"I was impressed by some of the things President Xi Jinping highlighted in his speech at the forum, like the openness and the inclusiveness of the Belt and Road Initiative," Vinals added. "This is not an exclusive 'China club' but something open to all parties to join and benefit from.
"I was also inspired by his remarks on the importance of a multilateral approach to the Belt and Road Initiative, bringing on different parties to contribute something important. His emphasis on the need to ensure the commercial and financial viability of projects, good governance, and environmental sustainability was particularly compelling."
Standard Chartered was involved in a $4.3 billion concentrated solar power plant project in Dubai, where the bank worked with the Industrial and Commercial Bank of China, the largest commercial lender by assets in China, on the financial side.
Participants of the project also included a US equipment supplier, a Spanish solar plant supplier, a Saudi Arabian operator and a Chinese contractor. By working together, the bank was able to create a sustainable project to provide energy to several hundred thousand people in the United Arab Emirates.
"If high standards of governance are systematically applied, the Belt and Road Initiative can really materialize into enumerating a new wave of globalization, which is more inclusive and more effective, not just for recipient countries but also for the entire world," Vinals said.
Chinese enterprises and their peers in developed countries complement each other with broad prospects for cooperation in infrastructure, energy, environmental protection and finance, according to EY, a company that provides advisory, assurance and tax services.
Alex Zhu, investment and M&A services leader of the EY B&R Task Force, said: "We expect that third-party market cooperation under the BRI will become a new driving force for deepening the economic and trade relations between China and developed countries."
A report released by EY last week shows that in the first quarter of 2019, China's non-financial outward direct investment to Belt and Road countries and regions amounted to $3.8 billion.
The attractiveness of Belt and Road projects has to do with the projects being bankable or investable in terms of the relationship between risk and return, so the ability to identify risks of the projects and to use methods to mitigate those risks is very important, Vinals said.
Standard Chartered has developed a systematic approach to analyze all types of risks involved in Belt and Road projects, including risks related to financial crimes and the environment.
The bank has worked with the Multilateral Investment Guarantee Agency of the World Bank Group to provide political risk insurance to Belt and Road projects. It also works with the International Finance Corporation, the Asian Infrastructure Investment Bank and similar organizations to bring in blended finance.
Last month, Standard Chartered signed a memorandum of understanding with China Export& Credit Insurance Corporation, commonly known as Sinosure, to promote collaboration on providing comprehensive "insurance plus financing" solutions to facilitate the BRI. It also signed an MoU with the Export-Import Bank of China to establish a strategic cooperation relationship under the BRI.
Standard Chartered has business outlets in 45 Belt and Road markets. In 2018, the bank and its partners facilitated financing for nearly 100 Belt and Road projects, of which the total sum exceeded $20 billion.