Ancient city of Xi'an resumes cross-province group tourism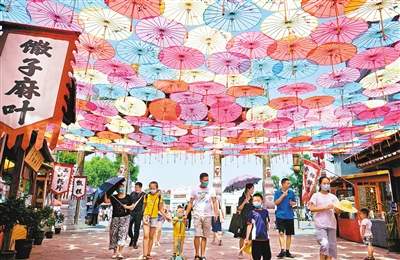 Citizens and tourists visit a scenic spot in Xi'an. [Photo/xiancn.com]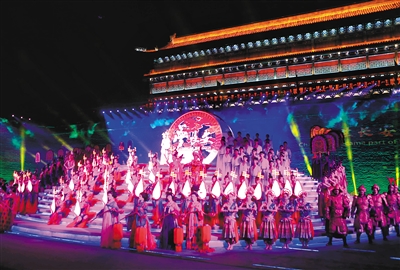 A performance featuring culture from the Tang Dynasty (618-907) takes to the stage in Xi'an. [Photo/xiancn.com]
Xi'an, the capital of Northwest China's Shaanxi province, resumed cross-province group tourism on July 19, according to a news conference held by the city's municipal government on the day.
From July 19, more than 570 travel agencies and online travel companies in Xi'an were permitted to resume cross-province group tours and 135 cinemas will reopen in an orderly manner from July 20.
In order to meet the strict requirements for the prevention and control of the COVID-19 epidemic, scenic spots in Xi'an will adopt related measures, and the tourist reception volume shall not exceed 50 percent of their maximum carrying capacity.
The city will also launch a series of cultural tourism activities for citizens and tourists, to meet the cultural and tourism needs of different groups.
Starting Aug 1, the Tang Paradise, Louguantai Ecological Cultural Tourism Resort and over 80 percent of the museums at all levels will be open to the public, free.
Xi'an will also hold a dance festival, a music festival and organize outdoor performances for the Xi'an Symphony Orchestra.
Promotions such as free tickets and discounted tickets will be launched for different groups, allowing more citizens and tourists to enjoy a better visual feast in the city.