Online retailers expand into lower-tier markets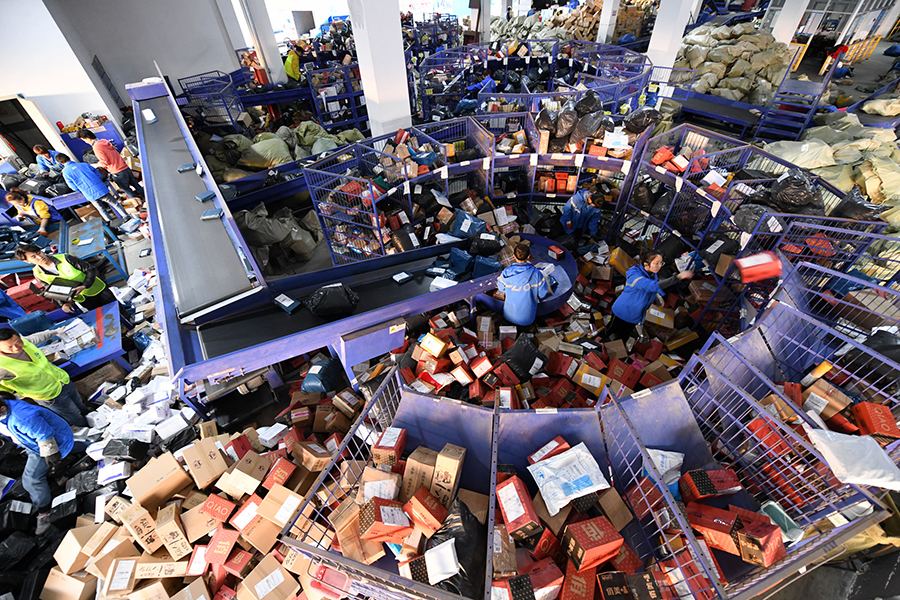 Employees of a logistics company sort packages in Weifang, a third-tier city in Shandong province. (Photo: China Daily)
Move marks next wave of consumption demand as shoppers in smaller cities seek high-quality and imported products
China's next big wave of consumption is likely to occur in the lower-tier cities, as consumers living there put more emphasis on high-quality and imported products, along with improvements in living standards and rising disposable incomes.
Major Chinese online retailers are accelerating efforts to expand their presence into the country's lower-tier markets to further unleash consumption potential, partly owing to the flattened growth of online shopping in first-and second-tier cities, said industry insiders.
Chinese e-commerce giant JD said its orders from third-tier cities and below surged 60 percent year-on-year during this year's Singles Day shopping spree from Nov 1 to Nov 11, and more than 70 percent of new users placing orders on JD came from lower-tier cities.
Xu Lei, chief executive officer of JD Retail, said the user growth rate from third-to sixth-tier cities is higher than that from first-and second-tier cities.
JD launched a social e-commerce platform named Jingxi in September, providing coupons and incentives on team purchases to target users.
Shoppers can share an item with friends to gain major discounts, or simply join an ongoing group buying deal on the app. It also offers flash sale deals and goods at bargain prices.
Jingxi is an upgrade from its predecessor JD Pingou, which mostly targets Chinese female consumers and small-city shoppers with low-priced items.
From Oct 31, Jingxi users could access the service through WeChat, Tencent's popular social media platform. Nearly 60 million products were sold on the first day. Female consumers accounted for 62 percent, and the new users from third-to sixth-tier cities made up about 74 percent of the total new users.
In addition, quicker delivery and improved infrastructure have helped to improve the efficiency of transporting goods. JD Logistics, the logistics arm of JD, is beefing up its presence in lower-tier cities to offer fast and efficient delivery services.
"We will continue to open our logistics services to third-party clients and enter more fourth-to sixth-tier cities and townships, where orders can be delivered right to the customers' homes within 24 hours," said JD Logistics CEO Wang Zhenhui, while noting the improvement of logistics efficiency will give a big boost to the wholesale and retailing of its products.
Wang added along with the enhancement of logistics and infrastructure, the consumption in these lower-tier cities will rise further. Moreover, the cost of logistics is also dropping due to the company's fast expansion into these cities, especially the grouping of a large number of third-party orders, he added.