Xi'an forum promotes Sino-French cultural exchange
Global Times
1567083571000
As they waited and chatted on Monday night in front of a traditional folding screen before the ancient Yongning Gate in Shaanxi Province's Xi'an, once the capital city of the Tang Dynasty (618-907), the French guests coming for the third China France Cultural Forum had no idea what was in store for them. As the welcoming ceremony kicked off with dancers dressed in traditional Chinese garb, the guests, which included former French prime minister Jean-Pierre Raffarin, whipped out their phones to record the stunning performance that called back to the royal welcome the Tang court would hold for their foreign guests more than 1,000 years ago.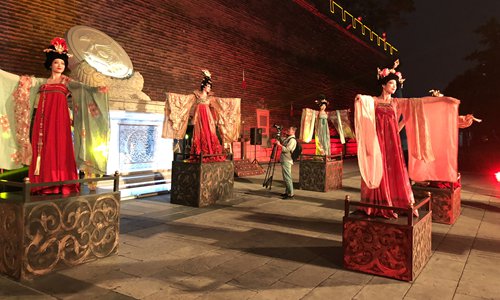 Dancers perform a Tang Dynasty ceremony to welcome foreign guests at the China France Cultural Forum in Xi'an, Shaanxi Province on Monday. (Photos:Global Times)
Cultural bridge
Xi'an, which was the starting point for the ancient Silk Road in China, has a rich history with France in terms of culture.
Jia Pingwa, one of Shaanxi's most renowned writers, was awarded with the French Order of Arts and Letters in 2013, while the Cannes International Film Festival has been a great event for Zhang Yimou as the Xi'an-born director has received three nominations and two awards at the festival. The French city of Lyon is also one of the terminus points of the ancient Silk Road in Europe.
The idea for the cultural forum came about after Chen Zhu, chairman of the Western Returned Scholars Association, and Raffarin agreed in March of 2015 to launch a non-governmental and non-profit platform dedicated to continued cultural communication between the two countries.
The first forum was held in Beijing in 2016 and then moved to Lyon in 2017 for the second. The fourth forum is scheduled to be held in the French city of Nice next year.
Taking "Belt and Road: Cultural Heritage and Innovation" as its theme, the three-day forum includes sub-forums about museums, cultural heritage, education and design as well as exhibitions and dialogues between mayors of major cities in China and France.
Cultural experiences and dialogues have always been an effective way to boost mutual understanding.
At the opening ceremony for the forum on Tuesday, French Ambassador to China Jean-Maurice Ripert noted that language and culture are the basic starting points for countries to get to know and respect one another.
According to the ambassador, France currently has a series cultural projects underway in China including the Pompidou Centre's new Shanghai gallery and the Rodin Museum's new project in Shenzhen.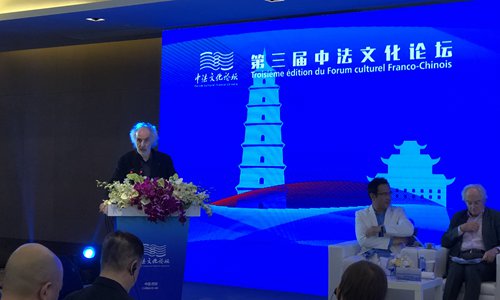 Architect Peter Andreu speaks at the forum in Xi'an on Monday. (Photos:Global Times)
Harmonious architecture
During the Dialogue between China and France Culture Masters on Monday, culture scholars from the two countries, including Chinese architect Zhang Jinqiu and her French counterpart Paul Andreu, gathered to discuss topics such as urban design and how to promote tourism while protecting local communities.
Zhang - the designer of China's first modern museum, the Shaanxi History Museum - noted that the most important principle in Chinese philosophy when it comes to architectural design and urban planning is ensuring people remain connected to nature, which is why he considers Chinese gardens to be the best way to bridge the great outdoors and urban life.
Paul Andreu, who is renowned in China for designing the landmark National Centre for the Performing Arts in Beijing, pointed out that half of the world's people live in cities, and that the number of urban residents continues to grow.
For this reason, he feels that it is impossible and also unnecessary for everyone to go back to living in nature. For him, getting back to nature doesn't mean actually living surrounded by nature, instead it means people should learn more about how the natural world works and then show respect for it by living with nature in a harmonious way.
East meets West
Sharing a nation's intangible cultural heritage is also a great way for cultures to learn more about one another. For this reason, the forum has invited 19 Chinese handicraft masters to display traditional arts such as snuff bottle painting, pottery making and embroidery.
According to Zhang Tieshan, a veteran snuff bottle painter, the art form originated in the West as snuff bottles replaced the snuff boxes that Westerners often used. During the Qing Dynasty (1644-1911), as trade with the West reached an all new peak, snuff was gradually accepted by the general public in China. A new art form combining Chinese and Western painting styles was born as carrying around highly decorated snuff bottles, which are painted on the inside, became a major trend among the wealthy.
"I am very fond of Chinese cultural works with delicate design and craftsmanship. I am expecting to visit their studios one day and see how they make it," French artist Emmanuel Michel told media while speaking at a forum related to the snuff bottle exhibition on Monday.