Russian Embassy hosts book launching event
Global Times
1581598284000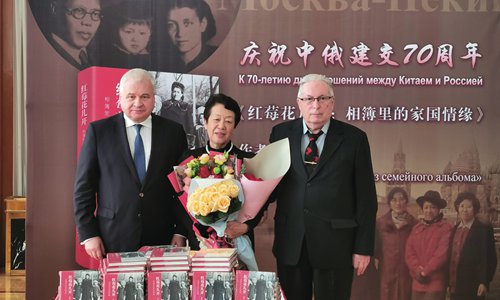 Russian Ambassador to China Andrey Denisov (left), Li Yingnan (center) and Li's husband pose for a group photo at the event. (Photo: GT)
On the occasion of the 70th anniversary of the establishment of diplomatic relations between China and Russia, a book launching ceremony took place at the Russian Embassy in China on Thursday, drawing the participation of diplomats, media and friendly groups. The book is about the stories of several generations of a cross-cultural family of Li Lisan, a leader of China's labor movement during the 1920s under the Communist Party of China, and his Russian wife Lisa Kishkin.
In the welcome speech by the Russian Ambassador to China Andrey Denisov, he talked about the important meaning of the book and said that he was honored to be invited to write the preface for the book, becoming the second man who had the honor to do so after famous Chinese writer Wang Meng. "This is also a special day, because this is the annual ceremonial day of the October Revolution in 1917," said Denisov. "Although it's winter time now but it is still warm outside. I believe that it is a good sign."
The famous translator and Li's daughter Li Yingnan attended the event together with her family members. Li introduced the book and expressed hope that the book will make contribution for deepening cultural exchanges and understanding in bilateral ties between China and Russia.