Mountain county tackles poverty with tourism
Discover Shannxi
1600930193000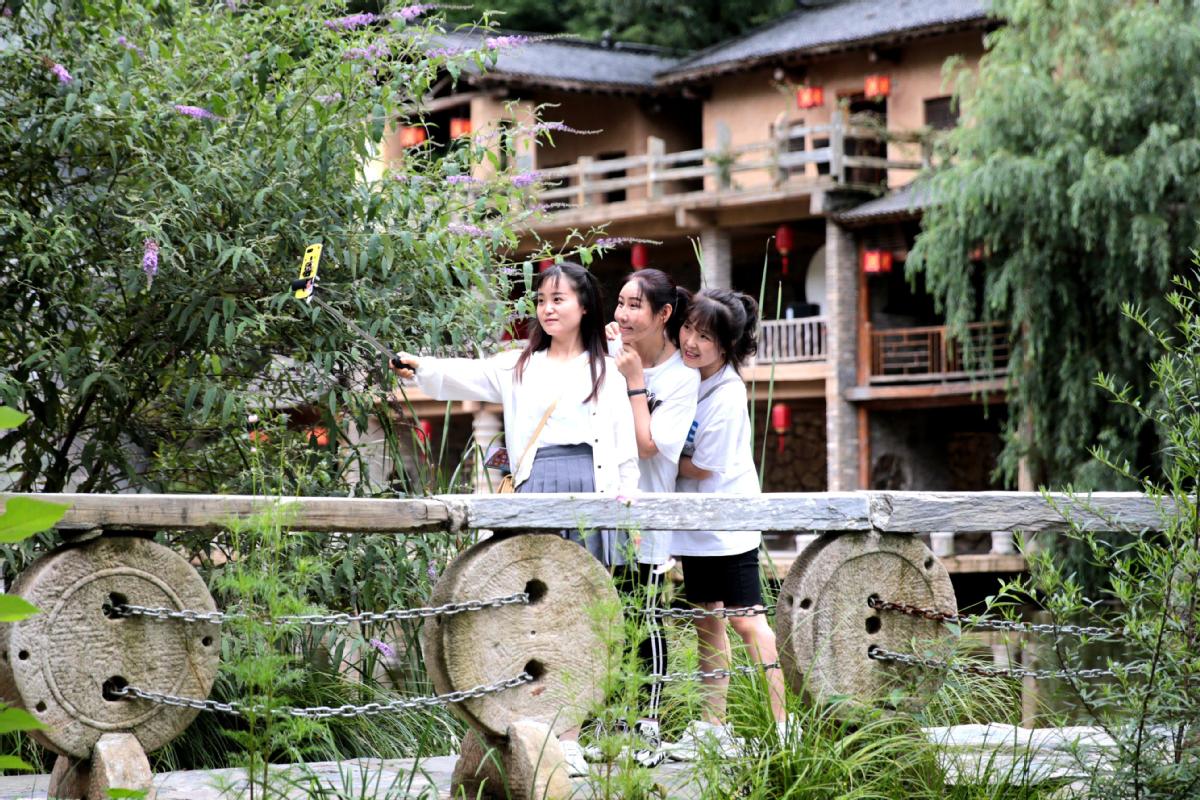 Tourists visit the Niubeiliang National Forest Park in Shangluo, Shaanxi province, in July. ZHANG YUAN/CHINA NEWS SERVICE
The development of tourism at Niubeiliang National Forest Park in the Qinling Mountains has brought wealth to residents nearby and lifted many of them out of poverty.
Located in Zhashui county of Shangluo city, Shaanxi province, the forest park is well-known for its beautiful scenery with green mountains, clean waters and fresh air.
It has attracted tourists from all over the country, especially from Xi'an, Shaanxi's capital city, which is only 70 kilometers away, and the arrival of tourists has spurred nearby residents to start farm stay businesses, offering lodging and accommodation, said Meng Ruyi, deputy director of the culture and tourism bureau of Zhashui county.
"Of some 500 farm stay businesses in the county, about 300 are near the park," he said, adding that the jump in tourism in the park in recent years has greatly boosted the income of residents.
The average annual revenue of each farm stay business near the park reached 200,000 yuan ($28,700) last year, he said.
Hu Pingzhi, Party secretary of Zhujiawan village, which sits at the foot of the park, said 216 households in the village, including 28 impoverished ones, have started farm stay businesses over the past two years.
Before that, many of the villagers made a living by doing farm work at home or temporary construction work in nearby villages.
"Now, by operating the businesses, their life has been greatly improved," Hu said.
Liu Taiqing, a resident of Zhujiawan village, is such an example. As the only bread winner of his family, he used to work in other villages as a construction worker, earning no more than 5,000 yuan a year.
In June 2016, he renovated his home and made it into a farmhouse with the help of the local government, and the living standard of the family has been gradually improving ever since.
Now serving 80 guests at most a day, the net income of his farmhouse could reach 50,000 yuan a year.
"Previously, my family seldom ate eggs or drank milk because we couldn't afford them. Now we have them almost every day," he said. "What's more, I can earn money without leaving home, which is totally beyond my imagination. I'm so happy with my current life."
Villager Wang Xianfeng, 42, had similar feelings.
Before opening her own farmhouse, she did manual labor, including moving bricks in a factory, to earn money and assist her husband, who lost the ability to work in an accident more than 10 years ago.
She worked very hard, from 10 am to 10 pm every day, but their annual income was only 7,000 to 8,000 yuan back then.
"I had a bad time then, and calluses appeared on my hands occasionally," she recalled.
Now cooking dishes at her own farmhouse in the day time, Wang can earn 70,000 yuan a year. The improvement of income and living standards made her feel fulfilled.
"It's far better than before," she said. "I hope that I could achieve more in the future via operating the farmhouse."
According to Meng from Zhashui culture and tourism bureau, before President Xi Jinping made a visit to the park in April, about 750 trips were made to the park each day. Now the number has increased to 2,000 a day, despite the fact that the impact of the COVID-19 outbreak hasn't faded away.
To ensure the sustainable development of the tourist destination, Meng said the Zhashui county government has taken a series of actions, including collecting information on all trees more than 100 years old for better management and protection, and installing infrared cameras to supervise tourist behavior and stop them from harming plants and animals.