Ghanaian cocoa processor foretastes prosperous future of China-Africa trade relations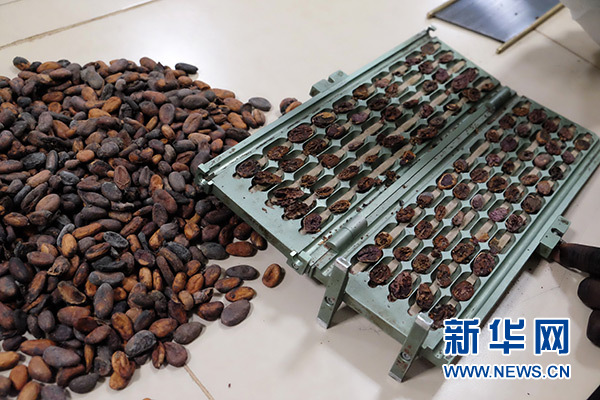 Photo: Xinhua
As China grows into a huge export destination for African countries, some local manufacturers have started seeing signs of the great benefits which await African entrepreneurs who are ready to invest in the production of goods that are on high demand in the Chinese market.
The maiden China International Import Exhibition (CIIE) held in Shanghai in November 2018, for instance, proved to be a big stepping stone for Niche Cocoa, a privately owned Ghanaian cocoa processing company, into the opportunities in the Chinese market.

"The fair was a very important one for us, as a business and for Ghana, in terms of the cocoa products markets. Clearly, it exposed us to more customers and great opportunities," Quality Controls Manager Francis Kanga told Xinhua.

Initially, he said the company had been exporting mostly cocoa cake to China but has its participation in the 2018 CIIE, added finished products such as confectioneries to its exports to China.

The indigenous cocoa processor which started a business in May 2011 with a 15,000 metric tons capacity per annum grew to 60,000 metric tons over the years as demand kept growing.

"One key thing we have seen after the exhibition is actually a huge demand for the natural cocoa powder and alkalized cocoa powder," said Kangah.

He added that customers, particularly from China, have been "knocking on our doors regarding the alkalized cocoa powder, which I can confidently say resulted from our participation in the CIIE in 2018."
With the increasing demands also came the need to increase the capacity to be able to satisfy the growing market. A new 30,000 metric tons production capacity will come on stream to be dedicated before the end of 2019 for alkalized cocoa powder alone, to take total capacity to 90,000 metric tons, the largest in Ghana, said the quality control manager.

On a continent where indigenous entrepreneurs find capital mobilization difficult, Niche has been able to secure the support of international financial institutions, especially FMO the Dutch development bank of the Netherlands which has supported the company's expansion work.

The Dutch institution has also supported the strengthening of the corporate governance structures of the free zones company, which has also ventured into the production of chocolate bars, instant cocoa drinks, and other finished products.

The company hopes to add 100 additional hands to the existing 450 employees when the additional plant is commissioned in December.

"I think that from what we saw at the 2018 CIIE, we can't wait to participate in future trade shows in China," he added.