Chinese, Nepali companies to jointly develop hydropower project
Two Chinese companies have joined hands with a Nepali company to develop the Tamakoshi III hydropower project with an investment of around 500 million U.S. dollars in Nepal.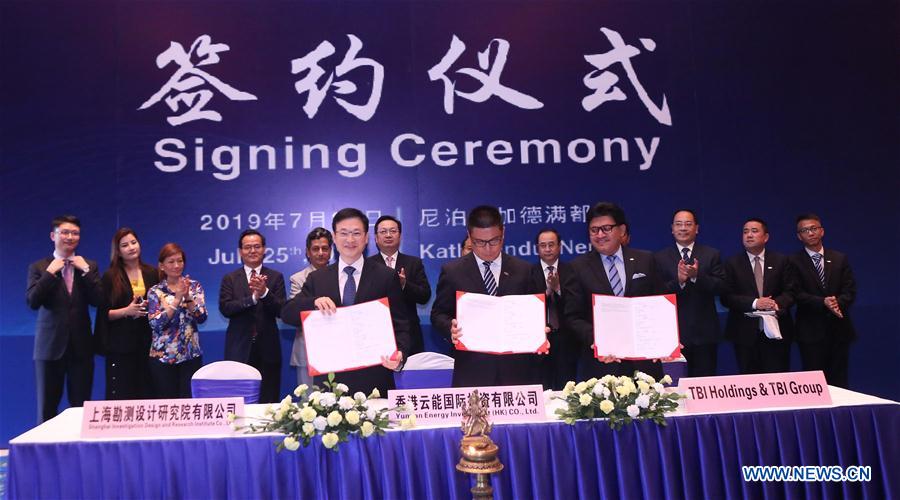 The signing ceremony of the joint venture development framework agreement for the Tamakoshi III Hydropower Station Project in Kathmandu, Nepal, July 25, 2019. (Photo: Xinhua)
A joint venture development framework agreement was signed between China's YEIG International, Shanghai Investigation, Design and Research Institute Co. Ltd. and Nepal's TBI Holdings Pvt. Ltd at a ceremony in Kathmandu on Thursday.
The signing ceremony was witnessed by Nepali Minister of Energy, Water Resources and Irrigation Barsha Man Pun and Zhang Guohua, vice governor of southwest China's Yunnan Province, among other officials and stakeholders.
Expressing best wishes to the joint venture, the Nepali energy minister said the cooperation can bring experiences achieved by Yunnan in the field of hydropower to Nepal.
"This project can work as a symbol of friendship and cooperation in the hydropower sector between the two countries," he said.
Noting that Yunnan Province is an important green energy base and electricity relay hub, Vice Governor Zhang believed that as a key hub in the Belt and Road Initiative, Yunnan has achieved fruitful results in cooperation with Nepal.
"The signing of cooperation document today will encourage more cooperation and exchanges in hydropower," Zhang said, adding that in 2018 alone, trade between Yunnan Province and Nepal amounted to 10 million U.S. dollars, a growth rate of 341 percent.
According to TBI Holdings, the 200-MW hydropower project will be started in early 2020 and will be completed in three and half years.
TBI Group Chairman Bhaban Bhatta said, "The project can be a milestone in the Sino-Nepal relations."
The hydropower project will be developed in Tamakoshi River, a part of Koshi River system, which flows through Dolakha and Ramechhap districts.