Chinese smartphone makers customize products to India market
Global Times
1581581207000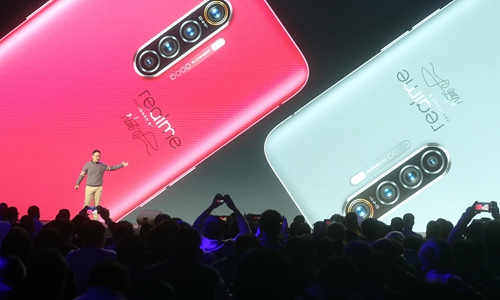 Chinese smartphone maker Realme introduces its new smartphone Realme X2 Pro in Beijing in October 2019 (Photo: CNSPhoto)

In May 2018, when Realme separated from Chinese vendor Oppo's business to specifically target the India market, Wang Shuo, chief marketing officer of Realme India, did not expect the spin-off strategy would yield to be such a hit.

"We achieved stellar growth in India in the past year, partly thanks to our product strategy in various price segments which meets the demand of Indian consumers," Wang told the Global Times.
Realme has a full-range price, with the cheapest model starting from 5,999 Indian rupees ($83.16) and the highest cap at 30,000 Indian rupees. Most of the devices it sold are priced between 5,000 to 15,000 Indian rupees, which fit in with India's GDP per capita of $ 2,041 in March 2019.
"If you put a hefty price tag on your products in India, this might not work for Indian young consumers as this is a more price sensitive market," Wang said regarding Apple's limited performance in India.
In the third quarter of 2019, Realme snapped up a market share of 16 percent in India, ranking fourth, according to an industry report issued by Counterpoint Research in December, 2019. Another Chinese player, Xiaomi, took the lead of 26 percent of market share. Xiaomi has been ranked No.1 in India in terms of shipments for nine consecutive quarters.
Xiaomi entered India in 2014. A spokesperson from Xiaomi told the Global Times that at that time, the smartphone market in India was not mature, and "there was a big gap for consumers who wanted high specification without paying a fortune."
Chinese vendors are the game-changers who keep providing Indian consumers with high quality products while making all innovative technologies accessible at honest pricing points, the spokesperson said.
Chinese smartphone makers are now commanding an overwhelming share in the South Asian neighbor market.
Among the top five smartphone vendors in India, four of them are Chinese brands. South Korean company Samsung is the exception. In addition to Xiaomi and Realme, Vivo and Oppo ranked the third and fifth, with a market share of 17 percent and 8 percent, respectively, according to the Counterpoint report.
Made in China
Several years ago, Indian manufacturers such as MicroMax, Lava and Intex had claimed a foothold in the local market before Chinese players made inroads. They have since lost out to Chinese rivals and now only account for a negligible share of the market.
Indian's second largest homegrown mobile phone maker Intex Technologies is planning to contract manufactures for Chinese vendors to make a turnaround, the Economic Times reported.
"China is very technologically advanced in manufacturing," Mansoor Lari, CEO of the India's Silk Route Trade and Industry Development Cooperation, told the Global Times. While using a Xiaomi gadget, Lari expressed that he views "Made in China" as a positive brand image.
The success of Chinese smartphone makers rests on their unique advantage in providing a complete supply chain and then bringing down costs, analysts said.
"Local Indian smartphone brands have been squeezing out of the market because they don't invest in research and development (R&D). In other words, they don't have access to key technologies and do not have core competiveness. They just contracted original design manufactures orders to Chinese peers in Shenzhen," Wang explained.
Realme said it plans to launch a 5G smartphone in India in the first quarter of 2020 as a way to showcase Chinese vendor's R&D efforts and technological ability.
In addition to an edge in pricing, Chinese vendors have come up with a strategy to tailor its product functions to the market so as to further win the hearts of Indian consumers, industry insiders said.
For example, selfies are popular in India so Realme's technician staff adjusted its camera settings based on Indian skin tones and lighting conditions, according to Wang. It also designed some of its smartphones with a texture similar to that of diamond, which Wang said was another culturally customized feature.
Localization
In the third quarter of 2019, India shipped a record high of 46.6 million smartphones, up 26.5 percent compared with the second quarter, according to a report released by research firm IDC.
The South Asian country, home to 1.3 billion, is positioned to enter a critical period of transformation from the era of "feature phone" to "smartphone." It is estimated that about 60 percent of the Indian population still use "feature phones," pointing to the sheer size of a potential market that Chinese firms could tap into.
As such, Chinese players are prioritizing localization, not only in their marketing strategies but also in expanding facilities in India and hiring more local staff.
For example, Vivo has appointed famed Bollywood actor Aamir Khan as its brand ambassador. Oppo also has reportedly sponsored the Cricket World Cup in 2019, as cricket considered India's most popular sport.
"If you want to build emotional connections with Indian consumers, you should never steer yourself away from Bollywood or cricket. This is the key in building a brand in India," an industry insider surnamed Long told the Global Times.
In July 2017, the Indian government enacted a new tax scheme which imposed 10 percent basic customs duty on imported smartphones. The tax is further levied to 20 percent in 2018. At the same time, imported smartphone parts such as connectors, chargers and printed circuit boards were also subjected to tariffs ranging from 10 percent to 15 percent.
The new tariff has prompted more Chinese manufactures to move production lines to India.
For example, Xiaomi announced last year that it is planning to inaugurate the seventh manufacturing plant in Tamil Nadu in partnership with Flex. Realme also announced that it is investing 3 billion Indian rupees to set up eight surface mounting technology lines to increase capacity at its Noida facility. The brand now reportedly sourced 50 percent of its components in India.
"Currently, the designing and some of the material sourcing still cannot be completed in India. We hope to expand localization of these procedures in the future," Wang said.