Belt and Road Initiative spurs soaring tourist numbers in desert city
People's Daily Online
1559545060000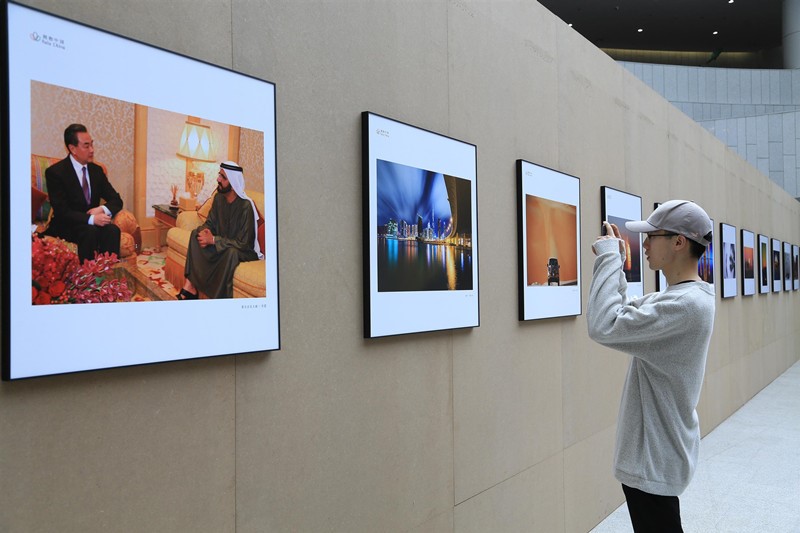 The "Hug China: Dubai in the Eyes of Chinese People" photography exhibition at the Beilun China Port Museum. (Photo: People's Daily Online)
Philip Xue is a frequent flyer to Dubai from Beijing. In his eyes, Dubai is a city that surprises him every time.
"Dubai gives me a different impression every time, even if it has not been long," the twenty something white-collar worker told the Global Times on May 29.
"I can often see new construction completed and new construction starting. Dubai is becoming more and more tolerant as you can work and communicate with people from all over the world," he said.
Dubai, one of the seven emirates comprising the United Arab Emirates (UAE), has seen soaring numbers of tourists from China in recent years after the UAE announced it would grant visa-free entry for Chinese citizens.
According to local tourism bureau data, the number of Chinese tourists who visited Dubai in 2018 reached 875,000, a year-on-year increase of 12 percent.
China is the fourth-largest source of visitors, following India, with more than 2 million visitors, Saudi Arabia and Britain.
In order to better attract Chinese tourists, Dubai has established strategic partnerships with brands such as Huawei, Tencent, Fliggy, Alipay and Ctrip to launch digital services to enhance the tourist experience of Chinese tourists in the city.
With the support of the government, Alipay can be found everywhere in Dubai, including malls, cafes, restaurants and major attractions.
Visitors can scan a QR code to automatically convert to payment in renminbi, China's currency, according to the day's exchange rate.
In July 2018, China and the UAE pledged to boost bilateral cooperation under the framework of the Belt and Road Initiative as they agreed to lift bilateral relations to a comprehensive strategic partnership.
China maintained its position as Dubai's biggest trade partner in the first half of 2018 with a total trade volume of 69 billion dirham ($18.8 billion), Xinhua News Agency said, citing local media.
Steen Jakobsen, assistant vice president of Dubai Business Events (DBE), said that Dubai was the fourth most-visited city in 2018, with 15.9 million international overnight visitors and almost 117,000 hotel rooms booked.
According to its tourism strategy, the city hopes to attract 25 million visitors per year by 2025 and to become the top destination for global travel, business and events.
DBE, the city's official convention bureau, secured a total of 261 successful bids for meetings, conferences and incentives in 2018, which are set to attract an additional 153,640 delegates to Dubai over the coming years, according to a note sent to the Global Times.
The bureaus said the number of event bids won represents a 24-percent increase from 2017 and will deliver an estimated economic impact of approximately 1.2 billion dirhams to the city.
This success also marks a 62-percent increase from the previous year in the number of delegates set to visit Dubai based on event bids won, signifying a shift toward larger-scale events and further cementing the emirate as an attractive global business destination.
Reuters reported on May 27 that Dubai could attract 11 million foreign visitors to the Expo 2020 world fair, with overseas visitors accounting for almost 71 percent of the total expected at the event.
Expo 2020, which starts in October 2020 and runs for six months, is expected to add 122.6 billion dirhams to the UAE's economy between 2013 and 2031, Reuters said, quoting a study conducted by consultancy EY.
However, the sun-soaked city in the Gulf is trying to present a new look to the world, from a global tourism and events destination to a smart city.
Lorne Riley, director of corporate communications with Dubai Airports, said technology and environment are key considerations in the airport construction, and technology will be at the core of these changes, such as smart gates to reduce transaction times from minutes to seconds on average across the airport.
Smart Dubai, a technology-supported transformation project, has a vision to make Dubai the "happiest city on Earth" as the city has been leading technological innovation in government for over a decade. The department is working to transfer 100 percent of the government's applicable internal transactions and public services to digital platforms by December 12, 2021, according to a note sent to the Global Times.
The department said its goal is to leverage emerging technologies such as block chain, artificial intelligence, Internet of Things and open data sharing to continue to increase the efficiency of government services to create a better experience in the city and expand this framework to the private sector so that all residents, business owners, city leaders and even tourists can benefit.