India's deficit with China accounts for 60% of total bilateral trade
Global Times
1581598493000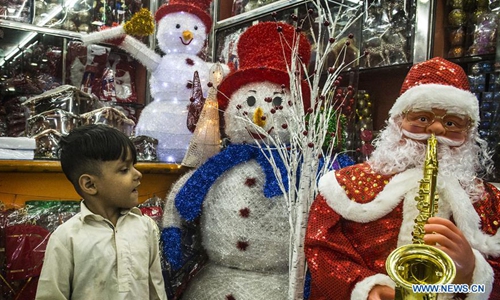 A boy looks at Christmas decorations at a roadside market in Kolkata, India, Dec. 20, 2019. (Photo: Xinhua)
India's trade deficit with China was 391.7 billion yuan ($56.8 billion) in 2019, an official from China's General Administration of Customs (GAC) said at a press briefing on Tuesday, adding it is significant that the two countries strengthen cooperation. The deficit accounted for about 60 percent of India's total bilateral trade.
Total bilateral trade was 639.5 billion yuan in 2019, up 1.6 percent year-on-year. China's exports to India stood at 515.6 billion yuan, up 2.1 percent, and India's exports to China totaled 123.9 billion yuan, down 0.2 percent year-one-year, said Huang Guohua, a vice director of the GAC's analysis department.
"Both China and India are important emerging economies. Strengthening exchanges and cooperation is of great significance for both countries and will promote global progress and prosperity," Huang said at the briefing, which was held at China's State Council Information Office.
India has long complained about its huge trade deficit with China. In response to an Indian reporter's question on how China will address India's trade deficit with China, Huang said that "Chinese products have a strong competitive advantage in the Indian market. We also welcome more high-quality Indian products to enter the Chinese market."
In October last year, Chinese President Xi Jinping was invited to India to hold a second informal meeting with Indian Prime Minister Narendra Modi, which strengthened in-depth communication between the two sides and promoted mutually beneficial cooperation in various fields, Huang said.
"We believe that deepening economic and trade cooperation between the two countries will help promote the sound, stable and balanced development of China-India trade," he added.