Lao gov't to get prepared to benefit from China-Laos railway
VIENTIANE, July 8 (Xinhua) -- The Lao government has acknowledged that it needs to be well prepared to provide transit services in an effort to benefit from the Laos-China railway.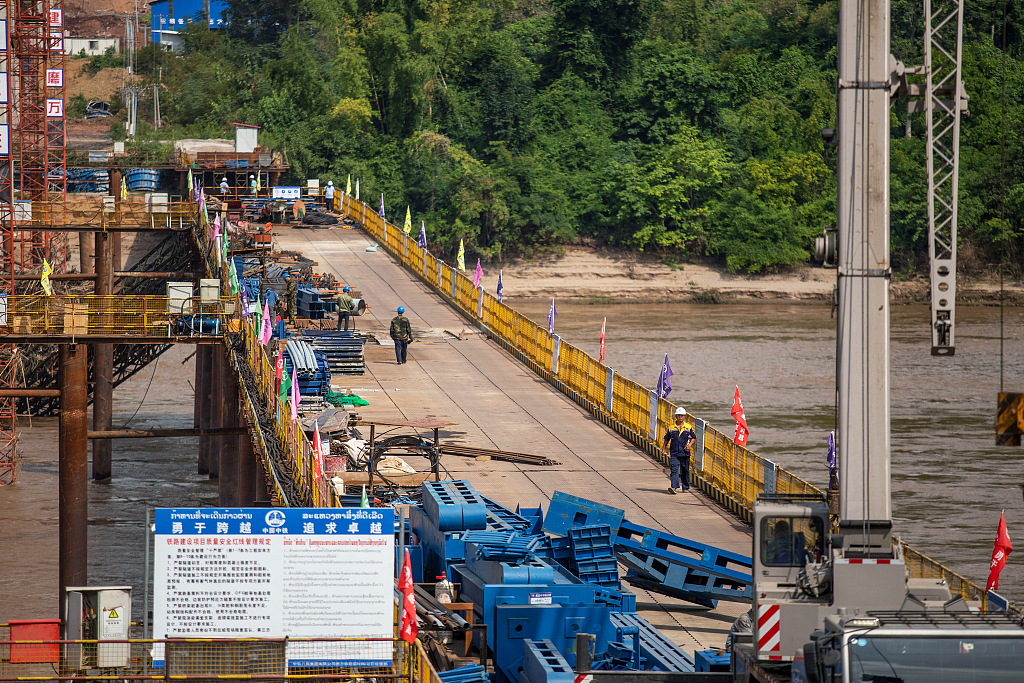 Construction workers walk on the Luang Prabang railway bridge, a section of the China-Laos Railway built by the China Railway Group Ltd., stand under construction near Luang Prabang, Laos, on Sunday, Oct. 21, 2018. (Photo: VCG)
The government is encouraging private enterprises to develop infrastructure and other facilities along the rail route, local daily Vientiane Times on Monday, quoting Lao Minister of Planning and Investment Souphan Keomixay as saying.
These include the development of tourism sites and industrial parks as well as trade facilitation-related projects to capitalize on the potential of the railway project. Economists have queried what products Laos should produce and how it can serve as a distributor for the region when the major interconnecting railway become operational.
Lao exports are less competitive due to the high cost of transport. The cost of production in Laos is already the equivalent of a similar Thai product landed in China. Once the Laos-China railway is completed in 2021, the cost of transport will be reduced by 30-40 percent compared to current road transport, according to the minister.
"We need to have both short and long-term plans to develop infrastructure and facilities to accommodate the inflow of goods and visitors to Laos. We need to ensure quicker trade facilitation and transit services so we can benefit more from the railway," Souphan said to Vientiane Times recently.
Located in the center of mainland Southeast Asia, Laos shares borders with China, Thailand and Vietnam. If the country can prepare well and offer transit services, more benefit will come from the railway, said the report.
Concerning tourism sites, the government signed memorandums of understanding with private companies to develop tourism projects and the government is also encouraging Chinese entrepreneurs to invest in the agriculture sector for export, particularly organic crops, said the minister.
The 414-km China-Laos Railway runs from Boten bordering China in northern Laos to the capital of Vientiane with an operating speed of 160 km per hour. The project started construction in 2016. About 60 percent of the 414-km railway is made up of bridges and tunnels.
The railway is an integral part of Laos' ambition to move from being landlocked to land-linked. This will result in lower production costs for exports to international markets, said the report.