How the Belt and Road Can Contribute to Peru's Competitiveness
People's Daily Online
1562476859000
According to the World Bank, "the Belt and Road Initiative (BRI) is an ambitious effort to improve regional cooperation and communication on a trans-continental scale. The initiative aims to strengthen infrastructure, trade, and investment links between China and more than 60 other countries that account collectively for over 30 percent of the global GDP, 62 percent of the population, and 75 percent of the known energy reserves."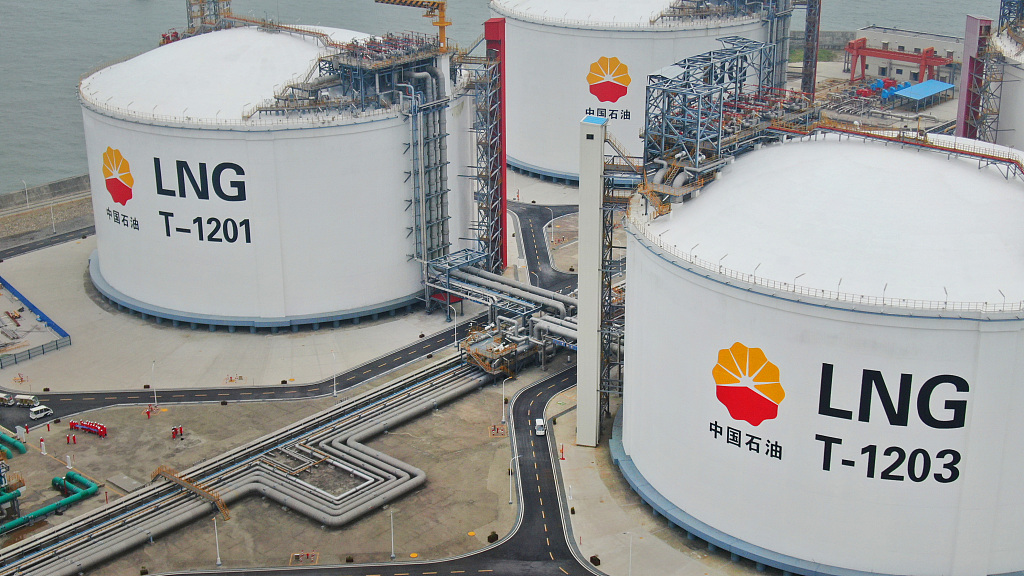 File photo: VCG
Known as the Silk Road Economic Belt and the 21st Century Maritime Silk Road, the multi-trillion dollar project intends to physically link China to other Asian countries, as well as countries in the Gulf, North Africa, and Europe. To accompany the physical efforts, there will also be a digital silk road open to all countries as well as international and regional organizations. In addition to improving areas such as connectivity, production capacity, trade and investment, defined as the "hard components" of the initiative, the BRI also encourages the so-called "soft components" including culture and people-to-people exchanges.
Latin American countries will take direct advantage from these soft components of the BRI and have indirect participation in the hard components. In the short term, Latin American countries will benefit from the increase of export prices based on China's higher demand for steel, iron, copper and other raw construction materials. The completion of the hard components of the Belt and Road Initiative would have positive effects on many countries. A country like Peru, a net food exporter, will benefit from the interconnectivity of the Gulf and North African countries, markets where Peruvian exports are not very significant. These are countries with a food deficit, so as the flow of goods and services increases with the initiative, Peruvian exports can start to fill the food gap.
This is such an important initiative, that only six years after Chinese President Xi Jinping launched it, more than one hundred countries have expressed their support and willingness to be part of the BRI. In times when the world is experiencing a slowdown in economic growth patterns and a protectionist wave has brought uncertainty into international markets, the BRI could contribute to new engines of growth not only in the regions where ports, roads, and electric plants are being built thanks to Chinese investment, but also in the trading partners of these countries where construction is taken place. This is also taking into account that China is the second largest economy and has consistently promoted market diversification policies in the last twenty years.
If China continues to follow internationally accepted practices for infrastructure development and financing, the BRI could become a new model for mega infrastructure projects reflecting an open, transparent, and inclusive cooperation mechanism between the Chinese government and participating countries.
Without a doubt, providing transport, electricity, water and sanitation, as well as building schools and hospitals, will have a tremendous impact on improving people´s quality of life, especially those from a lower socio-economic status. For businesses, infrastructure services facilitate production, transport, and transaction generates growth, which in turn, create new jobs, help raise incomes and reduce poverty. Appropriate infrastructure for educational facilities and hospitals, and the use of technology, will also help countries better address and fight poverty-related illnesses, reduce vulnerability to climate change disasters and improve living standards.
In May 2017, President Xi called Latin American countries a "natural extension" of the BRI. As stated in the document, Building the Belt and Road: Concept, Practice and China's Contribution, China "welcomes the participation of Latin America and the Caribbean in the Belt and Road Initiative since they are important emerging markets as well as major trade partners of China."
Along those lines, Peru and China signed a Free Trade Agreement that came into effect on March 2010; since then both countries have been collaborating closely to increase trade and investments and to strengthen their overall relationship. In 2013, China and Peru became closer in their partnership when they established a Comprehensive Strategic Partnership, which has helped them coordinate policy action in areas such as education, energy and infrastructure.
Peruvian exports to China include copper and fishmeal mainly, which constitutes our traditional exports, and since the free trade agreement came into effect, new markets for non-traditional exports have opened. Among the latter, squid, blueberries, avocados, grapes, alpaca and lumber are the most important products. From China, we import cell phones, TVs, computers, data processing and other digital equipment, vehicles and tires, machinery for mining and agriculture, textiles and clothing, and intermediate goods for the plastic and steel industry. Therefore, Peru and China´s trade relationship is seen as complementary.
As stated by the Ministry of Foreign Trade and Tourism, trade between Peru and China has almost tripled in the last decade, reaching a high of $23.268 billion in 2018 (the data stands at $23.11 billion, according to China custom's data: editor's note). Since 2014, China has become the largest trade partner of Peru, representing almost one-third of our total trade. In 2018, exports grew by 14 percent and imports by 13 percent. Besides copper and fishmeal, oil exports increased by 72 percent last year among our traditional exports, related to mineral, fish and other natural resources.
Peru's total exports in 2018 amounted to $48 billion. Of that, $35 billion correspond to traditional exports and $13 billion to non-traditional exports. From the non-traditional exports, $6 billion correspond to agricultural products where Peru has a comparative and competitive advantage. However, Peruvian agricultural exports to China amounted only $0.2 billion. Being that China is the fourth largest buyer of fruits in the world, the potential is high. China imports $6 billion in fruits, which could be provided by Peruvian farmers as Peruvian fruit production is high.
The purpose of this article is to highlight the opportunities that Peru might be able to take advantage of within the Belt and Road Initiative. In that sense, one of the government´s main concerns is how to return to the pattern of growth that we saw in the last decade. On November 30th, at the Annual Executives Conference, CADE, Peruvian President Martin Vizcarra mentioned that the National Competitiveness Plan was on its way and will be completed by June this year. To better understand how Peru could take advantage of these opportunities, taking into account China´s increasingly strategic partnership with Peru, two important sources provide insight: the World Bank and the World Economic Forum.
According to the World Bank Doing Business Report, which provides objective measures of business regulations and their enforcement across 190 economies, Peru ranked 68th while China ranked 46th. Similarly, based on the World Economic Forum Global Competitiveness Report, which measures the group of institutions, policies, and factors that set the sustainable current and medium-term economic prosperity levels and countries' ability to provide high levels of prosperity to their citizens, Peru ranked 63rd out of 140 economies measured in 2018, while China ranked 28th.
The Doing Business Report captures several important dimensions of the regulatory environment as it applies to local firms. It provides ten quantitative indicators on regulation including starting a business, dealing with construction permits, getting electricity, registering property, getting credit, protecting minority investors, paying taxes, trading across borders, enforcing contracts and resolving insolvency.
Analyzing the factors that explain the main differences between Peru and China´s positions in the World Bank Doing Business Report ranking, the largest distance within the ten indicators lies in starting a business, which concerns the procedures, time, cost and paid-in minimum capital to start a limited liability company, as well as getting electricity procedures, including the time and cost to get connected to the electrical grid, the reliability of the electricity supply and the transparency of tariffs. In China, four procedures are required to start a business; in Peru, on the other hand, there are eight. Moreover, it takes 8.6 days to start a business in China while in Peru, it takes 24.5 days to start a business. Similarly, while in China, getting electricity for a business takes 34 days, in Peru, it takes 67 days. However, Peru does rank better in two indicators: dealing with construction permits and getting credit, which clearly shows that there is room for the two countries to cooperate to better perform in their economy's business regulation.
As informed by the World Bank's report, China has made progress in the starting a business indicator by launching online company registrations and simplifying social security registrations. In regards to dealing with construction permits, China streamlined the process of obtaining a building permit and certificate of completion as well as registering new buildings with the real estate registry. They also improved building quality control by introducing stricter qualification requirements for professionals in the construction industry and boosted public access to information.
When it came to getting electricity, China made getting electricity easier by expanding network capacity so that all connections of power loads of 160kw or less are now made directly to the low voltage network, for which the connection process is carried out entirely by the utility, free of charge. The time to obtain an electricity connection was also reduced, thanks to the rollout of a new mobile application for customers. Lastly, in the registering property indicator, China made registering property easier by streamlining administrative procedures.
Peru has also made some progress. In regards to starting a business, Peru reduced the time required to obtain a municipal license and build a safety technical inspection from the district council. In terms of dealing with construction permits, Peru strengthened construction quality control by imposing stricter qualification requirements for professionals in charge of technical inspections.
Correspondingly, the World Economic Forum organizes its Competitiveness Report into 12 main drivers of productivity, or 'pillars' involving human capital, agility, resilience, and innovation. The 12 pillars include institutions, infrastructure, ICT adoption, macroeconomic stability, health, skills, product market, labor market, financial system, market size, business dynamism and innovation capability. Among these, China excels, ranking 1st in market size. Concerning macroeconomic stability, Peru holds a similar placement ranking. Out of those 12 pillars, the most significant differences between Peru and China were found in the innovation capability pillar, the infrastructure pillar, ICT adoption and the business dynamism pillar.
China has become increasingly focused on innovation. In a relatively small period of time, China has become the industry leader in some particular areas such as artificial intelligence. Peru, on the other hand, needs to improve considerably in some areas like R&D expenditures as a percentage of the GDP and the quality of the research institutes or the state of cluster development. China's other relative strengths include the infrastructure and ICT adoption pillars, two remarkable achievements which Peru could really benefit from. In the business dynamism pillar, topics like cost of starting a business, time to start a business and attitudes toward entrepreneurship follow the same results than those explained previously by the World Bank.
Peru regards China as an important strategic partner with huge potential for bilateral cooperation in multiple sectors. China's BRI will bring benefits through its "hard components" mainly by connecting Peru with markets that haven´t been entered by Peru yet and through the initiative's "soft components" through the exchange of people, ideas, and knowledge. Peru can use China as an example of innovation, infrastructure and ICT adoption and start working together to find new areas of cooperation and guidance. All of the bottlenecks to long-term growth have already been identified. The country's future depends on how strategic we can be to utilize the benefits and contributions the BRI will have on Peru´s competitiveness and therefore, on the quality of life of its citizens.
The author is the former Minister of Foreign Trade and Tourism of Peru.