This is Shaanxi: Xi'an Hancheng Lake
Discover Shannxi
1600930219000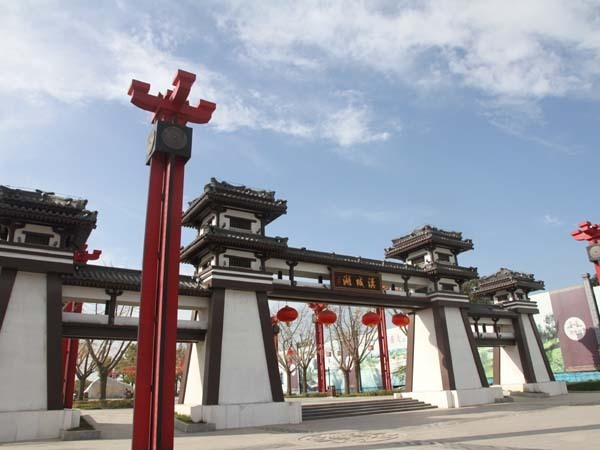 The Hancheng Lake scenic area is built on 36 square kilometers of Han Chang'an City ruins, 850 mu of clear water and 1031 mu of garden, with a planned land area of 2890 mu. It is a newly built tourist attraction that combines the functions of urban flood control, garden landscaping, aquatic ecosystem sustenance, and cultural relics conservation to demonstrate the Han dynasty culture.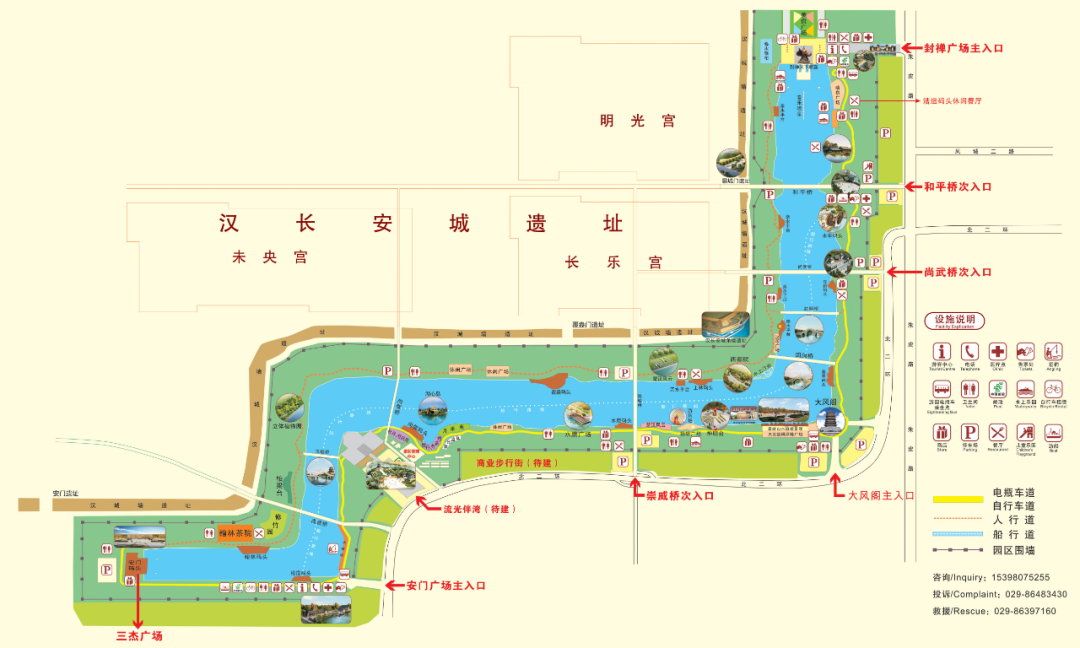 Visitors can take a boat to admire unique scenery on lakeside, with aquatic bridges and gardens.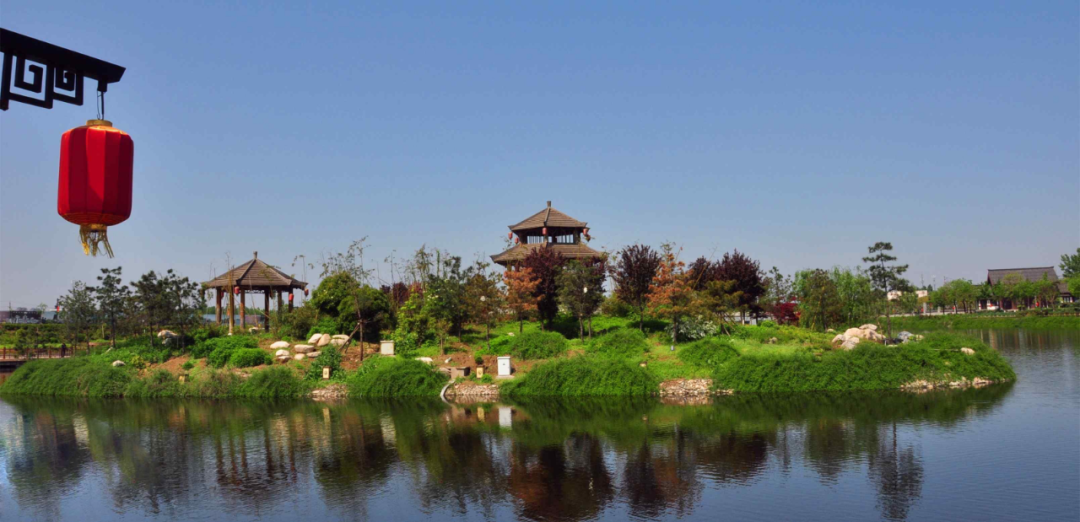 Hancheng Lake Island
Shuttle bus is also a good choice to visit around the scenic area.
Emperor Wu of Han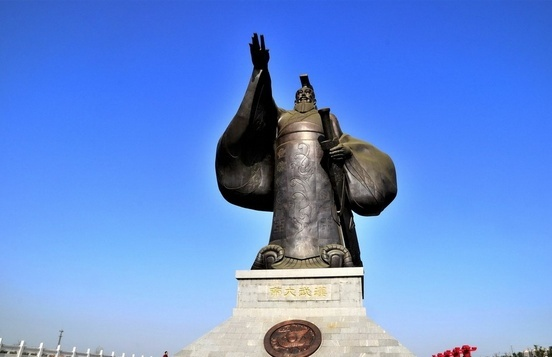 The statue of Emperor Wu of Han is 21.5 meters high to symbolize the 215-year rule of the Western Han Dynasty. The base is 7 meters high, implying that Liu Che, Emperor Wu of the Han Dynasty, was the seventh emperor of the Western Han Dynasty. As the largest one among the emperor's statues in China, it shows the heroic spirit of Emperor Wu.
Dafeng Pavilion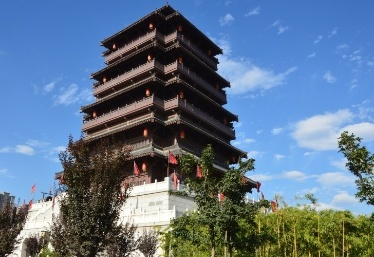 Dafeng Pavilion is a 63.3-meter-high Han Dynasty style building. It is one of the commanding heights and landmark buildings of the scenic spot. Dafengge Museum has eight floors: there are Jingwen Ox Culture Ceramics Museum, 3D arc-screen theater, Silk Road Museum, Han Culture and Art Museum, World Heritage Exhibition Hall, Han Clothing Exhibition Hall, Han Dynasty Military Exhibition Hall, and Observation Deck respectively from the ground floor to the seventh floor. Standing on the observation deck, you can command a whole view of Hancheng Lake and Chang'an Relics.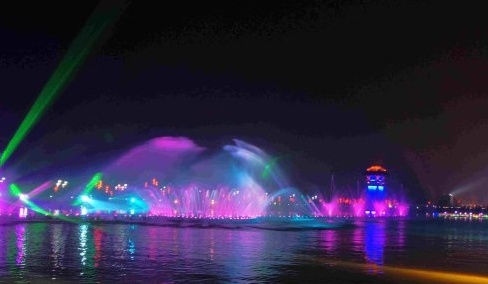 Lake Music Fountain
The Music Fountain, in the Fengchan Tianxia Scenic Area on the west side of Zhuhong Road, is 100m long from north to south and the main fountain is 60 meters high. The fountain show lasts for 30 minutes and is composed of three sessions. The "Han Water Rhyme" show in Fengchan Tianxia area starts at 8:30 every night and lasts 20 minutes.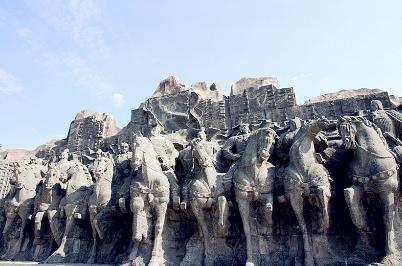 Tianhan Xiongfeng Relief
The Tianhan Xiongfeng Relief is in the Jiaolou Diecui Scenic Area. The 200-meter-long Tianxia Xiongfeng is the largest relief sculpture in Xi'an, which shows the brilliant achievements in politics, economy, culture, science and technology in the 400 years of Han Dynasty.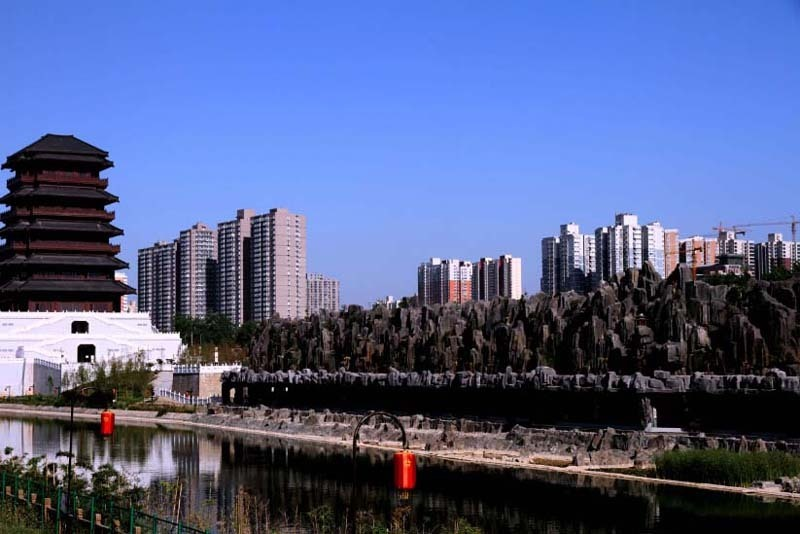 Qinling Miniature
Tourists can see the Qinling Miniature backed by the grand reliefs while going boating on the lake. The miniature contains well-known landscapes such as Huashan Mountain, Cuihua Mountain, Fengyukou, Laoyukou, Louguantai, and Jiulongtan.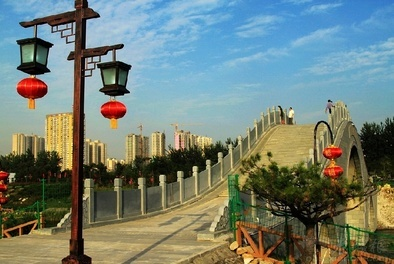 Hongming Bridge
There are eight newly built or decorated bridges on the 6.27 km long water surface in different styles and shapes.