The metamorphosis of the Dragonfly– the second episode of Discovering Mysteries
The first season of Discovering Mysteries was launched in the This is Hainan column on the New Hainan app,on May 11,focusing on the natural environment of Hainan, showing Hainan's ecological resources, species diversity, ecological scientific research & protection, and the achievements of the construction of the National Ecological Civilization Experimental District. It takes you to explore the mysteries of the rainforest and discover more, from a macroscopic to a microscopic perspective.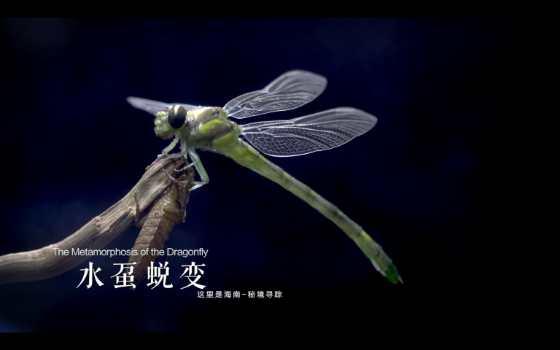 In this episode, we are going to look for a little insect,the Hooktail Dragonfly,in the tributary of the Changhua River. The Hooktail Dragonfly is a general term for the larvae in Odonataof the insect class. Their life cycle includes 3 stages –egg, nymph and adult. From the egg laying stage to the nymph stage, dragonflies spend most of their lives in water. Different dragonflies have different time of life cycle. Some species require 2–3 months to grow up, common species about 1–3 years, while others even take as long as 7–8 years to fully mature, after about 8–14 times of ecdysisand finally crawl out of the water to become adults.
Carnivorous and fierce, the Hooktail Dragonfly likes to prey on the larva mosquitos and other aquatic insects and their larvae. The large one can even prey on small fish and tadpoles.When becoming adults, they eat mosquitoes, flies, and also butterflies, moths, bees and other pests, which is actually beneficial to humans. Therefore, the dragonfly plays an important role in regulating the number of aquatic and terrestrial insects in the ecosystem.