China's greater opening promises shared prosperity
DALIAN (Xinhua) -- Despite headwinds at home and abroad, policy makers, experts and business leaders at the Summer Davos Forum are upbeat about China's economic prospects, believing the country's further opening-up would promise shared prosperity for the country and the world.
BULLISHNESS ABOUNDS
Bullishness on the Chinese economy abounds at the Annual Meeting of the New Champions 2019, also known as the Summer Davos Forum, in the city of Dalian.
"China's economy has remained basically stable and is performing within a reasonable range in the first half of the year," Premier Li Keqiang said when addressing the opening ceremony, adding the economic development has stayed stable and sound, and major indicators have met expectations.
Although facing downward pressures and increasing external uncertainties, Li was confident in the country's economic outlook, saying the country had anticipated and made full preparations for this year's complex and serious situation.
With a huge market, abundant human resources, a complete industrial cluster and prospering new engines, the economy has sufficient resilience, potential and room for manoeuver, while its long-term positive trend remains unchanged, he said.
The confidence on the economy was echoed by the forum attendants, who believe the U.S.-triggered trade tensions would have limited impacts on China's growth but would not cloud its development outlook.
The country's ongoing reform and opening-up help enhance enterprises' risk resistance to weather the impacts, said Albert Ng, EY China chairman and Greater China managing partner. As China has a huge domestic market, abundant human resources, dynamic industrial eco-system and increasing input in innovation, he said the trade tensions would accelerate China's economic transformation and upgrading.
Albert Ng noted the country's tax reductions and policies to improve the business environment will help improve enterprises' profitability, encourage investment and boost consumption and exports.
China is still in an important period of strategic opportunity for development, and its economic transformation and upgrading is integrating with the new round of industrial revolution, which means new opportunities for development, said Jeffrey Wong, head of the advisory of KPMG China.
The IMF in April revised the 2019 growth projection for China up to 6.3 percent, 0.1 percentage point higher from its previous estimation, a recognition of the resilience of the Chinese economy amid global headwinds.
China is expected to account for more than 30 percent of global growth this year, said Changyong Rhee, director of the IMF's Asia and Pacific Department.
A BIGGER CAKE FOR ALL
China's economic development does not come at the expense of others but is based on shared prosperity with the world. As globalization faces backlash, it is engaging with the rest of the world through greater opening-up and mutually-beneficial cooperation.
Premier Li said all countries have benefited from economic globalization overall. "The new round of industrial revolution set off amid economic globalization has not only brought closer links in the global industrial chain, innovation chain and value chain but also effectively promoted inclusive growth."
"China's firm commitment to economic globalization, free trade and an open economy will benefit the world," said Samir Bouabdallah, CEO of Flybotix Professional Portable Drones.
"China is not only a strategic market and manufacturing hub for Dow but also the innovation center," said Jon Penrice, Asia Pacific president of Dow, a U.S. materials science giant that has been operating in China for 40 years.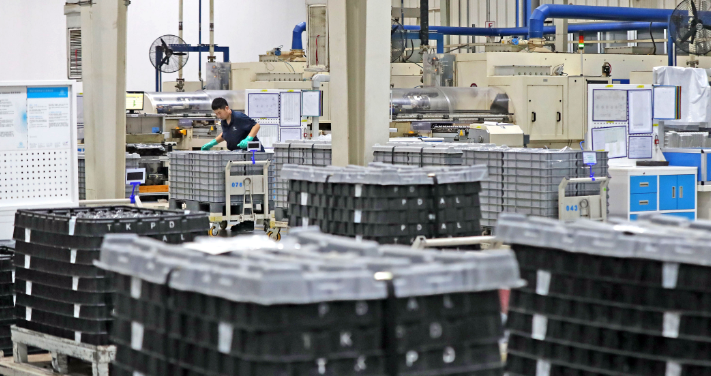 (Photo: VCG)
Dow now owns nine manufacturing sites and 10 offices in China, the company's second-largest market after the United States. Acknowledging the vast talent resources and seeking to further tap into the Chinese market, Dow opened in 2009 the Shanghai Dow Center, its largest integrated R&D center outside the U.S.
"As China sets its strategy focusing on growth based on quality and innovation, we see tremendous opportunities brought by the change," Penrice said. Last month, the company broke ground for a new specialty silicone resin line in Zhangjiagang, the third new line Dow invested in the past three years, so as to meet growing needs for high-performance materials from segments including transportation, home and personal care and consumer electronics.
Thanks to China's innovation-driven strategy, a large number of unicorn companies are coming from China, which are "very interesting clients for us in that we can add value with our approach," said Henrik Naujoks, director and partner of the Bain & Company.
To further open up its market, China unveiled a series of measures, including a shortened negative list for foreign investment, enhanced protection of intellectual property rights and improvement of the business environment.
The country will become more open, transparent and predictable for foreign investment, and its business environment will further improve, Premier Li said.
"These measures will promote the economic development of both China and the world, making China still a growth engine for the world economy," Jeffrey Wong said.