Small-town youth expected to become big e-commerce growth driver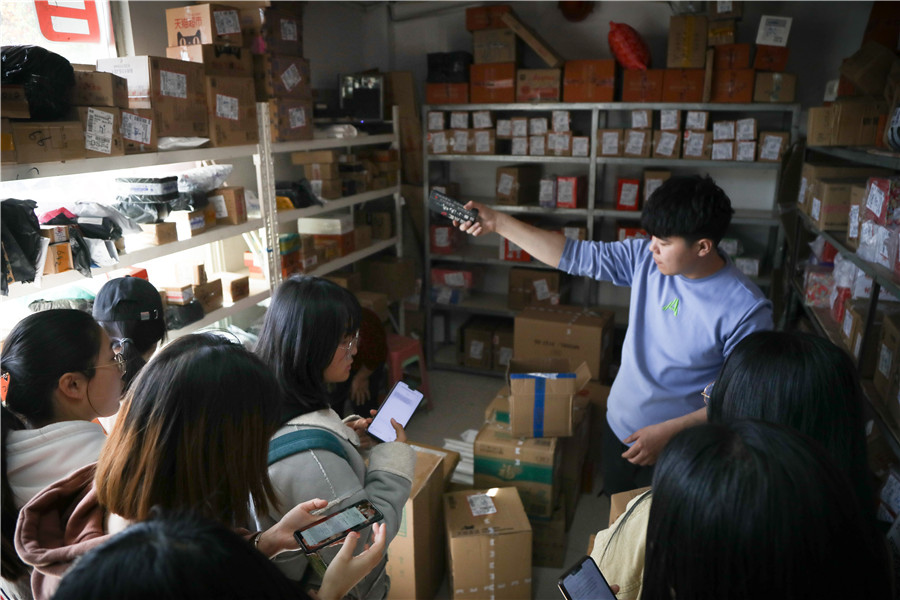 Students receive packages at a logistics center in Zaozhuang University in Zaozhuang, a fourth-tier city in Shandong province. (Photo: China Daily)
As e-commerce development in China's first-and second-tier cities nears a plateau, young people in the nation's smaller cities and towns are shaping up to be the next impetus driving growth.
This is one of the findings in McKinsey's latest survey depicting the latest digital trends in China, where a large pool of younger consumers in China's lower-tier cities and townships are poised to be the next driver of growth.
"Living costs are lower in these cities, allowing them to enjoy a much more relaxed lifestyle than consumers in larger cities," said Wang Wei, a senior partner at McKinsey based in Hong Kong. "They have a lot of time on their hands as they spend a lot less time commuting to and from work than their counterparts in larger cities."
Small-town youth, which initially derived from an internet catchphrase, is loosely defined by the Central Committee of the Communist Youth League of China in a recent report as people aged 18 to 35 years old who live in prefecture-level cities, counties and towns.
According to the McKinsey report, online platforms have provided lower-tier cities accessibility to brands that lack presence in their area, especially premium and luxury brands that have yet to enter these regions.
"In some product categories, where access to physical stores is more limited, the online purchasing rate of small-town youth can be higher than consumers in higher tier cities," Wang said.
Data released by e-commerce platform Tmall following the June 18 discount gala showed a 50 percent increase in young shoppers aged below 25 purchasing luxury goods, with 70 percent of them living in smaller cities and towns.
While younger consumers in smaller cities are also price sensitive, contrary to conventionally-held perceptions, they tend to be less discount-driven.
"They value social engagement, which could come in the form of referral programs or endorsement by Key Opinion Leaders or Key Opinion Consumers and special edition products," said Wang.
For instance, 13 percent of those residing in major cities said they would favor new releases or limited editions, as opposed to 28 percent of small-town youth respondents, McKinsey's report found.
In addition, 28 percent of those from rural areas said social engagement such as referral by online influencers would affect their purchasing decisions, whereas only 12 percent of first-tier city dwellers said those factors count as levers of influence.
Due to the relative abundance of time, short-video apps such as Douyin and Kuaishou give the group a glimpse of the outside world. They also embrace social commerce, through which they can buy products, socialize with friends and learn about the latest fashion trends, said Jason Yu, general manager of consultancy Kantar Worldpanel China.
"The gap between young people in lower-tier cities and those in metropolises has narrowed greatly," Yu said. "Small-town youth now have broader horizons, are well-informed, and some have even started to lead less conventional lifestyles."
There were estimated to be about 112 million people identified as small-town youth in China last year, according to mobile internet industry consultancy iiMedia Research.
Xing Ziqiang, chief economist with investment bank Morgan Stanley China, said this age group will be a major driver of the consumption upgrade in the next decade, with consumption in third-and fourth-tier cities expected to reach 45 trillion yuan ($6.42 trillion) in 2030, compared with 15 trillion yuan in 2017.
"But serving these consumers requires understanding how they are different from their top-tier city counterparts, and then crafting offers that meet their needs," said Wang of McKinsey.