Greece, China sign deals to promote economic cooperation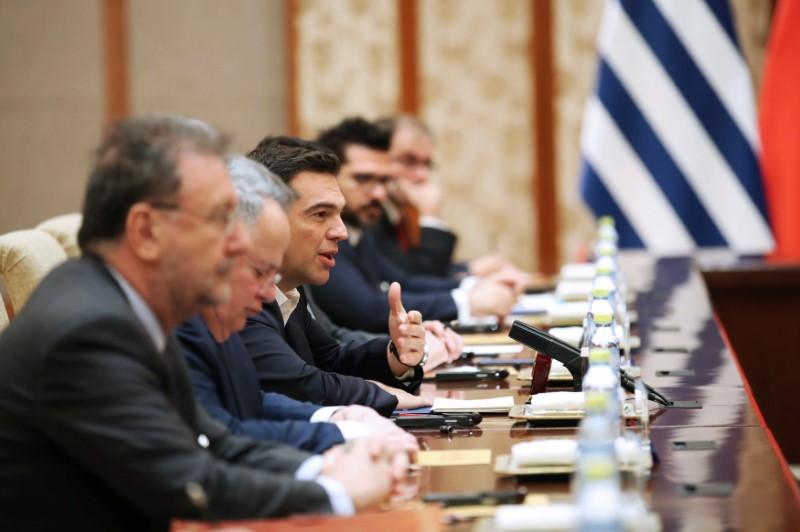 Photo: Reuters
Greek and Chinese state officials and representatives of major enterprises signed here Thursday a series of memoranda of understanding to promote bilateral economic cooperation in key sectors under the 2017-2019 Greece-China Action Plan.
The plan was sealed in May this year in Beijing during the visit of Greek Prime Minister Alexis Tsipras.
Following the inaugural meeting in Beijing of the working groups established for the materialization of this framework, a Chinese delegation led by National Development and Reform Commission (NDRC) vice head Ning Jizhe visited the Greek capital for the second meeting in order to advance collaboration.
"The basis of this cooperation we believe is that Greece's growth strategy meets China's Belt and Road Initiative and the benefits are mutual," Greek deputy economy and development minister Stergios Pitsiorlas said welcoming the Chinese delegation.
"Today we have the first tangible results. The signing of a series of agreements and MOUs are the first steps in the implementation of this action plan; therefore we are on the right path," he said.
On his part, Ning said he is happy to see that the action plan has provided a good collaboration platform and some initial tangible results have been achieved.
Ning hoped that under the principle of planning together, building together and benefiting together, the two sides can enhance their cooperation on investment, trade, and industrial capacity under the Belt and Road Initiative.
On Thursday, the two sides specified details of cooperation projects included in the three-year action plan, and witnessed the signing of several MOUs which are expected to further boost bilateral ties.
Among them was the signing of an agreement between Shenhua, China's largest coal producer, through its subsidiary for renewable energy sources Shenhua Renewable Co. Ltd, and Copelouzos Group, one of the largest investment groups in Greece, for the acquisition of 75 percent of the shares of four wind parks developed by the Greek company.
In addition, a three-party agreement (MOU) was signed between Shenhua, Copelouzos Group and Power Public Corporation (PPC), Greece's largest power utility, for the entrance of Shenhua as a partner in the joint company of PPC and Copelouzos Group, PPC Solar Solutions.
ADMIE, Greece's power transmission operator, also signed an MOU with China Development Bank, following the acquisition earlier this year of a minority stake in the company by China's State Grid.
ADMIE Chairman and CEO Manos Manoussakis told Xinhua that cooperation with the Chinese side so far has been excellent -- the efficiency of ADMIE has already improved and subsequently the company seeks deeper collaboration with Chinese partners.
"Today we signed a very important memorandum of understanding with China Development Bank in order to explore the possibilities for financing our new projects and our company's working capital," Manoussakis said.
"Ahead of us, there are great interconnection projects between the mainland of Greece and the Greek islands, and also international interconnection projects in the Mediterranean sea," he added. Enditem