China's outbound investment under spotlight at Summer Davos
TIANJIN, Sept. 20 (Xinhua) -- China's outbound investment has become a hot topic at the ongoing Summer Davos 2018 as foreign participants to the annual meeting are eager to know more about the preferences and principles of Chinese investors.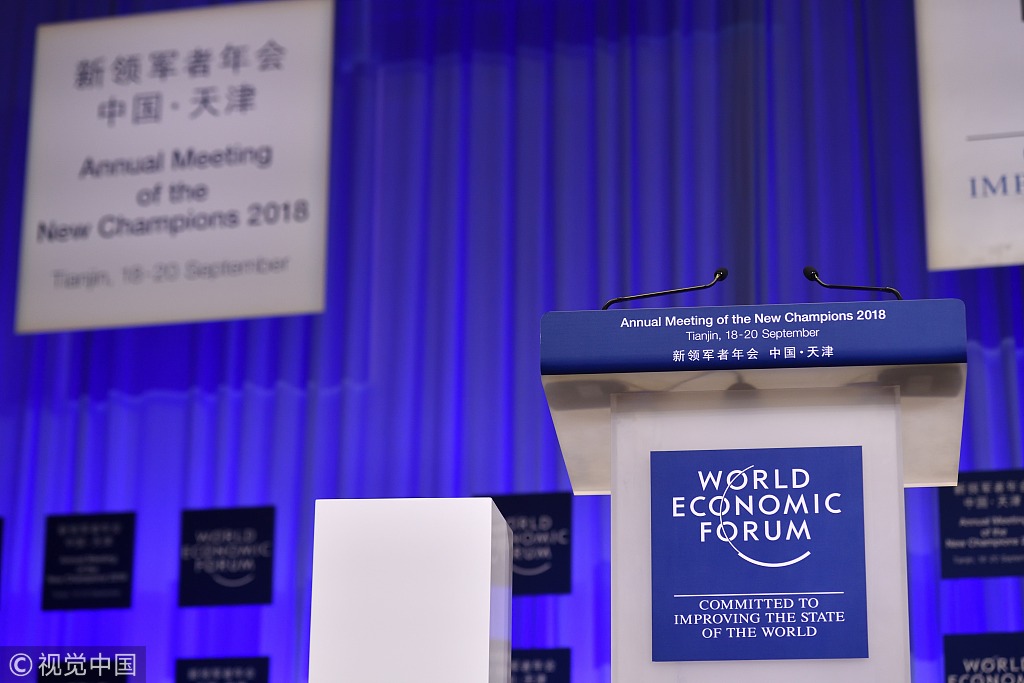 Photo: VCG
According to the latest projection of the World Economic Forum, outbound investment by Chinese state-backed enterprises and the private sector will reach 2.5 trillion US dollars in the next 10 years.
China's official statistics show, however, Chinese investors made 65.27 billion US dollars of non-financial outbound direct investment in nearly 4,000 overseas enterprises in 152 countries and regions from January to July. It marked a 14.1-percent increase from the same period a year ago.
In 2017, Chinese investors spent a total of 120 billion US dollars on 6,236 businesses from 174 countries and regions, down 29.4 percent from a year earlier, amid government efforts to curb irrational investment overseas.
As there seems to be both huge potential to unleash and mounting challenges to face, the drastic contrast between prediction and reality has sparked the curiosity of participants in a panel discussion themed "China Outbound Investment: A New Playbook?"
At a packed meeting hall in the Meijiang Convention and Exhibition Center of Tianjin, venue of the ongoing Annual Meeting of the New Champions 2018, moderator Xin Rong, a professor of China Europe International Business School, asked an essential question: What partnerships and practices could yield the most promising results in term of China's outbound investment?
Panelist Pan Xueping, chairman of Jinsheng Group of east China's Jiangsu Province, offered his answer: a clear strategic vision and a goal to benefit all relevant parties.
Citing the company's acquisition of Saurer in 2013, a Swiss textile machinery, Pan said it was possible to achieve win-win results, as Saurer's annual sales have surged from 6 billion yuan (about 875 million US dollars) to 9 billion yuan last year, and more than 200 jobs have been added locally.
Headquartered in the city of Changzhou in Jiangsu Province, Jinsheng specializes in high-end manufacturing equipment and operates 77 production factories and branches all over the world.
The conglomerate has expanded its business to more than 132 countries and regions and currently employs about 14,000 people, about half of which are located outside China.
"Before any acquisition and investment, we think it is imperative to have a clear-cut vision and business strategy and a goal to pursue win-win results," said Pan.
Tudor Ulianovschi, minister of foreign affairs and European integration of Moldova, and also a panelist, stressed the balance between investment and social responsibility in outbound investment.
"It is imperative for investors to further connect their investment plans with host countries' development plans, as developing countries are at different stages of development and have different priorities and resources, " he said.
While recommending Moldova wine in particular as a sector worth investing in at the panel discussion, the minister said his country welcomed China's ambition to engage itself in the development of Moldova's economy in a wider range of areas and in deeper and more profound levels.
According to him, the Republic of Moldova and China are in the second phase of consultations and eventual negotiations of a free trade agreement.
To prevent extensive economic growth at the costs of environment, Ulianovschi said that investors should also keep coordinated development in mind so as to prevent the waste of resources and promote the overall development of a country or a region.
"Investment should be mutually beneficial," he said.
As China proposed the Belt and Road Initiative and encouraged Chinese investors to invest abroad, the country also put restrictions in place to prevent irrational growth in outbound investment.
Statistics from China's Ministry of Commerce showed that in the first seven months of the year, no new projects were reported in sectors such as property development, sports and entertainment.
Meanwhile, the structure of outbound investment continued to improve, with investment mainly in leasing and business services, retail and wholesale, manufacturing and mining sectors.
Another panelist Ding Yuan, vice-president of the China Europe International Business School, noted that efficiency should be one of the principles of outbound investment, and his school was seeking to offer advice to Chinese investors in need as challenges may arise from venturing out into a world with a different culture and different legal systems.
James Li, chairman of E.J. McKay, an investment banking firm focusing on China-related M&A and corporate finance, emphasized the need of law-based governance. To unleash the potential of outbound investment, he said China needs to advance law-based governance so that investors can make long-term and consecutive planning.
"Since China has been making efforts to integrate with the global economy, the government should encourage more domestic enterprises to explore the overseas market and hold foreign assets, on the basis of law," Li said.