Xi's speech at BRICS Business Forum shows Chinese wisdom, experts say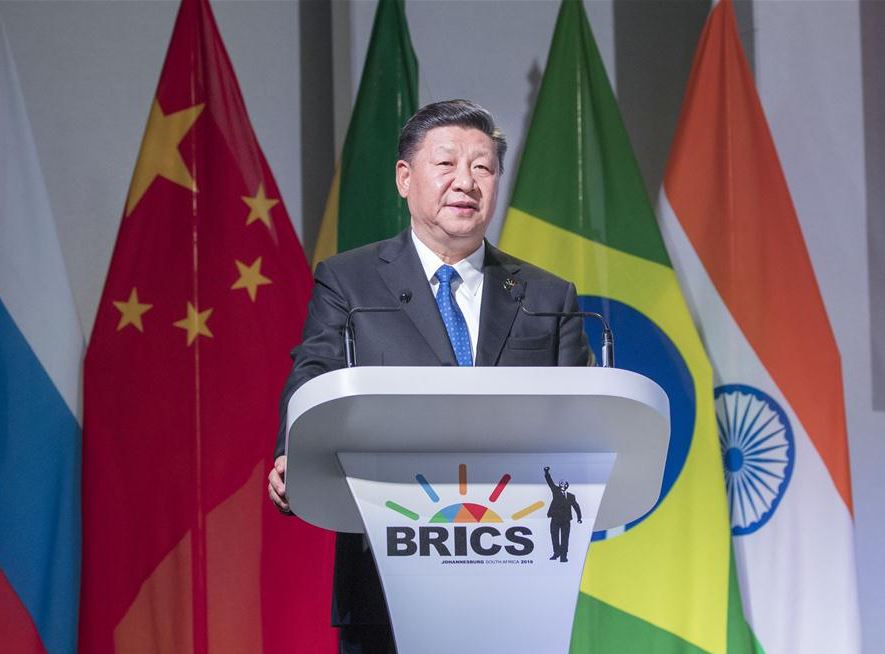 Chinese President Xi Jinping delivers a speech titled "Keeping Abreast of the Trend of the Times to Achieve Common Development" at the BRICS Business Forum in Johannesburg, South Africa, July 25, 2018. (Photo: Xinhua/Wang Ye)
JOHANNESBURG, July 26 (Xinhua) -- Observers and China watchers said that Chinese President Xi Jinping's speech at the BRICS Business Forum here on Wednesday has provided Chinese wisdom in the second "Golden Decade" of BRICS cooperation.
Xi's address, titled "Keeping Abreast of the Trend of the Times to Achieve Common Development," charted a promising blueprint of the second "Golden Decade" of BRICS cooperation.
It is widely anticipated that emerging markets and developing economies, led by the BRICS countries, will inject fresh impetus into the promotion of global economy and the reshaping of the global governance system, experts told Xinhua.
BRICS TO ONCE AGAIN DRIVE COOPERATION
In his speech at the forum, Xi said that in its first decade, BRICS cooperation got off the ground and bore rich fruits. BRICS cooperation has contributed much to global economic recovery and growth.
"We should pursue BRICS cooperation in the historical process of global transformation, and we should promote the development of our own countries in the historical course of promoting the common development of both BRICS countries and other countries in the world, thus making new advances in the next Golden Decade," he said.
Colls Ndlovu, an independent economist in South Africa, said that it has impressed him very much that President Xi called on BRICS countries to forge a partnership on the new industrial revolution and promote cooperation on innovation and industrialization. China has been highly experienced in innovation and other BRICS countries have also enjoyed solid foundation for innovation, he said, adding that BRICS countries have got huge business potential for the next decade.
Li Renliang, a professor of Thailand's National Institute of Development Administration, noted that the BRICS cooperation mechanism has been playing a crucial part in boosting the global economy, adding that economic cooperation will continue to be the core of BRICS cooperation.
FOUR PROPOSALS TO GUIDE
"We BRICS countries should keep abreast of the historical trend, seize development opportunities, jointly meet challenges, and play a constructive role in building a new type of international relations and a community with a shared future for mankind," Xi said in his Wednesday speech.
To do so, Xi put forward four proposals, calling on BRICS countries to pursue win-win cooperation, innovation, inclusive growth and multilateralism to achieve common development for the emerging-market group.
Xi's four proposals can be viewed as a development guide for developing countries, which is very clear and correct, said Stephen Perry, chairman of 48 Group Club, a British organization composed of company leaders promoting Britain-China trade.
Xi also noted in his speech that a trade war should be rejected, because there will be no winner. "Economic hegemony is even more objectionable, as it will undermine the collective interests of the international community; those who pursue this course will only end up hurting themselves", he stressed.
Such remarks deliver China's steadfast stance on upholding multilateralism, according to Argentinean political observer Patricio Giusto. Strengthened BRICS cooperation would effectively offset the negative impact of protectionism and isolationism, and offer new energy for global economic growth, he said.
CHINESE APPROACH
China "will take an active part in South-South cooperation to foster greater opportunities for common development of emerging markets and developing countries," Xi said in the Wednesday speech. "China will continue to develop itself with its door wide open."
"China will continue to vigorously pursue the Belt and Road Initiative to create new opportunities of social and economic development for participating countries and for them to implement the UN 2030 Agenda," he noted.
BRICS Business Council Chair Iqbal Surve said that if the development agendas of BRICS countries can synergize with the Belt and Road Initiative, more countries will gain benefits in a wide range of fields including trade and investment, digital economy and agricultural economy.
Likewise, Samy Elkamhawy, deputy editor-in-chief of the Egyptian paper The Pyramids (Al-Ahram), said that if every BRICS country commits itself to promoting common development with developing countries, people all over the world will be benefited, which will also be a great contribution of Chinese wisdom.