APEC offers chance to better ties with Hanoi
Global Times
1510441663000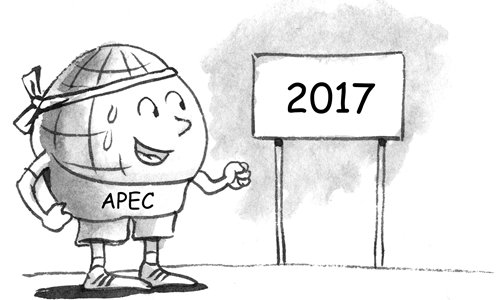 Illustration: Liu Rui/GT Photo: Global Times
President Xi Jinping, also general secretary of the Communist Party of China (CPC) Central Committee, will attend the 25th Asia-Pacific Economic Cooperation (APEC) Economic Leaders' Meeting held in Da Nang in Vietnam on Friday and Saturday, and visit Vietnam and Laos. This is the first overseas trip and participation in an international summit by a top leader of the CPC and the nation after the 19th CPC National Congress, hence its significance at multiple levels.

The 12th National Congress of the Communist Party of Vietnam (CPV) in 2016 and the 19th CPC National Congress opened a new page in bilateral ties which have rebounded after a sharp decline. The visits by senior officials, especially consultations between the two parties, form a way to better relations. Since the 12th CPV National Congress, shared visits by senior officials have increased. This year, the General Secretary of CPV Central Committee, Nguyen Phu Trong, and Vietnamese President Tran Dai Quang visited China in succession.
Recently, Vietnam attended China's National Day reception and the CPV sent greetings on the success of the 19th CPC National Congress. In 2017, political reforms in Vietnam have gained momentum, economic development has accelerated, and the public is upbeat.
There remain enduring relation issues between China and Vietnam. Yet both countries are socialist nations led by communist parties, and problems can be resolved inside the socialist family.
Trade cooperation has always been the ballast of Sino-Vietnam ties. A tendency for trade to intensify has been perceived. China has been the largest trading partner of Vietnam for 13 consecutive, years and Vietnam became China's largest trading partner in ASEAN for the first time in 2016.
Like China, Vietnam has focused on connectivity, aiming at high-speed rail and expressway projects. This constitutes one of several shared interests. But, presently, the economic ties hinge mostly on trade, without sizable strategic cooperation.
The impediment seems to lie in Vietnam's public skepticism. If the CPV can win the Vietnamese people's trust, the two countries will achieve breakthroughs in their relation. Tran's visit to China to attend the Belt and Road Forum for International Cooperation in May was seen as a step for Vietnam to identify with the initiative. Now, Xi's visit may cause the initiative to connect with Vietnam's Two Corridors and One Economic Circle plan more effectively.
Laos is China's old friend with a shared political identity. Xi's visit will be his first to the country after the 10th National Congress of Lao People's Revolutionary Party in 2016. Lao Prime Minister Thongloun Sisoulith has deepened reforms, boosted an anti-corruption thrust inside the country, and adopted diversified diplomacies to enhance the connectivity of his country, and make it wealthier.
Laos intends to communicate and cooperate with China. Cooperation between the two nations is expected to be a model of the Belt and Road initiative. The consideration Laos has attached to Chinese projects is rarely encountered with other regional neighbors.
The APEC summit has an enduring importance as Xi visits Vietnam. Hanoi has always considered the 2006 APEC summit the one that boosted its stature. Similarly, Hanoi expects this year's APEC summit to be a defining moment for developing the country's trade and investments.
Vietnam strives to integrate into the world economy, and acclimatize to international trade rules to create an environment that facilitates investments, and to achieve its national goals. But the Trans-Pacific Partnership that it advocated, at present, has an unclear future, and the promotion of Regional Comprehensive Economic Partnership is weak. As APEC gets more open, it draws the interest of Vietnam. Hanoi yearns to make APEC a primary and practical forum for economic cooperation in the region, even the world.
The 2014 APEC summit in Beijing gave shape to three development pillars, and five platforms. This time APEC will promote the liberalization and facilitation of trade and investment, and promote the building of a community of shared future for mankind.
China has a big role to play in enhancing regional economic integration, and exploring new mechanisms for Asia-Pacific cooperation. The world looks intently at China's development and diplomacy, especially the changes in trade practices after the 19th CPC National Congress.
The APEC summit will be an important platform to showcase Chinese policy, and to address the doubts. China can use the opportunity to consolidate confidence her development, and demonstrate her paramount and leading role on the stage of regional and global collaboration.