CPEC provides vitality for regional growth, diplomats say
ISLAMABAD, Nov. 14 (Xinhua) -- Diplomats from several countries attending a seminar have highlighted the vitality that the China-Pakistan Economic Corridor (CPEC) had provided to Pakistan and the region.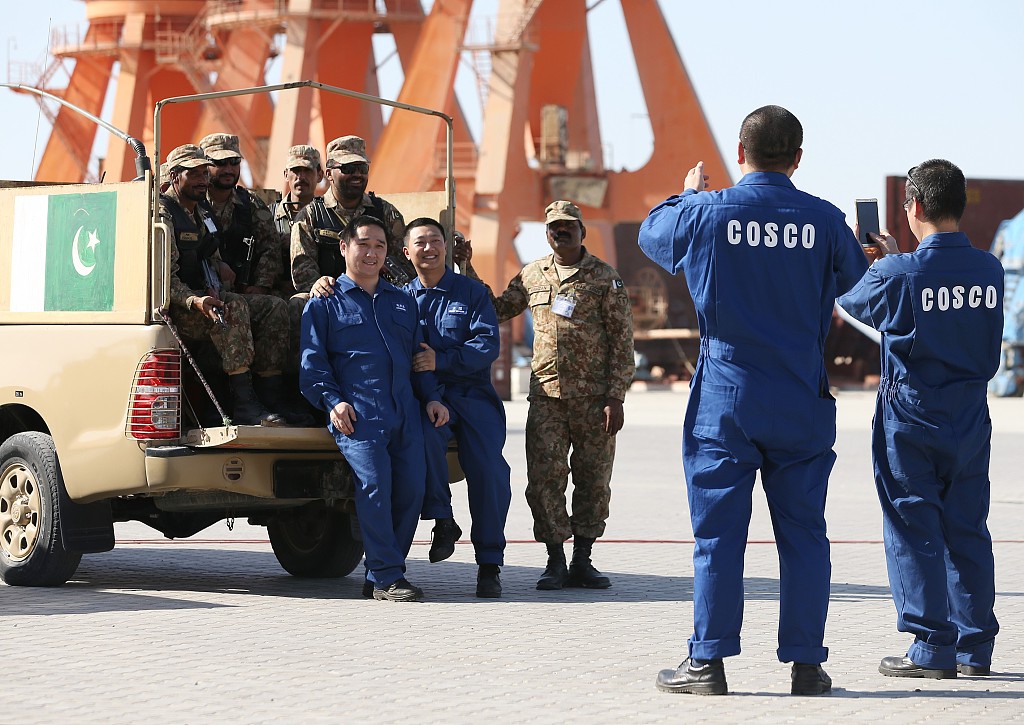 Pakistani army members and Chinese staff pose for a photo together during the opening of a trade project in Gwadar port, west of Karachi on November 13, 2016. Pakistani Prime Minister Nawaz Sharif attended a ceremony held at the port, a key part of the $46 billion China-Pakistan Economic Corridor (CPEC), to celebrate the arrival of a Chinese trade convoy that had travelled 3,000 kilometers from China's northwestern Xinjiang province. (File photo: VCG)
Under the title "Pakistan, Central Asia and CPEC: A Vision for improved Connectivity," the seminar was organized by the country's top think tank Institute of Strategic Studies Islamabad (ISSI). The seminar termed CPEC as an engine with great potential to boost development in the region and beyond.
In his welcome remarks on Tuesday, Director General of the ISSI Aizaz Ahmad Chaudhry said CPEC is a gambit of connectivity to bring prosperity to the entire region under the Belt and Road Initiative.
Foreign Secretary at the Ministry of Foreign Affairs of Pakistan Tehmina Janjua said, "Connectivity is the name of the game in this century as this is imperative for trade and commerce in today's interconnected world. Pakistan is extremely desirous to enhance connectivity with the neighbors and the region."
Chinese Ambassador to Pakistan Yao Jing said regional countries should realize the importance of the connectivity and cooperation, adding that Pakistan offers a very important sea route to China, Afghanistan and central Asia.
The speakers agreed that the CPEC would become a network of connectivity, and by using both inland and sea routes, regional players have an ideal opportunity to transform geo-political competition into geopolitical cooperation.