China to help Rwanda extend polytechnic, drill boreholes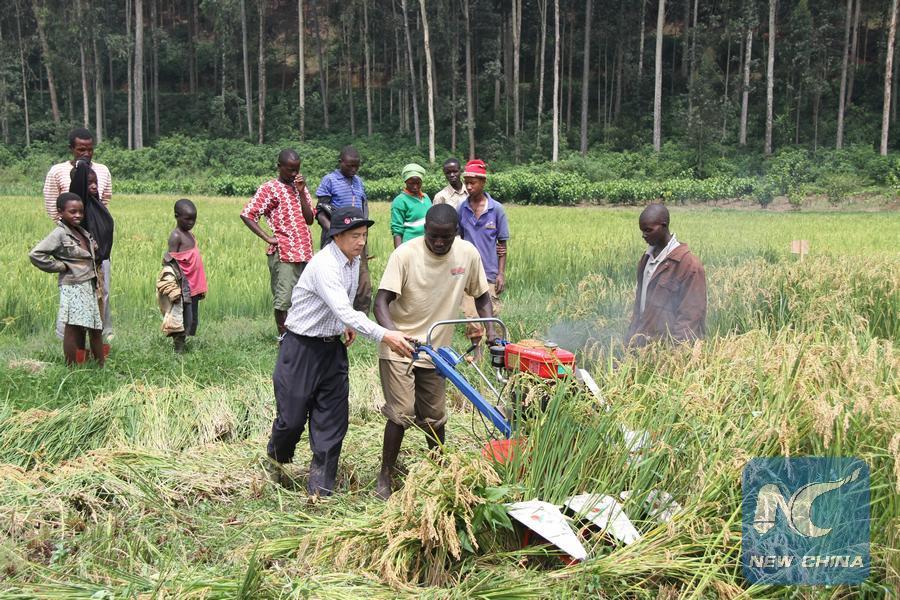 A Chinese assisting a Rwandese local how to cultivate land in Butare, Southern Province of Rwanda. Photo: Xinhua
The Chinese ambassador to Rwanda and the Rwandan finance minister on Wednesday signed an economic and technical cooperation to help the country improve technical education and water supply.
Under the agreement, the Chinese government pledged to provide funds to extend Musanze Polytechnic in Rwanda's Northern Province, and to drill 200 boreholes, as well as other projects to be agreed upon by the two governments.
Rao Hongwei, the ambassador, and minister Claver Gatete exchanged letters to confirm the implementation of the aforesaid two projects.
Upon completion, Musanze Polytechnic will have the capacity to enroll 1,500 diploma students and 400 short-course trainees up from 560 diploma students and 180 short-course trainees. The 200 boreholes will provide water to the communities in 11 districts and it will fully serve approximately 300 to 1,500 people per borehole with potable water in selected area.
Rwanda intends to be a knowledge-based economy therefore education is crucial, said Gatete at the signing ceremony, adding that the extension of Musanze Polytechnic will ensure the school meets the increasing demands of diploma education while drilling water boreholes will contribute to the alleviation of water shortage.
China has been extending its assistance and conducting cooperation activities with African countries through the framework of the Forum on China-Africa Cooperation, under which China granted to Rwanda a significant number of turnkey projects, he said.
He thanked the government of China for its continued support to Rwanda in most crucial areas of the country's social and economic transformation.
There is a strong match between China's Belt and Road Initiative, "Made in China 2025" policy and Rwanda's industrialization strategy, according to Rao.
China is willing to, together with Rwanda, enhance practical economic cooperation through strengthening communication and coordination, said the ambassador.
He added that China will continue to provide assistance in infrastructure construction, industrialization and agricultural modernization to improve the economic and social development of Rwanda.