BRICS emerging as a force to upgrade global governance
Global Times
1532691232000
The Sandton Convention Centre in Johannesburg this week is abuzz with over 5,000 delegates representing international organizations like the United Nations, the Organization of Islamic Cooperation and the African Union as also 19 countries from major emerging economies. These 19 emerging economies include five BRICS nations that are holding their annual summit, five leaders representing the world's major emerging economies under the "BRICS Plus" mechanism that was initiated last year at the Xiamen summit, and another nine African nations under their earlier "BRICS+N" framework that was introduced at the 2014 Fortaleza summit and involves BRICS leaders' outreach with major "regional" leaders depending on where the summit is taking place.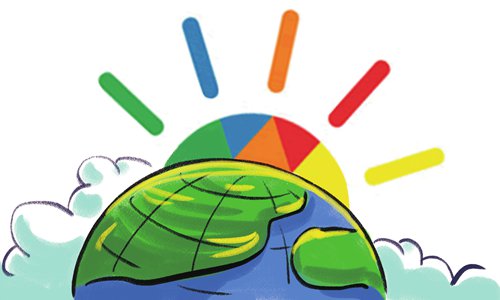 Illustration: Liu Rui/Global Times
While the Xiamen summit last year had upgraded BRICS+N formulation to "BRICS Plus," thereby replacing BRICS regional leaders outreach with dialogue with its global "friends," the 10th summit this week will see Johannesburg hosting both sets of meetings. This seems aimed at engaging a large number of aspiring nations who both deserve and wish to join the group.
So, along with their ever-expanding agenda as also ever increasing number of events that precede BRICS summits - and include official and ministerial meetings as also get-togethers of media, sports, culture, academia and so on - all reflect today this ever expanding BRICS footprint. The organization though remains tight-lipped about opening its membership. However, together all of this alludes to BRICS expansion being inevitable in the coming times.
Second, what perhaps is also making BRICS grab headlines is US President Donald Trump's recent tariff wars against several of these emerging economies. The biggest of these have been against China which not just stands today as the second largest economy but contributes over one third of the annual global growth rate. Given that China is the largest trading partner of most of these emerging economies, and its Belt and Road initiative is fast connecting it to several of these, Beijing is making them see their own growth tied to China's peaceful rise.
India, the second largest economy in BRICS, has also been hit by Trump's tariff onslaught. Several BRICS members and interlocutors today share their concern over Trump's tirade against Beijing.
Fighting protectionism therefore will emerge as the next item on the BRICS agenda for the time to come. No doubt, BRICS will continue to work on other issues like terrorism, climate change, energy security, women's empowerment, poverty alleviation etc.
Third, BRICS members, especially China, have over the years emerged as an inspiring model for fighting poverty and inequality. China, as also India, is contributing to several poverty alleviation programs and especially to infrastructure building in many African countries. Whereas the Bretton Woods system of global governance has generated extreme inequality both within and among nation-states, BRICS' new governance structures are emerging as models of equality, efficacy and efficiency.
BRICS is increasingly reckoned as a genuine force to transform global governance structures and will overtake G7 industrialized countries much before the predicted date of 2035. Alternative governance structures of BRICS like the New Development Bank and the Currency Reserve Pool and their planned Credit Rating Agency are already lending weight to the organization bargaining in conventional multilateral institutions' decision-making.
China today has 43 diplomatic missions in Africa and its trade with the continent, at $170 billion, makes it Africa's largest trading partner while the US' economic engagement with Africa has seen a sharp decline. The coming five years are expected to see India's $52 billion trade with Africa grow three-fold and for this, New Delhi has decided to raise the number of its diplomatic missions in Africa from the current 29 to 47 by 2021.
Indeed, China, Russia and India have taken the lead in launching a new genre of "informal" summits and multilateral summit meetings. Like China and India, Russia will be starting to host its first Africa summit from next year. This trio is also emerging as the spirit behind the Shanghai Cooperation Organization, thus transforming both the substance and style of global diplomacy with significant implications for global governance structures and processes.
The author is a professor at Jawaharlal Nehru University, New Delhi, and a senior fellow at The Charhar Institute.