Volunteers ensure success of Games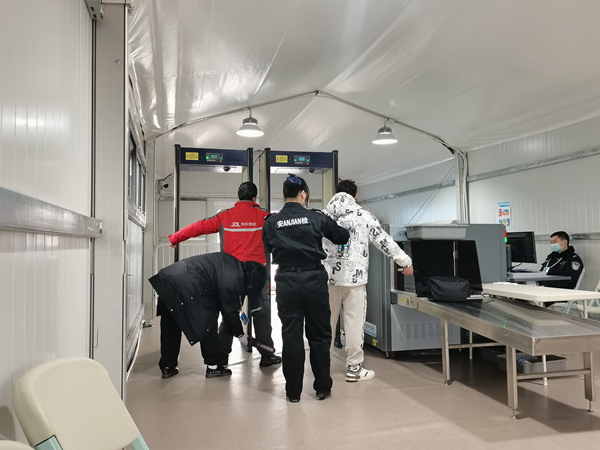 Attention to detail and efficiency guarantee events go smoothly, Wang Ru reports.
During the closing ceremony of the 2022 Beijing Winter Olympics held on Feb 20, a video about the work of volunteers was broadcast, and representatives of the volunteers were honored for their contributions to the Games.
According to Teng Shengping, director-general of the volunteer department of the Beijing organizing committee, there were more than 18,000 volunteers at the Games, providing services related to venue management, language and media to ensure the event was completed successfully. Among them were students from the City University of Zhengzhou, who, after helping at the Olympics, worked to ensure the success of the Paralympics.
On Jan 7, 34 students from the university, led by their 25-year-old supervisor Li Xinping, embarked on the journey from Zhengzhou, Central China's Henan province, to Beijing. It was the first time some of them had visited China's capital, and all of them felt excited.
"It may be a once-in-a-lifetime opportunity to work as a volunteer for the Winter Olympics, so I signed up for it," says 20-year-old Gao Ruikai, one of the students.
They arrived in Beijing on Jan 8, and were appointed to work as security in Chaoyang district, checking the trucks and people transporting goods and materials to the Winter Olympics.
They received strict training for eight days. Sometimes when they found what they learned too difficult to remember, Li would give them extra tutoring at night to help them memorize the knowledge so that they could pass both the theory and practical exams, and begin work, which started on Jan 21.
They were separated into two groups, responsible for checking people and trucks respectively, according to Chen Mengjiao, 21, who was appointed to check for forbidden objects. The volunteers worked in teams, each consisting of four people. In one team, two people cooperated to work for two hours, before swapping places with the other two. Each day, the whole group checked about 300 people, on average.