Guyana
People's Daily
1561616452000
The Cooperative Republic of Guyana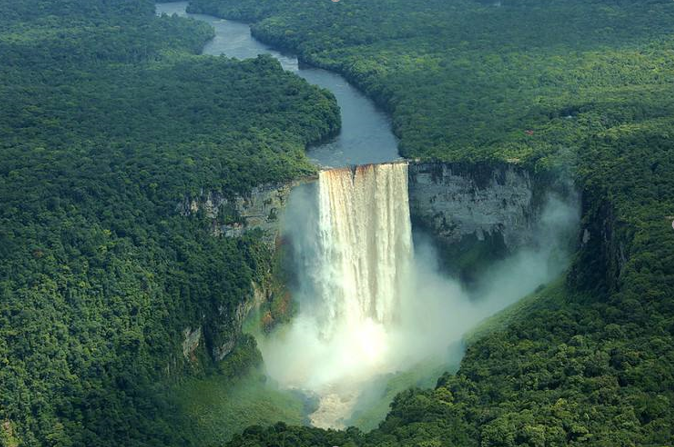 Photo: Beijing.lotour.com
Area: 21,500 square kilometers
Population (2017): 738,000. Among them, 39.8 percent are of Indian descent(印度裔), 29.3 percent are of African descent, 19.9 percent are of mixed race, and 10.5 percent are Indian(印第安人).
Capital: Georgetown
Official Language: English is the official and lingua franca language, and Creole, Urdu, Indian and Hindi are also spoken. Residents were 34.8 percent Protestant, 24.8 percent Hindu, 7.1 percent Catholic and 6.8 percent Islamic.
Geography: It's in the north of South America. It is bordered in theorthwest by Venezuela, south by Brazil, east by Suriname and the Atlantic borders the northeast. It has a tropical rainforest climate, the average annual temperature is 24-32 degrees Celsius. Indian settled in the 9th century AD. In the 15th century, the Spanish invaded, and in the 17th and 18th centuries, it was occupied by the Netherlands. In 1814, the Netherlands transferred it to Britain. In 1831, it officially became a British colony, and changed its name to British Guyana. Independence was declared on May 26, 1966. The cooperative republic of Guyana was established on February 23, 1970.
Independence Day: May 26
Economy
Guyana's economy is mainly based on primary products, with bauxite, sucrose and rice as three economic pillars. In recent years, the Guyana government has implemented sound macroeconomic policies and moderately expanded fiscal policies, increased investment in public facilities, and carried out large-scale transformations of the sugar industry. As a result, the economy has maintained steady growth.
GDP(2017): $35.9 billion
GDP Per capita(2017): $4,662
Growth rate (2017):3.5%
Currency: Guyanese Dollar
Politics
Head of state: David Granger, he took office in May 2015 with a term of five years.
China- Guyana relations
China and Guyana established diplomatic relations on June 27, 1972.
In recent years, bilateral friendly cooperative relations have been developing smoothly with frequent high-level exchanges and sound coordination in international affairs.
In June 2013, during President Xi Jinping's visit to Trinidad and Tobago, he held a bilateral meeting with former Guyana's president Jose Ramotta. In July 2014, President Xi attended the China-Latin American and Caribbean leaders' meeting in Brazil. Guyana's then-president Ramotta attended the group meeting.
In July 2018, China and Guyana signed a memorandum of understanding on jointly building One Belt and One Road. The two countries have established a mechanism of mixed economic and trade committees and have held 11 meetings so far. China-Guyana trade is dominated by Chinese exports. According to statistics from the general administration of customs of China, the bilateral trade volume of 2017 reached 227 million US dollars, of which 189 million US dollars was exported by China and 38 million US dollars were imported by China, representing year-on-year growth of 9.9 percent, 5.8 percent and 35.8 percent respectively. The Chinese side mainly exports mechanical and electrical products, ships, textiles, steel, high-tech products, plastic products, agricultural products, tires and other products to Guyana, and imports wood, sawed timber and agricultural products.