Dominica
People's Daily app
1562745378000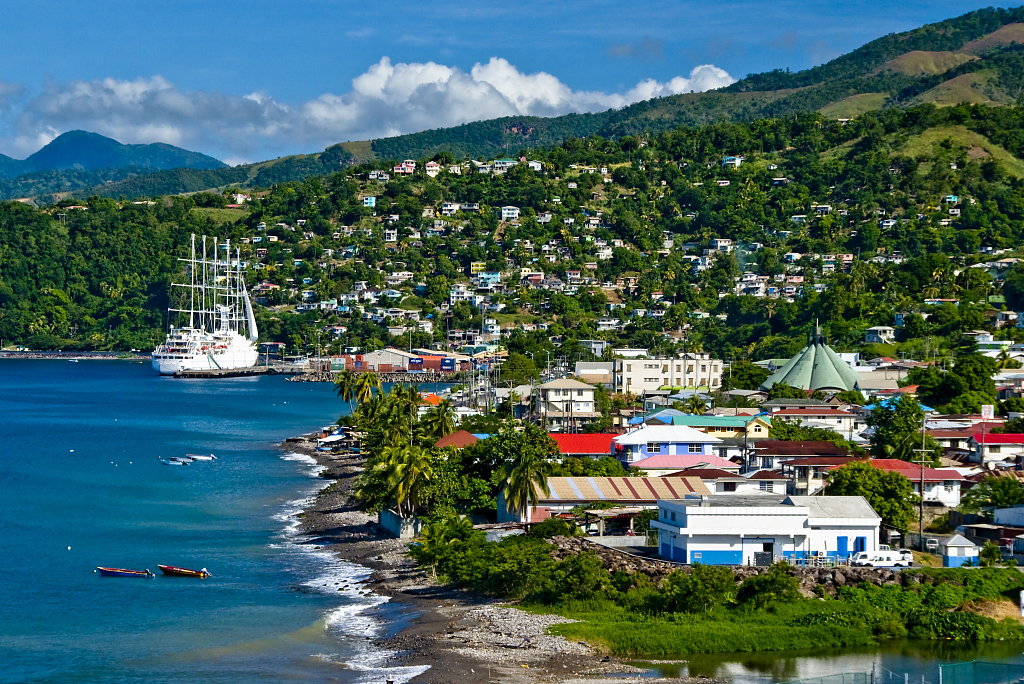 (Photo: VCG)
Full name: The Commonwealth of Dominica
Area: 751 square kilometers
Population: 72,000 (2017)
Religion: Most residents are Catholics, some are Protestants.
Official language: English
Capital: Roseau, located on the western side of the island with a population of about 20,000
Independence Day: November 3
Head of State: President Charles Angelo Savarin, inaugurated in October 2013 and reelected in October 2018
Geography: Dominica is an island country in the West Indies. Located in the northeast of the Windward Islands in the Lesser Antilles archipelago in the Caribbean Sea, the country borders the Atlantic to the east, Caribbean Sea to the west, faces Martinique to the south and Guadeloupe to the north across straits.
Climate: It has a tropical marine climate with a mean annual temperature between 25 C and 32 C. Known as "The Nature Island of the Caribbean" due to its lush scenery and varied flora and fauna, the country is largely covered by rainforest and is home to the world's second-largest hot spring, Boiling Lake.
Politics: After being granted independence as a republic, the Dominica Freedom Party (DFP) of the country had long been in the office before it held power with the United Workers' Party (UWP) alternately. In 2000, the Dominica Labour Party (DLP) won by a tiny margin, and formed a coalition government with DFP. In January 2004, the then Prime Minister Pierre Charles died in office, and Roosevelt Skerrit, also of the DLP, replaced him as prime minister. He also led the party to win in three consecutive elections, in 2005, 2009 and 2014 respectively.
Economy: The country is still largely dependent on agriculture. In September 2017, it was struck by Hurricane Maria, which caused huge damage to the buildings and infrastructure, and the losses were estimated to exceed $1 billion.
The main economic indexes of 2017
GDP: $503 million
Growth: 4.2 percent
Per capita GDP: $7,921
Currency: East Caribbean Dollars, XCD
Exchange rate: $1≈2.7XCD
Inflation rate: 0.56 percent
Relations with China: The Commonwealth of Dominica established diplomatic relations with China on March 23, 2004. The relations between the two countries have been smooth in recent years with a steady growth of high-level exchanges.
In June 2013, during his visit to Trinidad and Tobago, President Xi Jinping held a meeting with the Dominican Prime Minister Roosevelt Skerrit.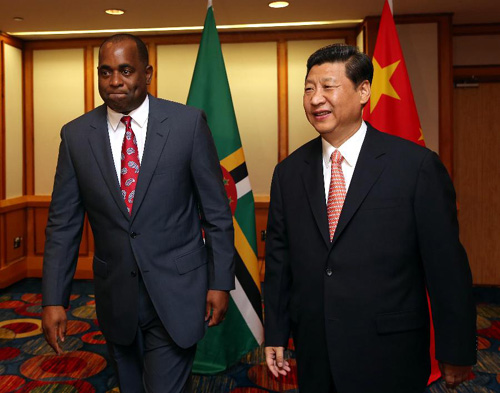 Chinese President Xi Jinping (right) meets with Dominican Prime Minister Roosevelt Skerrit in Port of Spain on June 2, 2013.
In July, Premier Li Keqiang and Vice Premier Zhang Gaoli met in Beijing and Guiyang respectively with Prime Minister Skerrit who came to China for the Eco Forum Global Annual Conference Guiyang 2013.
In October 2013, President Xi sent a congratulatory message to the newly-elected Dominican President Charles Savarin.
In August 2018, Skerrit paid a visit to China due to personal business.
In February 2019, the foreign minister of the Commonwealth of Dominica Francine Baron visited China and met with Chinese State Councilor and Foreign Minister Wang Yi in Beijing.
(Sources: fmprc.gov.cn, Xinhua)