Wu: Time is right to return
Wu Lei has confirmed he is leaving La Liga and will return to China, ending his three-and-a-half-year stint in Europe.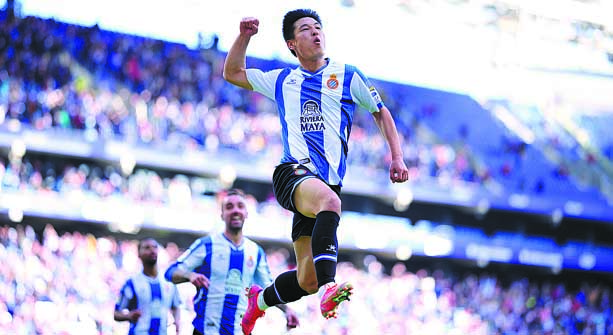 Reports emerged last week that Espanyol is in negotiations over the sale of the Team China international, with the striker saying in an interview published on Friday that the time is right for a switch after struggling for first-team minutes over his last two seasons in Spain.

"Technically speaking, the toughest time for me was last winter. I was not sure if I was going to find a new team in Europe or return to China, but I knew it's about time for me to leave," he told ifeng.com.
"It was not an easy decision to make, as I know how hard it is to secure a place in a major foreign league.
"I would not have felt comfortable with myself had I just returned to China last winter. So I told myself I need to fight as hard as I can. From that process, there were rewards as I scored last season."
Spanish sports publication AS on Wednesday reported that Wu and Espanyol were in talks with his former club Shanghai Port (previously known as Shanghai SIPG) over a potential deal.
Other Spanish and Chinese outlets have since reported similar information for the past week, leaving fans to digest the fact that Team China will no longer be represented in any major foreign league.
Wu was candid about his reasons for leaving Espanyol-his lack of playing time and his declining competitiveness on the pitch.
"The competition here is very intense, especially when you are up against the 18- and 19-year-olds," he explained. "I can feel their strong momentum. I'm already 31, and I knew, physically speaking, I'm no longer as competitive as they are now. I'm not even at the same level as I was three or four years ago.
"The youth training level in La Liga is really high, something I didn't realize before I came here. They could replace the entire team with the young players and remain competitive. But they cannot do that, so every season, each spot in the team is very valuable."
Wu's future at Espanyol has been a hot topic among fans back home over the course of the last two seasons, and he admits the constant discussion and rumors have been difficult to process at times.
"I understand why there is such huge attention on me as I'm the only China international who is playing in a major European league for the past few years. It's not realistic to say it hasn't bothered me. After all, I also read news and use social media," said Wu.
"When I had no playing time, fans would say why not switch team and just leave. And when news broke about my return to China, there are voices saying that it's better for me to stay in Spain. So I need to block out the noise and, first and foremost, know myself and what's best for me."