FTZs further opening-up, reform efforts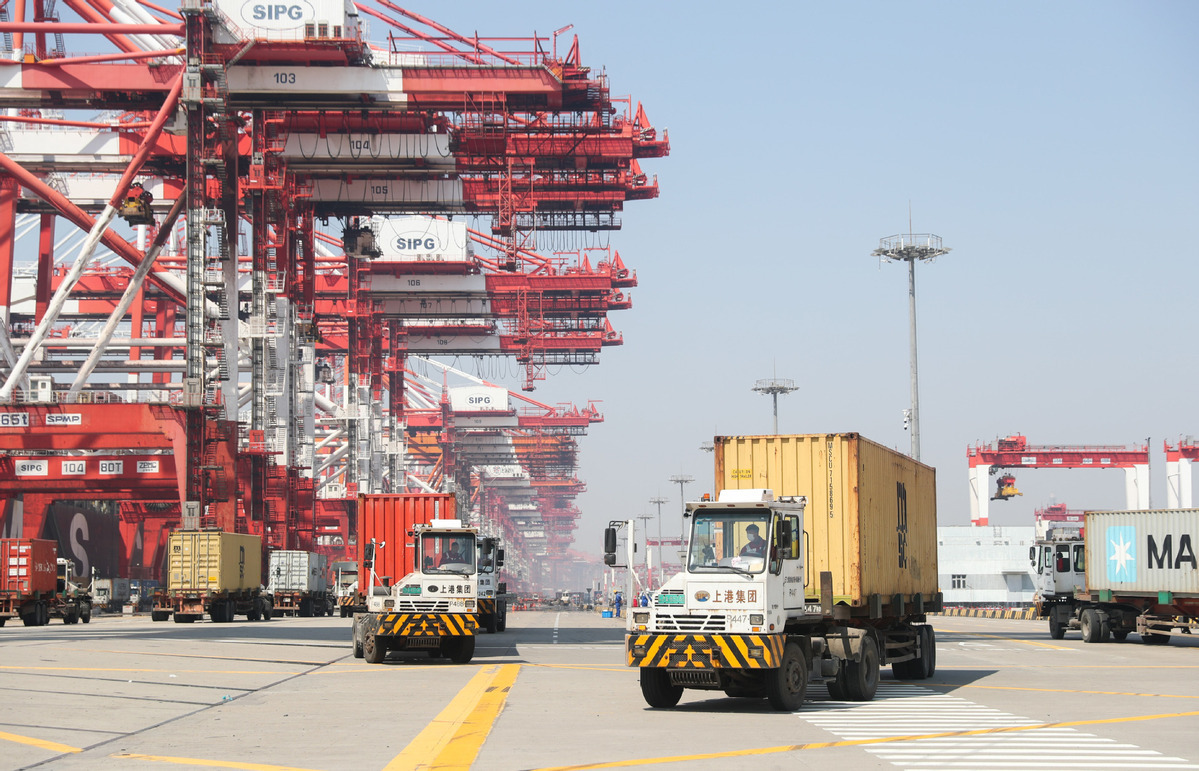 Containers are seen at the Yangshan Special Comprehensive Bonded Area in Shanghai, China on March 18, 2020. [Photo/Xinhua]
Steps tested at pilot zones cut operating costs of companies, boost innovation
China has implemented 260 reform measures that were tested and used at the various pilot free trade zones over the last six years, an indication of the nation's renewed commitment to deepen reform and expand opening-up to shore up economic growth, government officials said on Friday.
The comments came after the State Council decided to implement the sixth batch of measures tested at the pilot FTZs, including the China (Shanghai) Pilot Free Trade Zone, across the rest of the country earlier this week.
The new measures, spread over 37 items, will effectively cut companies' operating costs, boost government's work efficiency and innovation ability, encourage the financial sector to better serve the real economy and conduct in-depth differentiated exploration based on each FTZ's strategic positioning and industrial foundation, said Tang Wenhong, director-general of the department of pilot free trade zone and free trade port at the Ministry of Commerce.
To be replicated nationwide are measures in 31 articles, covering areas like investment management, trade facilitation, financial openness and innovation, operational and post-operational oversight and human resources. The rest six items will be introduced in the country's pilot FTZs and Customs-supervised bonded sites.
To reform investment management, green channels will be set up for approvals to electricity projects, registration of real estate will be made more convenient, and small-scale value-added tax declaration will be assisted by smart technologies.
With more uncertainties affecting the global economy, Tang said the implementation of the new measures will help maintain stability in six key areas-employment, financial operations, foreign trade, foreign investment, domestic investment and expectations-and enhance protection in six other areas: jobs, basic living needs, business operations, food and energy security and stable industrial and supply chains.
China's 18 pilot FTZs attracted 60.25 billion yuan ($8.6 billion) of foreign direct investment, accounting for 17 percent of the country's total in the first five months of this year, with less than four-thousandths of the nation's land area, according to the ministry data.
Tang said the government will continue to offer pilot FTZs greater reform autonomy, explore how to set up and improve the authorization mechanism of pilot FTZs and support their institutional innovation efforts and dismantle institutional barriers that restrict industrial upgrade.
The pilot FTZs have not only conformed to the new trend of global economic and trade rules, but also strengthened China's various sectors, particularly in investment, trade and financial services, served as benchmarks for international advanced systems and furthered the new international economic and trade rules, said Zhong Muda, deputy director-general of the Fujian provincial department of commerce.
Li Yufei, deputy head of the office of deepening overall reform at the Communist Party of China Hainan Provincial Committee, said in the next step, the China (Hainan) Pilot Free Trade Zone will strengthen cooperation with countries and regions related to the Indian Ocean and the Pacific to apply institutional innovation from a global perspective, in order to further boost trade and investment activities.
The central government also announced late last month that it will temporarily adjust the implementation of five administrative regulations in the Hainan FTZ to support its reform and opening-up.
The adjustments, effective from June 28, 2020 to Dec 31, 2024, cover regulations on Customs guarantees, tariffs, international maritime transport, inspection of ships and offshore facilities, as well as domestic waterway transport, said a circular issued by the State Council last month.
Self-driven overseas yachts will enjoy a guarantee-free policy in the Hainan FTZ, while the approval process for the operation of international passenger ships and international bulk shipping of hazardous liquid shall be delegated to the provincial transport department, the circular said.
After the adjustments, foreign ship inspection agencies will be allowed to provide classification services for Chinese vessels that are registered in the Hainan FTZ and engaged in international voyages.