Tough 2019 brings out China's resilience in foreign trade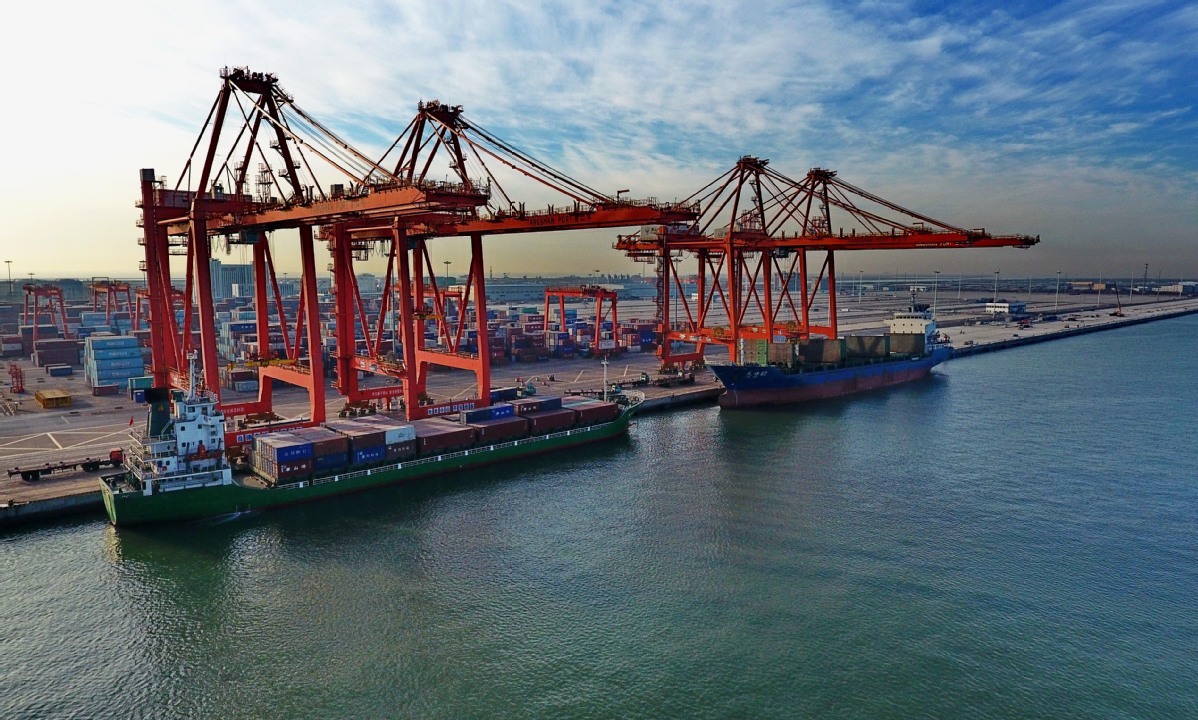 Photo taken on Jan 11, 2019 shows an automatic container dock in Tangshan, North China's Hebei province. (Photo: Xinhua)
BEIJING, Jan. 14 (Xinhua) -- By posting a 3.4-percent growth rate and a total foreign trade volume of 31.54 trillion yuan (about 4.6 trillion U.S. dollars), China has shown its tenacity and is expected to remain the world's biggest trading country in 2019.
With global economic growth continuously slowing and challenges mounting, Zou Zhiwu, deputy head of the General Administration of Customs, admitted Tuesday that the external environment for China's foreign trade was "complex and tough indeed" in 2019.
Against such a backdrop, China still scored steady growth and maintained momentum for achieving better quality, he said.
Citing data from the World Trade Organization for the first 10 months of 2019, he said China's export remains the best among the world's top 10 trading countries.
Official data from China showed the country's exports grew 5 percent year on year to 17.23 trillion yuan last year while imports climbed 1.6 percent to 14.31 trillion yuan, resulting in a trade surplus of 2.92 trillion yuan, which expanded by 25.4 percent.
Zou attributed the performance to the country's sound economic fundamentals and resilience, as well as a raft of pro-trade policy measures.
NEW HIGHLIGHTS
Speaking about the country's foreign trade, Zou pointed out a few fresh trends.
Private firms are playing a larger part in foreign trade, overtaking foreign-funded enterprises to become the biggest contributor to China's foreign trade for the first time.
Their capability of exploring emerging markets, including countries in Latin America and Africa, as well as the Association of Southeast Asian Nations (ASEAN) members, is particularly eye-catching, which is, in part, a representation of China's diversifying foreign trade markets.
In 2019, ASEAN overtook the United States to become China's second-largest trading partner, while trade with countries participating in the Belt and Road Initiative picked up 10.8 percent to 9.27 trillion yuan in total.
As China's economy gradually shifts from being export-driven to consumption-driven, imports of consumer goods surged last year, led by fruits, cosmetics and aquatic products, demonstrating the power of China's immense consumer market, said Zou.
ENHANCED IMMUNITY
With the government taking active efforts to open up the economy and facilitate foreign trade, China has become more immune to external uncertainties and seen improving trade structure.
The country has rolled out a series of measures since 2018 to spur trade, including lowering or abolishing tariffs on products like consumer goods and some medicines.
As a result, imports of consumer goods and medical products climbed 19 percent and 25.8 percent, respectively, said Zou.
China has also introduced measures to optimize forex management and promote cross-border trade and has seen its ranking ascending to 56th worldwide on the Trading Across Borders indicator of the World Bank's ease of doing business list.
As a token of a healthier system, China's trade mix continued to improve in 2019, with the general trade, which represents longer production chain, higher added-value and companies' strength for growth, taking up a larger share of the total trade, said Zou.
RECOVERY EXPECTED
Despite the slower growth of 3.4 percent, China's foreign trade expanded quarter by quarter throughout the year. In December alone, China's foreign trade jumped 12.7 percent from the same period of 2018 to a monthly record of 3.01 trillion yuan, with exports up 9 percent and imports up 17.7 percent to new monthly highs.
Huang Guohua, a GAC official in charge of data analysis, attributed the December uptick to factors including rising demand for imports from recovering global manufacturing activities, higher prices of major commodities worldwide, and growing confidence buoyed by the progress relating to trade consultations between China and the United States.
Wen Bin, the chief researcher with China Minsheng Bank, said the global trade environment might get better with the improving economic situations and the upcoming signing of the phase-one deal between China and the United States.
But the major engine for the country's foreign trade growth in 2020 will largely depend on domestic reforms, the measures of steadying economic growth, better business environment, stronger dynamics of business entities, among others, Zou noted.
Less red tape in administrative approval are also expected to unleash more potential for trade.
"In 2020, China's foreign trade is expected to expand steadily with higher quality," said Zou.