Toyota launches joint venture to develop hydrogen cars
People's Daily
1591577388000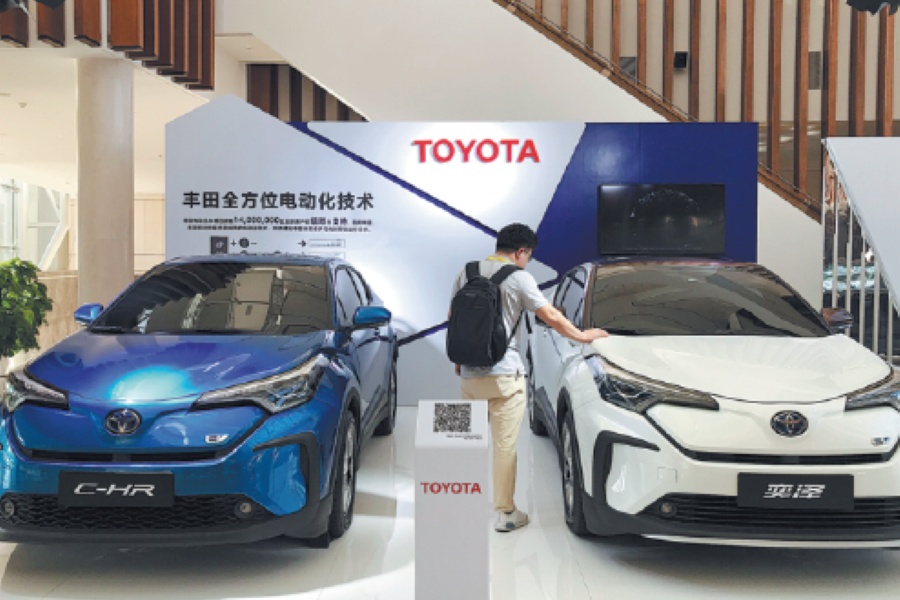 A visitor inspects some of Toyota's electric vehicles in Tianjin in 2019. [LI FUSHENG FOR CHINA DAILY]
United Fuel Cell System R&D includes five Chinese firms and investment of $46 million
Japanese automaker Toyota announced on Friday that it will set up a Beijing-based joint venture with five Chinese companies to develop hydrogen fuel cell solutions for commercial vehicles in the world's largest auto market.
Partnering with Chinese auto companies FAW Group; Dongfeng Motor; Beijing Automotive; GAC and hydrogen energy company SinoHytec, Toyota aims to develop a competitive fuel cell system that meets Chinese requirements and popularizes hydrogen fuel cell vehicles in the country.
With an initial investment of 5 billion yen ($46 million), the new joint venture called United Fuel Cell System R&D (Beijing) Company is 65 percent owned by Toyota, 15 percent by SinoHytec and 5 percent by each Chinese auto group.
Tatsuro Ueda, CEO of Toyota China, said: "This is the only fuel cell R&D company that Toyota has set up overseas and it has important strategic significance for Toyota.
"The new company will focus its business on the Beijing-Tianjin-Hebei region, the Yangtze River Delta and the Pearl River Delta first and will spread to more places."
The new partnership highlights Toyota's continued ambition on fuel cell vehicles.
It believes hydrogen is a high-potential future energy source and fuel cell vehicles are ecologically ideal.
Toyota sold hydrogen fuel cell vehicles in the United States and Japan in 2002 and offered a hydrogen-electric Mirai that can be refueled at special hydrogen stations and other hybrid cars in the US.
The carmaker has sought opportunities to expand its hydrogen fuel cell vehicle business in China since 2017, when Toyota built the first test hydrogenation station in Changshu, Jiangsu province.
In 2019, Toyota and its joint ventures with GAC and FAW Group aimed to launch fuel cell cars and partnered with Foton Motor Group on R&D and the industrialization of hydrogen fuel cell engines. That work is ongoing.
Hydrogen fuel cell vehicles are also recognized by Chinese government.
According to the plan of hydrogen fuel cell vehicles in 2016, China is expected to build around 100 hydrogenation stations and have 5,000 hydrogen fuel cell public service vehicles by 2020; 50,000 hydrogen fuel cell vehicles and 300 hydrogenation stations by 2025; 1 million hydrogen fuel cell vehicles and 1,000 hydrogenation stations by 2030.
According to statistics from the GGII, a hydrogen electricity information provider, China produced 3,018 hydrogen fuel cell vehicles in 2019, a growth of 86.41 percent year-on-year.
Also, hydrogen fuel cells' installed capacity increased 140.49 percent compared with 2018.
Wan Gang, president of the China Association of Science and Technology, said in 2018 that due to the problem of short ranges and the charging time of pure electric vehicles, China should focus on expanding fuel cell vehicles, which have the advantages of zero emissions, longer ranges and a faster fuelling time.