New construction to lift Manhattan office rents in 2018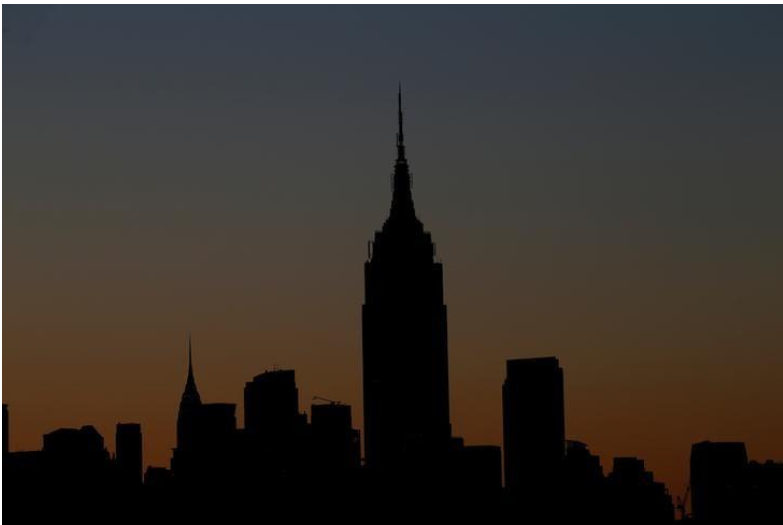 A view of the Empire State building and midtown Manhattan skyline of New York City at sunrise as seen from Hoboken, New Jersey, US, August 9, 2017. Photo: REUTERS/Mike Segar
The largest amount of new construction to hit Manhattan since the 1980s will lift asking rents this year for office space in New York as demand likely continues to grow faster than the US average, executives from Cushman & Wakefield said on Wednesday.
"(New York) is still a magnate for corporations from around the world and that will allow New York to continue to grow even if job growth slows elsewhere in the country," said Ken McCarthy, principal economist at the real estate services company in a media webcast.
Tuesday's announcement by Discovery Communications Inc to relocate its global headquarters to New York next year from Silver Spring, Maryland, where it employs 1,300 people, is the latest example, McCarthy said.
The desirability among young professionals to live in city centers benefits New York, as does the overall growth of the US economy, which McCarthy said was on track this year to post its best annual performance since the current expansion began in 2010.
The unemployment rate in Manhattan was 3.6 percent in November, according to the latest New York state data, lower than the national rate of 4.1 percent reported for December.
More than 5.7 million square feet of new construction is slated for delivery in 2018, the most amount of new office space to hit the city since 1986, Cushman & Wakefield said.
The new construction will lift vacancy rates slightly but push overall asking rents higher because new space is always more attractive to prospective tenants.
The vacancy rate in the fourth-quarter was 8.9 percent, below the historical average of 9.5 percent. Average asking rents fell less than 1 percent to $72.25 a square foot from the fourth quarter of 2016, but rents for new Class A construction rose to more than $100 a square foot.
Manhattan office leasing activity increased 16 percent last year from 2016, with 30.5 million square feet of new leases signed, which marked the second-highest level in 17 years.