Chinese firms benefit Africa by providing jobs, boosting prosperity
Global Times
1535982576000
Companies seen providing jobs, boosting prosperity

An industrial park Chinese mobile phone maker Transsion Holdings is building in Ethiopia could potentially serve as a template for other Chinese businesses to improve local job skills and management competency, the founder and chairman of the company said on Sunday.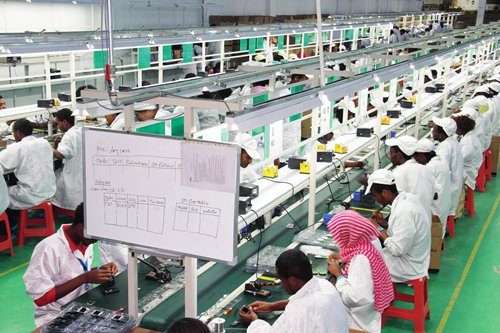 Staff work at Transsion's factory in Ethiopia. (Photo: Courtesy of Transsion)
In an interview in Beijing with the Global Times, ahead of the Beijing Summit of the Forum on China-Africa Cooperation (FOCAC), Transsion founder Zhu Zhaojiang, who is also a Summit attendee, said the industrial park is scheduled to be completed within two years and its first phase will be finished in October. Phones and other home appliances will be assembled in the park, which will have an area of 46,500 square meters.
The company - the top phone vendor in Africa - is currently leasing a factory in Ethiopia that employs 1,900 workers, but production will begin in the industrial park when it is ready, Zhu said, and the local government may add to the park's development.
The Shenzhen-based phone maker is not one of the biggest names in China's domestic market, but over the years it has established a strong foothold in the African market, helped by its efforts to woo local consumers with a set of unique functions, such as face recognition specifically for dark-skinned people, multi-card and multi-standby phone models and an anti-sweat feature.
Transsion's global sales, almost entirely from the African market, hit 130 million last year, according to Zhu, who predicted that this year's figures, both for global sales and for smartphones as a percentage of total sales, will be higher, indicating better earnings prospects for the company.
Figures from research consultancy Canalys showed that in the first quarter of the year, Transsion, selling phones under the brands of TECNO, itel and Infinix, held a share of 38 percent of the African market for smartphones, unseating Samsung as the continent's top smartphone vendor.
Chinese firms' progress
In another example of a Chinese tech firm nurturing business in Africa, Beijing-based digital TV services provider StarTimes Group has established itself as a popular provider of TV services in the continent. The company started investing in Africa back in 2008.
"In African people's eyes, goods and services provided by Chinese firms are not only cheap but of high quality, quite different from the past when they had a low-quality image," Pang Xinxing, chairman of StarTimes Group, told the Global Times on Friday.
Chinese businesses are now perceived by African people as being a source of jobs and tax revenue, as well as contributors to local prosperity, even though some Western observers stubbornly express doubts and concerns, said Yao Guimei, senior research fellow and director of the Center for Southern African Studies with the Institute of West-Asian and African Studies under the Chinese Academy of Social Sciences (CASS).
Transsion currently employs more than 10,000 African people, and in the case of StarTimes, three-quarters of its 5,000 staff in China and Africa are foreigners.
"The jaundiced view among certain Westerners about China's involvement in Africa ought to be disregarded," Yao told the Global Times on Sunday, while adding that Chinese businesses should also make more socially responsible investments among other efforts to incorporate themselves into the local market.