UK business confidence rises to five-month high in December: Lloyds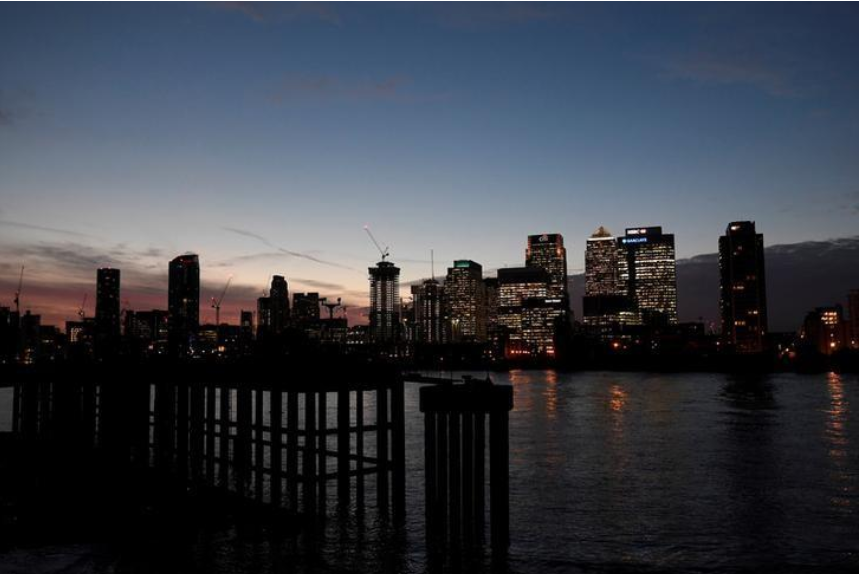 The Canary Wharf financial district is seen at dusk in London, Britain, November 17, 2017. Picture taken November 17, 2017. File Photo: REUTERS/Toby Melville
Confidence among British businesses has picked up to its highest level since July as firms expect a busier 2018, though optimism remains well below its level before last year's Brexit vote, a survey by Lloyds Bank showed on Friday.
Lloyds' business barometer rose to +28 in December from +24 in November, compared with a pre-referendum average of +44.
Official data due at 0930 GMT is expected to confirm that British annual economic growth held at 1.5 percent in the three months to September, compared with an average of more than 2 percent before the referendum to leave the European Union.
"The results point to the economy continuing to expand in the fourth quarter at a similar pace to recent quarters," Lloyds economist Hann-Ju Ho said.
"However, larger companies reported the weakest business prospects as well as the biggest concerns about the impact of Brexit," he said.
Britain is due to leave the EU in March 2019. Prime Minister Theresa May this month secured agreement from other EU countries to move talks on to trade and transitional arrangements, after progress on other issues.
But the EU is likely to restrict British access to its markets after any transition, unless May reverses her decision to put limits on migration from the bloc. Reducing migration was a key reason why many Britons voted to leave the EU.
Earlier this week IMF Managing Director Christine Lagarde said British economic growth was likely to slow further next year as businesses held off from investment in the run-up to Brexit and consumers suffered from high inflation.
A separate survey by market research firm YouGov and economics consultancy Cebr showed a partial recovery in consumer sentiment after it sank in November to its lowest since just after the Brexit vote.
December's monthly gain was the biggest since the start of the year and was driven by home-owners' greater optimism about house prices - a view at odds with most economists and property valuers, who see prices broadly flat next year.
Consumers' assessment of their personal financial situation was still the bleakest since January 2014.
The YouGov/Cebr survey was based on responses from 6,000 people over the past month. The Lloyds data came from 300 firms with annual sales of more than 1 million pounds ($1.34 million) questioned between Nov. 27 and Dec. 11.
Britain's deal to advance to a second phase of divorce talks was clinched on Dec. 8.
YouGov linked the progress in the negotiations to the improvement in its consumer confidence index.