Shanghai-London Stock Connect launched
The Shanghai-London Stock Connect has opened for trading as brokerage Huatai Securities became the first Chinese company to go public in Britain via the long-awaited program.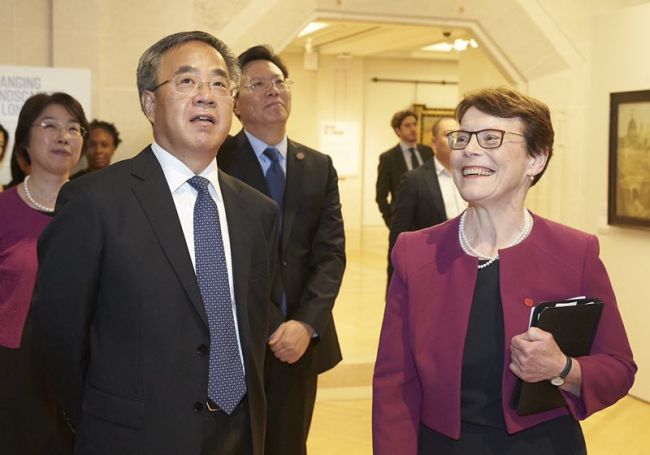 Chinese Vice Premier Hu Chunhua meets with City of London Corporation Policy Chair Catherine McGuinness. (Photo: China Plus)
Under the new system, companies listed in Shanghai can now raise funds on the London Stock Exchange via Global Depositary Receipts issuance, while British companies can issue China Depositary Receipts on the Shanghai Stock Exchange.

The China Securities Regulatory Commission said this marks a crucial step in the opening up of China's capital market and in the China-Britain cooperation in the financial sector.
City of London Corporation Policy Chair Catherine McGuinness described the stock connect as a game changer for bilateral financial cooperation.
"The hugely ambitious Shanghai-London stock connect has been one of the most highly anticipated bilateral initiatives in recent years. It could prove to be a gamechanger in deepening UK-China financial cooperation and expanding access to China's capital markets."
She noted that it would be of far-reaching significance to expand channels for cross-border investment and fund-raising and boost the development of both countries' capital markets.
"Linking one of the world's largest capital markets with one of the world's most international financial centres is good news for the UK, China and the wider global economy. It means global investors can now benefit from China's growth through London, while UK listed companies are able to access Chinese investors directly," said Catherine McGuinness.
Currently, the quota for eastbound business is set at 250 billion yuan, while that for westbound business stands at 300 billion yuan.
China and Britain agreed to carry out a feasibility study on a stock connect between London and Shanghai during the 7th China-Britain Economic and Financial Dialogue in 2015.