Toward contactless, cashless society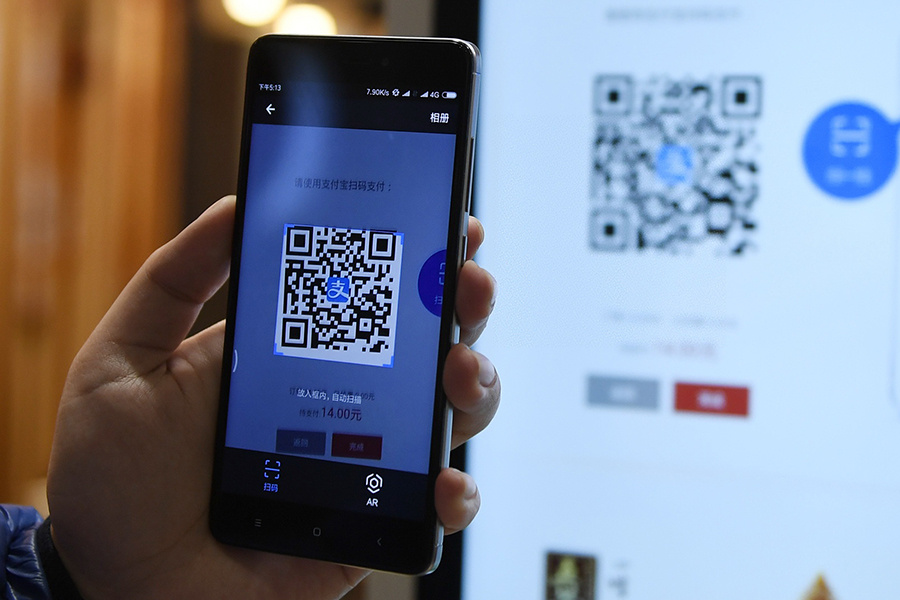 A consumer scans an Alipay QR code to pay for the order at a self-service restaurant in Hangzhou, Zhejiang province. (Photo: Xinhua)
The COVID-19 pandemic has changed people's habits-not just in terms of personal hygiene but even those relating to financial transactions. Physical contact is making way for contactless solutions. The novel coronavirus may fuel China's rush toward becoming a cashless society.
Cash usage has been declining sharply during the epidemic. People mostly stay at home and rely on online channels like e-commerce and mobile payments. Experts urge that use of paper money and coins be reduced as the virus is feared to spread through physical contact.
So, physical money collected from regions severely hit by the epidemic is disinfected with ultraviolet light or high temperature and stored for more than 14 days before being re-introduced in the financial system. The transfer of cash across provinces and within some epidemic-hit areas has been suspended, to reduce travel and limit the spread of the novel coronavirus, a central bank official said.
During the early stage of the outbreak, banks closed their branches. No ATM was available for use near my residential block. Banks and card issuers sent me numerous messages inviting me to join their online services. I learned online introductory sessions for asset management products were being organized. New apps to pay taxes and utility bills were launched.
Some experts think the virus could even push the government to accelerate the launch of digital currency and an electronic payment system. Should that come to pass, it would promote contactless money transactions through a smartphone app.
Chinese technical experts are confident their self-developed electronic payment platforms such as WeChat Pay and Alipay, which now rank as the top two online payment options in the world, would be compatible with the transition.
Data from the People's Bank of China, the central bank, showed that in 2019, banks handled non-cash mobile payments of 347.11 trillion yuan ($49.27 trillion), up more than 25 percent year-on-year. And the total value of electronic payments reached 2.6 quadrillion yuan.
The figures could soar this year, as more people are choosing electronic payments over actual cash amid the outbreak.
Meanwhile, the central bank issued the first set of standards for using the blockchain technology, which is the basis of further developing the country's digital currency. The blockchain technology needs to be regulated for the safety issues.
The ledger that uses blockchain can track and authenticate the origin of financial assets, making the contactless transactions more efficient and transparent. For their part, the authorities concerned will likely spare no effort to ensure user privacy is protected and information security guaranteed in the use of the decentralized blockchain technology.
As countries are taking all possible measures to contain the coronavirus epidemic and its socio-economic and geopolitical fallouts, the blockchain technology could help governments track information on infected people and ensure quarantines are efficient.
Besides, blockchain can provide fast and precise financing services to smaller businesses affected severely by the virus.