UK manufacturing output marks slowest growth in 3 years: CBI
LONDON, June 19 (Xinhua) -- Manufacturing output in the United Kingdom has fallen to its lowest level in over three years due to the ongoing Brexit uncertainty, the Confederation of British Industry (CBI) said on Wednesday, urging the new prime minister who will succeed Theresa May to quickly resolve the Brexit deadlock.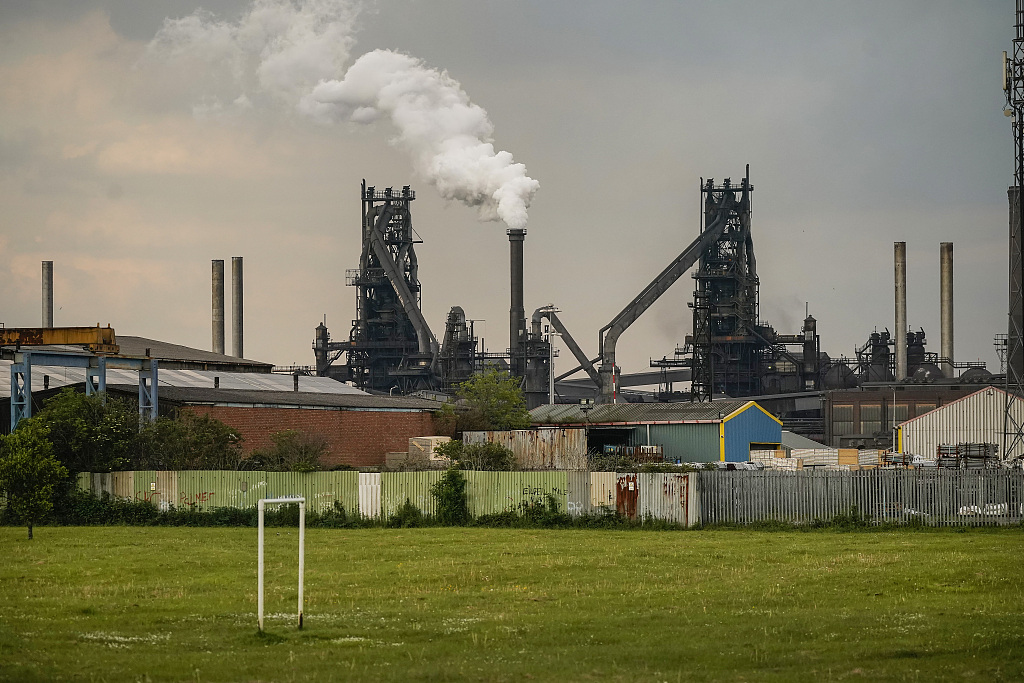 Steam is emitted from a chimney at British Steel's Scunthorpe works which has been forced into liquidation today on May 22, 2019 in Scunthorpe, England. (Photo: VCG)
Manufacturing output was flat in the three months to June, with the chemicals and the food, drink and tobacco industries being the main drivers of growth, while motor vehicle manufacturing dragged most significantly on output, according to CBI's latest Industrial Trends Survey.
The largest contraction in motor vehicle production in a decade was likely due to the factory shutdowns in April to mitigate against Britain's originally scheduled March 29 withdrawal from the EU, the CBI said.
While the picture outside the car manufacturing sector was somewhat better, total order books deteriorated further on the previous month, revealing some underlying causes for concern, as Brexit uncertainty and slower global growth bit further on business activity, CBI said.
Alpesh Paleja, CBI principal economist, said: "There's clear evidence that Brexit uncertainty is really biting, with our surveys showing volatility in both stocks and output in recent months.
"Firms are desperate to see an end to the current impasse -- that means securing a Brexit deal that can not only command the support of parliament and the EU, but prioritizes the protection of jobs and the economy," Paleja said.
Tom Crotty, chair of CBI Manufacturing Council, said: "The first item in the new prime minister's in-tray must be to quickly resolve the Brexit deadlock. We can then look forward to working with the new government to address long-term challenges and identify new opportunities to enhance productivity in the sector."
Having failed to deliver a Brexit deal through the UK Parliament to bring Britain out of the European Union, Theresa May resigned as Conservative Party leader on June 7, but will remain as caretaker prime minister until her successor is chosen.
There are currently five remaining contenders to become the next prime minister, and the candidates will be narrowed to two through further ballots. The 160,000 grassroots Conservative Party members will choose May's successor from the final two. Former Foreign Secretary Boris Johnson is the current frontrunner.
The leader of the Conservative Party will automatically become prime minister, though Queen Elizabeth still has to approve the choice. The winner is expected to be decided before the end of July, only three months before the scheduled Oct. 31 Brexit date.