IAG among bidders chosen for Austrian airline Niki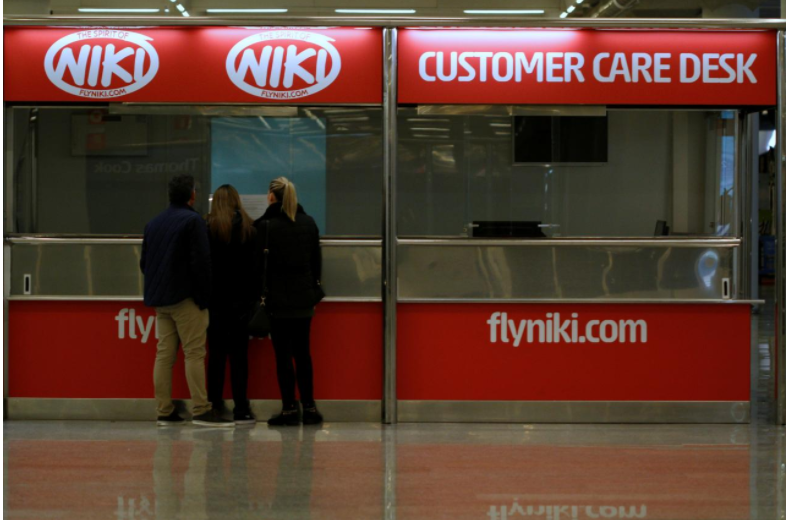 People stand in front of an empty Niki customer care desk at Palma de Mallorca airport, Spain, December 14, 2017. Photo: REUTERS/Clara Margais
IAG, the owner of British Airways and low-cost carrier Vueling, is one of the four bidders selected for the final stages of talks over the assets of insolvent Austrian airline Niki, three people familiar said.
IAG had made an offer for Niki as a whole and was the frontrunner in talks for the carrier, the three sources told Reuters. If no deal is struck with IAG, it is possible that Niki will be carved up among several buyers.
British tour operator Thomas Cook and Niki's founder, former Formula One world champion Niki Lauda, are also among the four, Lauda told German daily Handelsblatt.
The administrators running the process aim to agree a deal by the end of next week, one of the administrators said on Friday. They did not confirm the identity of the bidders.
Lauda, who set up the airline in 2003, said he had been told a decision was to be made on Dec. 28.
Niki was part of collapsed Air Berlin. It filed for insolvency last week after Germany's Lufthansa backed out of a deal to buy its assets on competition concerns, grounding the fleet and stranding thousands of passengers.
The administrators have been racing to find an alternative buyer for its assets before it loses its takeoff and landing slots, its most attractive asset.
Six parties submitted offers by a Thursday deadline, five of which were binding, Niki administrator Lucas Floether said in a statement on Friday, without providing details.
"The bidders are very interested, and I am confident that it will be possible to save large parts of the business and many jobs in Austria and Germany," he said.
A German newspaper had also named Tuifly, the airline of tour operator TUI, as one of the bidders for Niki, and Swiss carrier PrivatAir had expressed interest.
Niki parent Air Berlin, IAG, Thomas Cook and Tuifly declined to comment. PrivatAir was not available for immediate comment.
All of the bidders picked for further talks have indicated that they are prepared to provide Niki with funding to keep it going as soon as a deal is agreed, Floether said.
The head of Niki's works council, Stefan Tankovits, said that December salaries would be paid to the airline's staff.
If Niki's administrators fail to seal a deal for Niki's assets by the end of December, the carrier may lose its operating licence and its runway slots, but Floether said on Friday that Austrian regulators may give the parties a few extra days if an agreement is struck by the end of next week.