Dollar nurses losses as investors fret over U.S. tax plans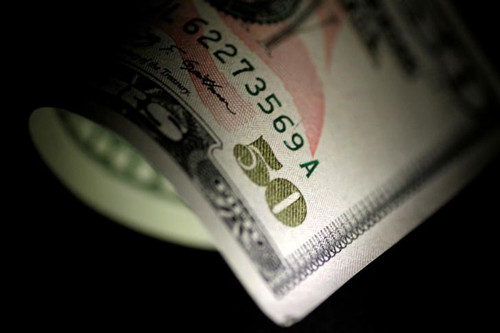 A U.S. Dollar note is seen in this June 22, 2017 illustration photo. (Photo: by Thomas White/ REUTERS)
TOKYO - The dollar licked its wounds on Friday, on track for weekly losses after dropping on disappointment with a tax bill put forth by U.S. Senate Republicans that would delay expected corporate tax cuts.
The dollar index, which gauges the greenback against a basket of six major rivals, was nearly flat on the day at 94.483 (DXY) after skidding 0.36 percent in the previous session, down 0.5 percent for the week.
The Senate Republicans' bill to rewrite the tax code differed from their House counterparts' plan. Like the House version, the Senate's proposal would cut the corporate tax rate to 20 percent from 35 percent, but the Senate plan would delay implementation until 2019.
Both plans call for a tax on $2.6 trillion in foreign profits held offshore by U.S. multinationals. The Senate wants that tax to be 12 percent for cash and liquid assets, and 5 percent for non-liquid assets. The House amended its bill on Thursday, going to 14 percent and 7 percent, respectively.
Both bills would add $1.5 trillion over 10 years to the U.S. budget deficit and national debt, which in the past would likely have faced criticism from Republicans.
The dollar inched 0.1 percent lower to 113.40 yen (JPY), down 0.6 percent for the week and well below its eight-month high of 114.737 logged on Monday.
"I've been warning that November is a dangerous month for the dollar," said Mitsuo Imaizumi, Tokyo-based chief foreign-exchange strategist for Daiwa Securities.
Funds that close their books this month could take profits on dollar-long positions, as well as their holdings of U.S. stocks, he said, adding that U.S. tax plan details could offer them excuses to sell.
Higher U.S. yields underpinned the dollar, with the 10-year Treasury yield (US10YT=RR) at 2.338 percent, compared with its U.S. close on Thursday of 2.331 percent. While yields fell amid uncertainty about tax reform, they rose again as prices were pressured by this week's government and corporate debt supply. (US)
The euro was up 0.1 percent to $1.1650 (EUR), 0.4 percent higher for the week and holding well above a 3 1/2-month low of $1.1553 plumbed on Tuesday.
(Reporting by Lisa Twaronite; Editing by Eric Meijer)