European enterprises bullish about growth prospect in China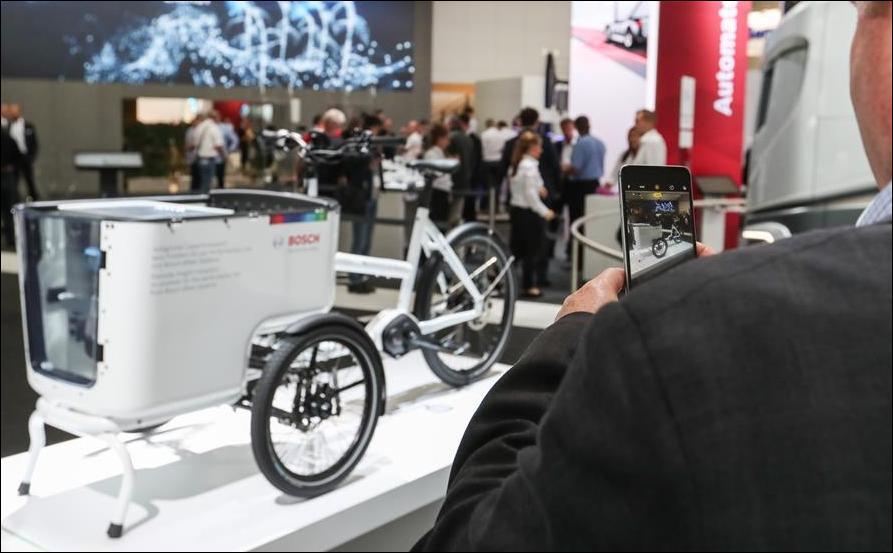 A visitor takes photos of an eBike at the booth of Bosch during the IAA Commercial Vehicles in Hanover, Germany, on September 20, 2018. (Photo: Xinhua)
FRANKFURT, May 18 (Xinhua) -- Although growing protectionism and economic uncertainty are disrupting world trade, Volkmar Denner, chief executive officer (CEO) of Bosch Group, remains optimistic about his company's future growth.
As the sales revenue in China accounted for about 20 percent of Bosch's total sales income of 78.5 billion euros (87.57 billion U.S. dollars) in 2018, he foresaw long-term growth potential in the Asian giant, the largest overseas market for the German engineering and technology company.
Keeping a close eye on the development and economic prospects of China, the CEO of the industrial magnate told Xinhua that he is upbeat about China's economic performance in the long run, and that Bosch will further benefit from higher-quality growth in China.
Beyond Bosch, many European enterprises, particularly multinational giants, tend to see China as a stable and reliable "harbor" for overseas investment and business operations amid current global headwinds, and are participating in China's economic transformation and upgrading, as China-EU economic and trade ties become increasingly stronger.
KEY MARKET FOR BUSINESS GROWTH
Beating market expectations to advance 6.4 percent year on year in the first quarter of 2019, China's economy got off to a good start.
For many European companies, the stable and resilient economic growth in this key market is recognized as a significant drive for businesses, which is reflected in their recent annual or quarterly reports.
German pharmaceutical company Bayer said in its quarterly report that pharmaceuticals have registered an encouraging sales growth of 5.3 percent to over 4.3 billion euros (4.8 billion dollars) in the first quarter of 2019, "with business in China developing particularly well."
Similarly, Swiss-based biotech company Roche registered a 63 percent pharmaceutical sales growth in China, resulting in a 17-percent year-over-year rise in international sales in the same period.
Meanwhile, the German auto manufacturer BMW Group delivered nearly 2.2 million vehicles to Asia, increasing by 45,000 deliveries on a year-on-year basis, according to its quarterly report.
"This performance was mainly achieved on the back of continued dynamic growth in China, where the BMW Group delivered 1,686,631 BMW, MINI and Rolls-Royce brand vehicles to customers, outperforming the market as a whole with a significant increase of 10.2 percent," said the report.
With a comparable sales growth of 2 percent in the first quarter, a spokesman of Amsterdam-based health technology company Royal Philips told Xinhua that Philips recorded in China a double-digit comparable sales growth in its businesses of "Diagnosis & Treatment" and "Connected Care," adding that it also delivered a double-digit order intake growth there during the period.
POTENTIAL IN ECONOMIC TRANSITION
While downgrading global growth forecasts, the International Monetary Fund in April revised up China's 2019 growth projection by 0.1 percentage point to 6.3 percent.
The steady positive growth rate of China's economy as well as the potential momentum of China's new growth model are encouraging European companies to remain optimistic about their long-term development in the Asian market, as well as to grasp opportunities amid the country's economic transformation.
"Philips remains optimistic about the future prospects of the Chinese professional healthcare market," the company's spokesman said.
In Denner's view, the transition of China's economic growth strategy to a more sustainable, innovative and high-quality development will favor technology companies like Bosch.
"Bosch is well-prepared by innovation technology to serve this market ... We think Bosch has very good opportunity to serve the need of the upgrade of manufacturing capabilities in China," he added.
British healthcare company GlaxoSmithKline also observed the encouraging trend, noting in its report that "in China, the authorities accelerated progress towards bringing innovative treatments to market. This included increasing the pace and frequency of reimbursement coverage, especially for oncology drugs."
KEEP INVESTING IN CHINA
Many European entrepreneurs agree that expanding investments and businesses in China is a wise and profitable option in the long term, particularly when the country is committed to opening its door wider.
In March, Bosch held a groundbreaking ceremony to mark the start of its plant expansion in the western Chinese city of Xi'an. Bosch's wholly owned subsidiary Bosch Rexroth invested around 60 million euros (about 67 million dollars) in the new center of factory automation in Asia.
Apart from Xi'an, Bosch also continued to invest in its plants in the eastern Chinese cities of Wuhu and Nanjing, Denner said. "(The) Chinese government is encouraging foreign investors to invest in the country. That is positive for companies like Bosch."
Denner underlined that the high investment rate in China is related not only to manufacturing activities, but to local high-quality innovation.
London-based oil giant British Petroleum (BP) has launched its first branded retail station in China's eastern Shandong province, marking the start of its plan to add 1,000 new sites over the next five years to the existing network in China with more than 740 sites.
Particularly, the energy company opened a dedicated electric vehicle charging station in the first quarter in China, according to its quarterly report.
"I always think of China as the jewel in the crown," said Bill McDermott, CEO of Germany's largest software company SAP. "When you think about the world's second-largest and fastest growing economy, you have to be super excited."
In McDermott's view, SAP is performing well in China thanks to its close cooperation with Chinese partners like Alibaba and China Telecom and contributes to the Chinese economy as well.
"I love being in China. I love innovating in China, for China," McDermott said.