Companies try to meet demand for safer water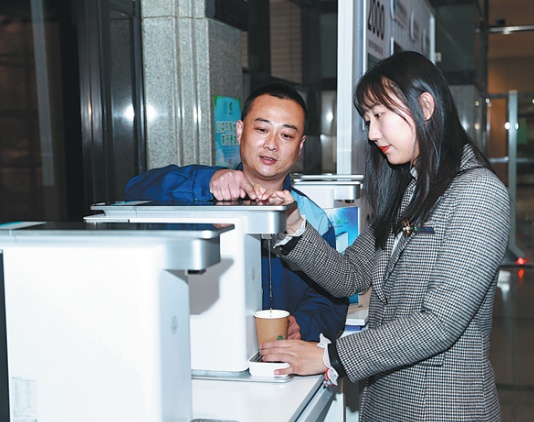 Demand for safer and cleaner drinking water is soaring in China on consumer concerns about health and safety at home, offices and restaurants.
Younger consumers are showing a stronger desire for improved water quality, a recent report found.
Those born in the 1990s are also keen to upgrade their water purifying devices at home.
That's not all. Younger consumers are willing to use professional means to judge the quality of water, according to a survey from market research company Ipsos.
China's water purification device market size is estimated at 40 billion yuan ($6.13 billion) in annual sales. About 20 percent of Chinese families have water purification equipment installed at home, according to British-Dutch consumer goods company Unilever Plc.
"For many Chinese consumers, they prefer to use highly purified water to make tea and coffee. Besides, some young parents have bought water purifying equipment to put in their bedrooms, and thus it would be easier to brew formula milk for babies at night," said Pan Shiyang, China general manager of water and air wellness at Unilever.
"In addition, some Chinese consumers would like to use purified and softened water to couple with personal care products and makeups. Those who have installed the devices may have higher demand for better equipment, and there is a remarkable potential for growth of the devices in the next few years," he said.
In China, major water purification device retailers include Truliva, Midea Group, Xiaomi Corp and Haier Group. They have seen fast growth of water purification products online in the past few years, according to market research company AskCI Consulting.
As a Chinese proverb goes, when one drinks water, one must not forget its source.
Chinese water purification retailer Truliva, acquired by Unilever in 2014, said in the next decade it will help protect the environment and water quality of the Sanjiangyuan area in Qinghai province.
Sanjiangyuan is home to the headwaters of the country's three major rivers, namely the Yangzte River, the Yellow River and the Lancang River, and it serves as an important source or origin of fresh water resources in China.
"The Sanjiangyuan area is China's largest natural reserve. It contributes nearly half of flow to the Yellow River and nearly a quarter of flow to the Yangzte River. In the high-altitude region, it requires long routes to transport water and recycle waste. So, we should actively promote the use of degradable plastics there," said Liu Ruiping, a professor with the School of Environment at Tsinghua University.
Truliva said in the next 10 years, it would help provide products, professional staff and advanced technologies to protect water safety in the Sanjiangyuan region, and contribute to the green development of the area.
This year, the philanthropic project plans to help strengthen water quality supervision and install water purification devices locally, and make garbage sorting and recycling more environmentally friendly. The company will help local villages to reduce domestic solid waste and encourage more herders to use recyclable materials.
"The ecological protection of Sanjiangyuan is related to climate change globally and the drinking water safety of billions of Chinese. We would like to urge more social forces to join in the protection of the area," said Xu Guang, director-general of the China Environmental Protection Foundation.