Volkswagen taps Brazil growth with new model to challenge Fiat, GM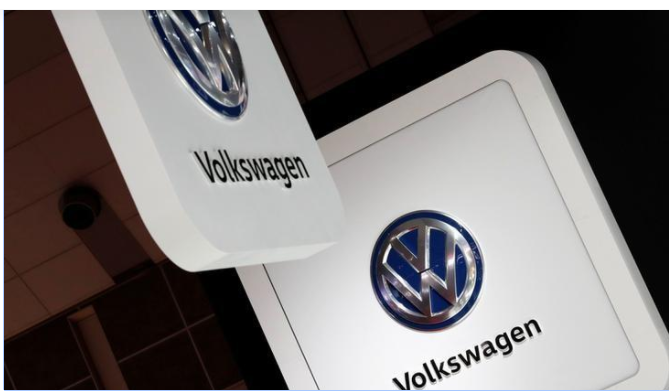 Volkswagen's logos pictured at the 45th Tokyo Motor Show in Tokyo, Japan October 25, 2017. (Photo - Reuters - Kim Kyung-Hoon)
Volkswagen launched its new Virtus model on Thursday to tap Brazil's highest-volume segment as part of a recovery plan that analysts said will help it regain ground on rivals General Motors and Fiat in South America's largest car market.

The German carmaker said the launch of the new model in Sao Paulo was part of a plan to spend about 1.8 billion euros ($2.12 billion) to roll out 20 new models in Brazil by 2020.
Returning to profit in markets such as Brazil, the United States and Russia is vital for Volkswagen as it pushes to revive the core VW brand that accounted for more than half the group's 7.8 million auto sales in the first nine months but only 19 percent of underlying profit.The world's biggest automaker last week announced 560 million euros of investment in Argentina to build the first sport-utility vehicle (SUV) in Brazil's neighbor. It hopes the launch of 20 new models in South America by 2020 will restore it to profitability in the region.
"We will do everything possible in coming years to win back the leading position of VW" in Brazil, VW brand sales chief Juergen Stackmann said.
VW, which slashed about 7,000 jobs in South America in past years and shrunk its dealer network, has said it wants to reduce the average age of the brand's Brazilian lineup to less than five years by 2020 from eight years in 2015.Brazil was one of the world's five biggest auto markets until the 2014-16 downturn and remains a major base of operations for Fiat Chrysler Automobiles NV, GM, VW and Ford.
Analysts said VW had been slow in the past few years to refresh models in Brazil and set slightly higher prices than mainstream peers which overhauled lineups in the passenger-car heavy Brazilian market more quickly.
"It's not unrealistic to say that VW had not been refreshing things very quickly," said IHS Markit analyst Stephanie Brinley. Price premiums "are difficult to translate into a (Brazilian) market that doesn't have capacity for a higher price at all."
To cut costs and be able to lower prices, VW fully developed the Virtus in Brazil, giving proof of its post-dieselgate strategy to cede more power from its Wolfsburg headquarters to regions and brands.
A Volkswagen VW car is seen at a car dealer in Bochum, Germany March 16,2016. (Reuters - Ina Fassbender)

VW admitted in September 2015 that it had used illegal software to cheat U.S. diesel emissions tests, sparking the biggest business crisis in its 80-year history and saddling it with a $30 billion bill.
The new four-door Virtus, to be built at Anchieta near Sao Paulo, is one of the first cars to be spawned from a new localised version of the MQB modular platform that underpins most of the VW group's small and medium front-wheel-drive models.
The carmaker said it spent 660 million euros modernizing the 60-year-old factory, VW's first plant outside Germany, where the Virtus and Polo will be assembled.
Market research firm IHS expects VW's new models to help narrow the sales gap with market leaders Chevrolet and Fiat.
VW brand sales of passenger cars and light commercial vehicles in Brazil may jump 44 percent to 413,776 units by 2023 from an estimated 286,745 next year, IHS said.By comparison, IHS expects sales of Fiat to grow only 26 percent to 475,686 cars while it sees sales of Chevrolet rising 18 percent to 444,744 models."Brazil may not be the highest-margin market but it's a huge market with vast potential for VW," said NordLB analyst Frank Schwope who has a "Buy" rating on the stock.