Unicom expert delinks 5G goals from US curbs on Huawei
People's Daily
1590111357000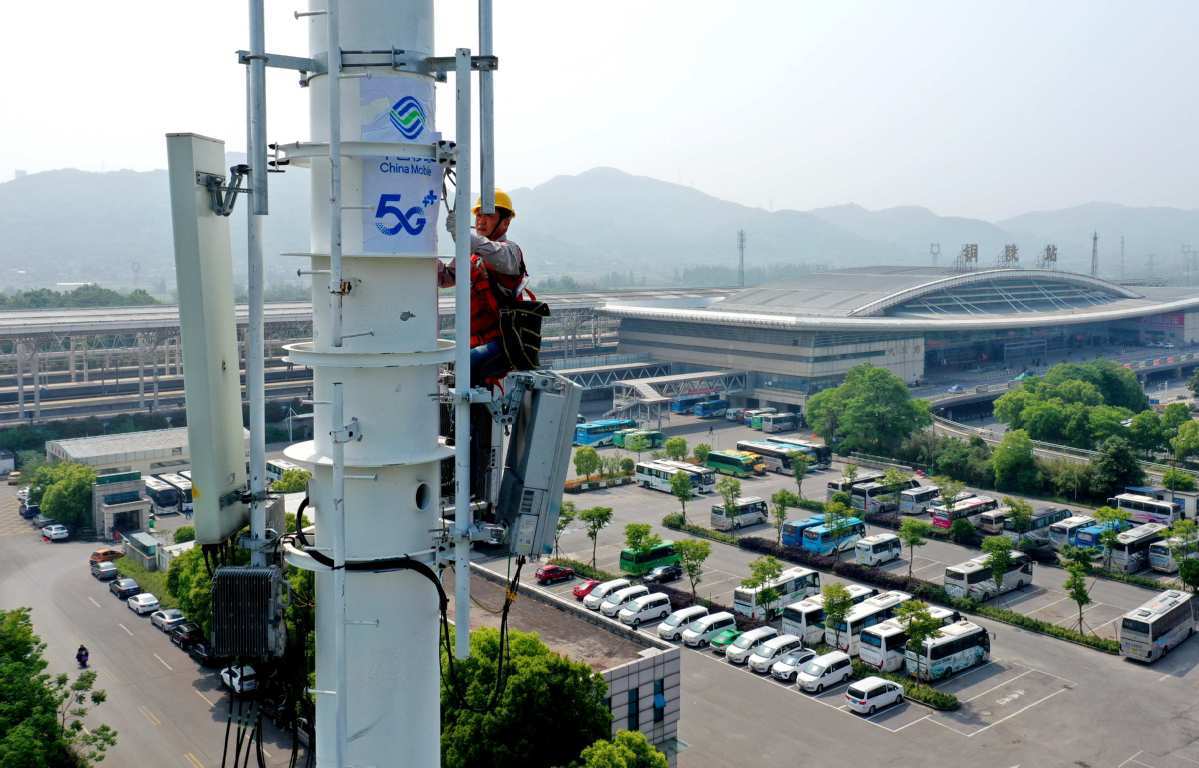 A China Mobile employee checks a 5G base station tower in Tongling, Anhui province. (Photo: China Daily)
China can achieve its target of having about 1 million 5G base stations by the end of this year, despite the US government's latest curbs on Huawei Technologies Co, a national political adviser and renowned 5G expert said.
Zhang Yunyong, a member of the 13th National Committee of the Chinese People's Political Consultative Conference, said Chinese telecom carriers have already completed the bidding process for this year's 5G telecom gear.
Huawei telecom gear accounted for more than 50 percent of the bids, while its domestic rival ZTE Corp had more than 20 percent, said Zhang, who is also the head of the research institute at China Unicom, a major telecom carrier.
"Despite the recent curbs on Huawei, Chinese telecom carriers can accomplish the target of having about 1 million 5G base stations by the end of this year," Zhang said in an interview on Wednesday.
Zhang's comments came after the US Department of Commerce issued new rules earlier this month that could block Huawei and its suppliers from using US technologies for design and manufacture of semiconductors.
A source familiar with Huawei, who declined to be identified, told China Daily that Huawei has stocked some components which could, to some extent, ensure its supplies to the nation's big three telecom carriers including China Mobile, China Telecom and China Unicom.
Guo Ping, rotating chairman of Huawei, said earlier this week that the company has a prearranged plan for the new tightened restrictions and is confident of finding solutions as soon as possible.
Last year, Huawei's spending on inventory of components surged 73.4 percent on a yearly basis to 167.4 billion yuan ($23.6 billion), Guo said.
Fang Jing, chief electronics analyst at Beijing-based Cinda Securities, said Huawei's stocks of core components are likely to last for more than six months.
China is stepping up its push to accelerate the rollout of 5G tech in the country. The Ministry of Industry and Information Technology, the nation's top industry regulator, said on Sunday that over 200,000 5G base stations have become operational in the country.
Zhang from China Unicom said: "All the 5G base stations built in China this year have adopted standalone network architecture, and can run better than the non-standalone network architecture."
Non-standalone networks differ from stand-alone ones as the former still relies on existing 4G infrastructure to realize some of its functions.
According to Zhang, by the end of this year, 5G base stations will be scattered around 350 cities in China, with 5G signals covering most parts of first and second-tier cities.
"Chinese companies' overall investment into 5G network is likely to hit 2 trillion yuan to 3 trillion yuan. Such a gigantic investment can help spur economic growth, fuel the development of digital economy, and create a sound telecom infrastructure for upgrade of traditional sectors," Zhang said.
China Unicom and China Telecom have been working hard to build a nationwide 5G network since last year, so as to reduce construction costs.
"We used to be independent entities that compete against each other. But in the face of the huge investment needed in 5G and slowing growth in profits, we are partnering for 5G to jointly construct a network," Zhang said.
On Wednesday, China Mobile, the nation's largest wireless operator with almost 947 million mobile subscribers, said it will partner with China Broadcasting Network Corp to jointly construct a nationwide 5G network.
The two sides said they will jointly determine network construction plans, jointly invest in the construction of the 700 MHz 5G wireless network at a ratio of 1:1, and jointly own and have the right to use the 700 MHz 5G wireless network assets.
The Chinese government granted a 5G commercial license to China Broadcasting Network, which manages the national radio and television networks in the country, last year, making it the nation's fourth telecom carrier.