Companies going back to work as epidemic situation improves across China
People's Daily Online
1583141020000
More companies are racing to resume work and production across China as the country increases policy support and the novel coronavirus epidemic situation sees positive changes.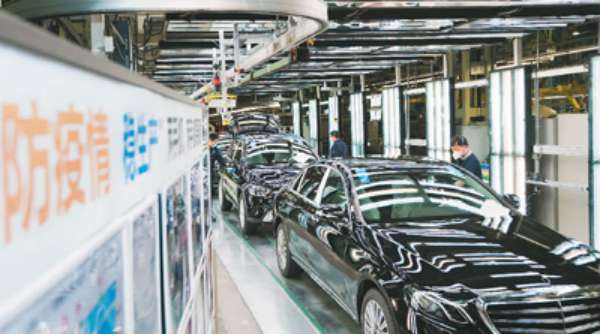 Cars roll off the production line in the Beijing Benz Automotive Co., Ltd. (Photo/People's Daily)
Data shows that 91.7 percent of central enterprises in the country have resumed work, while the work resumption rate for industries such as petroleum, petrochemicals, communications, power grid and transportation is over 95 percent.
More than 80 percent of foreign enterprises in China have gone back to work, and 95 percent of hypermarkets have reopened. In addition, over 30 percent of China's small and medium-sized enterprises have resumed work and production.
At the local level, 82.5 percent of companies in south China's Guangdong province, more than 85 percent of foreign enterprises in east China's Zhejiang province, and 96.1 percent of large-scale companies in the Yangtze River Delta region have resumed operations.
Meanwhile, over 3,000 companies in the Beijing Economic and Technological Development Zone (BETDZ) are seeing a return to normal business. Data from the State Grid Beijing Electric Power Company shows that daily electricity consumption, a key barometer of economic activity, in the economic zone on Feb. 27 accounted for 98.3 percent of the daily consumption of last December.
However, companies can only go back to operating at their normal capacity on the premise of preventing the spread of the virus.
"We keenly recognize that we must first implement measures to prevent the epidemic in a strict manner," said an official with the BETDZ management committee, adding that the committee has released a guide for companies on how to do this, including regular disinfection measures.