South Korea to hold emergency meeting on cryptocurrencies, measures expected Friday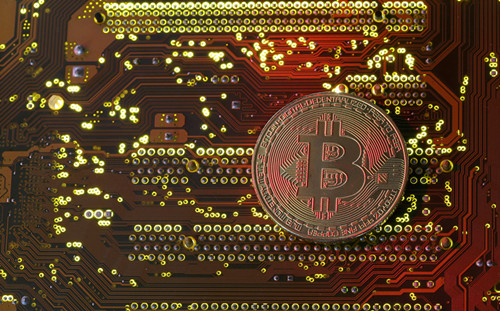 A copy of bitcoin standing on PC motherboard is seen in this illustration picture, October 26, 2017. (Photo:Dado Ruvic/ Reuters)
SEOUL - South Korea's government has called an emergency meeting to discuss the trading of cryptocurrencies, and measures on the market will be announced on Friday, a central bank official said on Wednesday.
The official declined to give further details, but the announcement underscores how global regulators are grappling with the frenzy over cryptocurrencies, just days after the launch of the world's first bitcoin futures.
Bitcoin-related shares slumped in early trade. Vidente Co Ltd <121800.KQ> and Omnitel Inc <057680.KQ>, which hold stakes of South Korea's biggest bitcoin exchange Bithumb, fell 8.4 percent and 4.9 percent, respectively. Bitcoin mining-related company JCH Systems Inc <033320.KQ> shares dropped 4.2 percent.
South Korean policymakers are facing a growing chorus of calls to regulate the market as sharp volatilities in virtual currency trading such as bitcoin <BTC=BTSP> has created a new tribe of traders called "bitcoin zombies."
Earlier on Wednesday, Australia's central bank governor said the fascination with virtual currencies feels more like a "speculative mania."
The comments come days after his New Zealand counterpart said bitcoin appeared to be a "classic case" of a bubble and that its future was in doubt.
As bitcoin notched more than 15-fold increase in value this year, Prime minister Lee Nak-yeon in November said he is worried about students jumping into the frenzy, and called on the government to take action as "some serious pathological phenomenon" could arise if left unchecked.
The finance minister said on Monday that ministries are in talks to decide whether such trading should be regulated, while the chief of the financial regulator said some Justice Ministry officials are calling for an outright ban on cryptocurrency trading. No decisions have yet been made, however, on regulating the market.
South Korea currently bans all financial institutions from dealing with virtual currencies.
But the country is among the world's biggest bitcoin markets and is home to the world's most active virtual currency exchange, Bithumb.
Bitcoin <BTC=BTSP> is trading at $16,850 on the Luxembourg-based Bitstamp exchange on Wednesday, near its lifetime high of $17,428 reached on Tuesday.