Thai Bev's unit seeks to buy a near $5 billion stake in Sabeco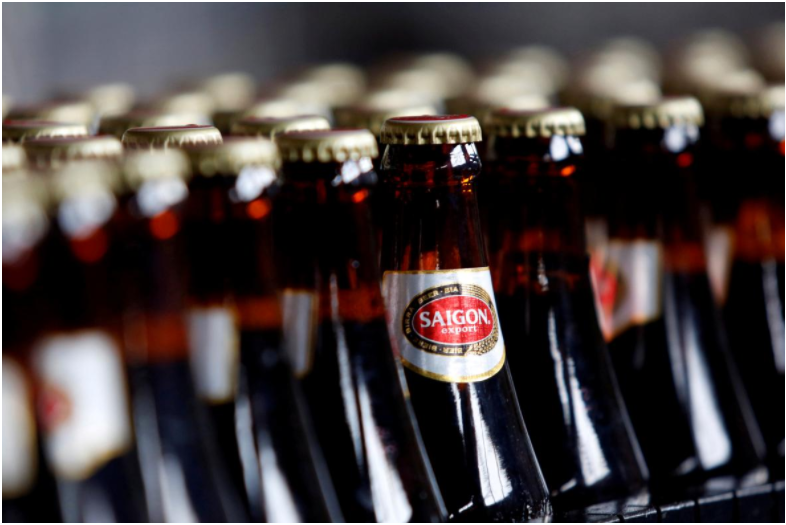 Bottles of beer move along a production line at a factory of Saigon Beer Corporation (Sabeco) in Hanoi, Vietnam May 26, 2015. Photo: REUTERS/Kham
Vietnam's trade ministry said on Sunday that Vietnam Beverage Co Ltd, a unit of Thai Beverage, was the only investor seeking to buy all shares of Vietnamese brewer Sabeco SAB.HM on offer worth nearly $5 billion.
The keenly anticipated sale of the state-owned maker of Bia Saigon gained momentum in recent months after being hampered for years by political resistance, fickle policy-making and complications over valuations.
The government has set a minimum sale price of 320,000 dong or $14.10 per share for Saigon Beer Alcohol Beverage Corp (Sabeco), whose shares have nearly trebled to 309,200 dong since its listing a year ago.
The trade ministry said in a statement on Sunday that two investors had registered to participate in the Dec. 18 sale auction for a stake in Sabeco, with Thai Bev's unit Vietnam Beverage wanting to buy all shares on offer worth around 54 percent of Sabeco.
The other investor is a Vietnamese individual who registered to buy 20,000 Sabeco shares, or 0.003 percent of Sabeco, the ministry said.
The formal bid is scheduled for Monday when the two investors submit their bidding prices.
Vietnam's young population and booming economy should make Sabeco an attractive asset for global brewers hoping to expand in Southeast Asia, but a high minimum bid price and foreign ownership limits appear to have turned off potential buyers.
Sabeco's foreign ownership is capped at 49 percent. With 10 percent already in foreign hands, that leaves only 39 percent on the table for overseas buyers at Monday's auction. Local bidders can bid for a majority stake of up to 54 percent. Heineken holds a 5 percent stake.
"DISCONNECT"
Reuters previously reported that the auction was drawing the interest of brewing groups such as Anheuser-Busch InBev, Kirin Holdings, Asahi Group Holdings and San Miguel, but the ministry statement showed that these brewers would not participate in the auction.
"There's a disconnect between what the government wants to achieve and how international brewers view this auction," said one person familiar with the matter."In a normal auction, bidders are fully aware of what stake they'll end up owning and bid for it accordingly," said the person, who was not authorized to speak to the media.Unlike similar sales in developed markets, where investors are whittled down over several rounds and offers can be adjusted, Sabeco bidders need to submit a single offer for a specific number of shares in a sealed envelope in one round.
The government's minimum price for the 54 percent stake on offer valued Sabeco at about 36 times core earnings, more than double the trading multiples of around 15 for some global peers, according to Reuters data.Thai Bev, controlled by tycoon Charoen Sirivadhanabhakdi, was keen to acquire Sabeco as part of a strategy to expand outside its home market, sources told Reuters.
There was no immediate response from Thai Bev to a query from Reuters.Vietnam's trade ministry is expected to announce the bidding result on Monday afternoon.