Germany's move to intervene in Chinese investment a sign of panic, could harm German firms
Global Times
1533750790000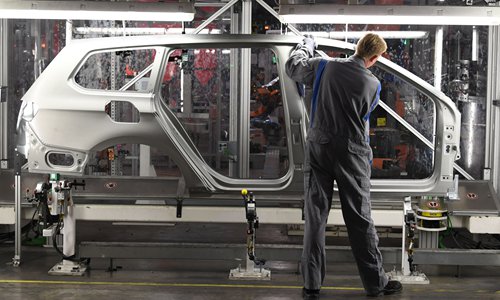 A worker assembles a Volkswagen car on a production line in the German car manufacturer's factory in Emden, Germany in June 2017. (Photo: IC)
Germany's latest plan to intervene in Chinese investment shows the country is panicking about China catching up in the tech field, as Germany's technology sector has entered a bottleneck period of slowing growth, analysts said on Wednesday.
But such concerns should be no reason for Berlin to intervene in Chinese investment as it could bring losses to German firms and the country will risk missing out on the dividends and results of China's further opening-up.
Berlin wants to be able to intervene earlier if a non-EU investor acquires 15 percent of a German company, Die Welt newspaper reported on Tuesday, citing a draft law. The draft law is mainly targeted at Chinese investors, according to the report.
Germany's move is more than likely part of a chain reaction following the escalating China-US trade war as well as the US alliance with the EU in trade, Zhang Jiayuan, a partner at Beijing-based Ransenhuizhi Investment Fund Management Co, told the Global Times on Wednesday.
There was already a lot of cooperation between the Chinese and German manufacturing sectors before the current trade situation, Zhang said, adding that Germany should not restrict industrial tie-ups and investment from China at this point of time, because "the timing is quite sensitive and the German attempts to confront Chinese investors are somewhat an echo of political issues in the world."
An industry insider surnamed Chen agreed, saying that "if Germany closes its door against China, the country itself will be largely hit as it will lose the chance to share the results of China's further opening-up."
Chen told the Global Times that Germany should take a firm stance with China when confronting the US, which has been opposing globalization and advocating protectionism.
Dong Dengxin, director of the Finance and Securities Institute at Wuhan University of Science and Technology, said that Chinese capital complements and stimulates the German market, and has helped create many jobs in the country.
"It is unreasonable for the German government to intervene against Chinese investors," Dong told the Global Times on Wednesday.
Not a threat
There have been concerns in Germany that China is gaining access to key technologies via takeovers, according to media reports.
German Economy Minister Peter Altmaier said the government wants to take a closer look in the future when it comes to defense-related firms, key infrastructure or certain sectors of other civil security-related technologies like IT security, the Die Welt report said.
In the past decade, Chinese capital has been active in expanding overseas markets, particularly in sectors such as advanced manufacturing and high technology, and the strong trend has made foreign countries like the US and Germany "panic," Dong said.
Driven by the Chinese government's encouragement of "going global," domestic investors have strong demand for expanding new markets, and they mainly focus on business interests and hope to reach global business partners that can share sound experience with them, experts said.
"Such worries in the German market also show that its technology sector has entered a bottleneck period of slowing growth," Zhang said.
German companies had previously excelled in traditional industries such as autos, machine building and biotechnology, but the country's industrial upgrading and technology growth have slowed down in recent years, according to experts.
Given the context, the intervention would cut growth opportunities for German firms as they need Chinese capital, Dong noted.
Many Chinese investors have helped German enterprises make up for loss, Gao Feng, spokesperson of China's Ministry of Commerce, said at a meeting in February, citing a report released by consulting firm PwC's German office at the end of 2017.
China's direct investment in the German market was $2.27 billion in 2017, and cumulative foreign investment from the Chinese mainland accounted for less than 1 percent of Germany's cumulative foreign investment.