Pollution woes inspire high-tech solutions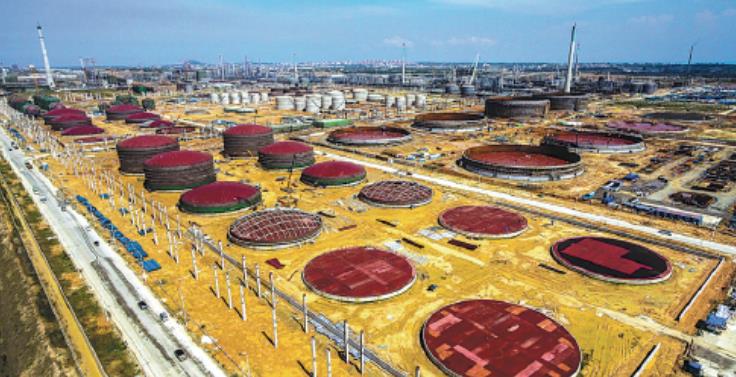 The Zhongke Refinery and Petrochemical project in Zhanjiang, Guangdong province. (Photo: China Daily)
Steel and petrochemical firms are greening operations with smart manufacturing and innovative technologies
The steel and petrochemical industries have long been seen as major contributors to heavy pollution. However, some companies are starting to green their operations with smart manufacturing and innovative technologies.
Baosteel Zhanjiang Iron and Steel is a good example. The plant, located on Donghai Island, 40 kilometers from downtown Zhanjiang in South China's Guangdong province, has made a massive investment to make the steel plant environmentally friendly. Nearly 5 billion yuan ($698 million) of the 50 billion yuan invested in building the coastal plant was allocated for environmental protection - the largest amount by a domestic iron and steel manufacturer.
It is China's first modernized iron and steel enterprise to comply with the ultralow emission standards set by the Ministry of Ecology and Environment. High-tech solutions have been used to reduce harmful gases, while waste water is recycled to protect the environment.
The plant began operation in 2015 and it produced 8.39 million metric tons of molten iron and 8.62 million tons of commercial billets, which brought 39.06 billion yuan in revenue in 2018. Its net profit hit 4.21 billion yuan.
"Baosteel Zhanjiang is positioned to become the world's most efficient green production base for carbon steel," said Sheng Genghong, vice-president of Baosteel and head of the Zhanjiang project.
Carbon steel, which is thin and strong, is a profitable part of the steel business used to supply automakers and home appliance manufacturers.
Also on Donghai Island, the Zhongke Refinery and Petrochemical project has adopted a high-end and fine development strategy, filling the gaps in the domestic chemical industry. Not far away is the German chemical giant BASF's largest single foreign investment in China and BASF's third-largest production site in the world, after those in Ludwigshafen and Antwerp in Belgium, with a total investment of $10 billion.
"Zhongke employs world-leading manufacturing control technologies that decrease emissions and are energy efficient and its sustainability model exceeds the world's highest standards," said Liu Tao, head of the project's department of sustainability. "Zhongke's sustainability model is centered around clean manufacturing, with 3.6 billion yuan investment toward sustainability annually."
Ao Aiguo, deputy general manager of Baosteel Zhanjiang, said: "In fact, some of our energy-producing products can be used as raw materials for Zhongke and BASF projects, and some of their intermediate products can be used on our processing lines."
Complementing each other through a circular economy model, they will mutually supply and prepare oxygen, nitrogen, hydrogen and shared construction materials, raising the credibility of company operations and decreasing construction and operation costs, thus achieving a win-win situation.
Driven by the industrial clusters based on mass entrepreneurship and cutting-edge technologies, Zhanjiang has moved a step closer toward its goal of becoming a subcenter in Guangdong.
"We focus on big investment projects and the development of industrial parks - from single projects to a full industrial chain - which will be ultimately developed into a modern industrial system with high-level performance," said Zhanjiang Mayor Jiang Jianjun.
Reaching out for increased integration with the Greater Bay Area, and located in the southernmost part of Guangdong, Zhanjiang is endowed with an unrivaled geographical position and a vast market, said Jiang.
The city's deep-water port makes the transport of iron ore from Australia and Brazil and exports of finished products to southern China, Southeast Asia and beyond more cost-effective than almost anywhere on the mainland, which cuts costs for enterprises like Baosteel Zhanjiang.
The local government will kick off a project to upgrade the Zhanjiang deep-water port channel to allow it to accommodate vessels of 400,000 tons rather than the current 300,000 tons, Jiang said. After the improvement, the port will be an international seaway able to handle sea traffic from more than 150 countries and regions.
In July, the first high-speed railway came into the city, connecting Zhanjiang with other Pearl River Delta cities. Another four high-speed lines will feed Zhanjiang in the future.
When Zhanjiang can more rapidly access the Pearl River Delta and the Beibu Gulf cities via new rail lines, it will become a more important investment destination for investors from those areas, said Nie Bing, director of the city's development and reform bureau.
"We have a favorable geographic location, abundant natural resources and excellent eco-environment. Big investors can accelerate the transition and upgrade the industry of Zhanjiang and promote its fast development as a result," Nie said.
More important, convenient transportation can attract talented people to Zhanjiang, and that is a critical element for the city's development, he said.
Frank Zhou contributed to this story.