China, ASEAN can work together on digital economy
chinadaily.com.cn
1579097335000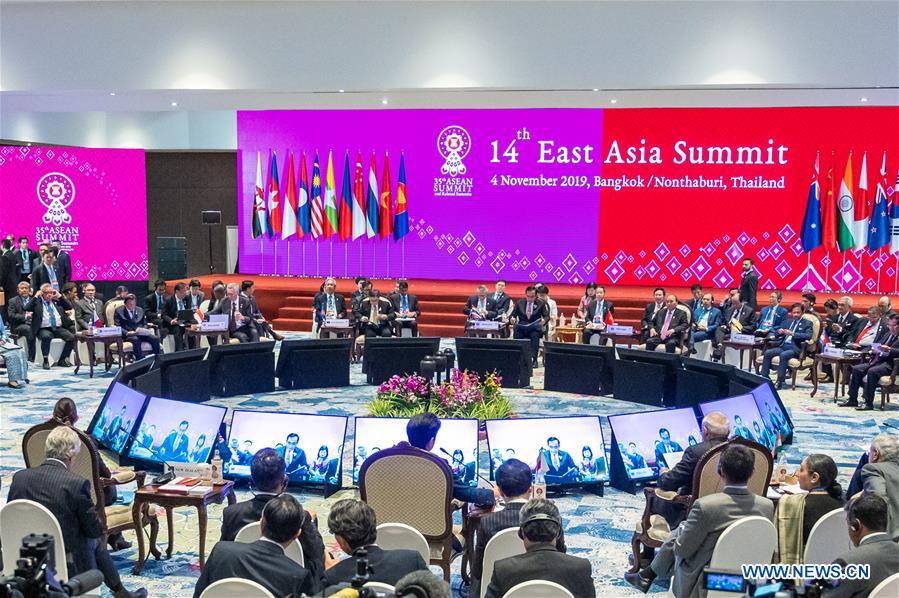 Participants attend the 14th East Asia Summit in Bangkok, Thailand, Nov. 4, 2019. The summit is an annual regional event gathering 10 members of the Association of Southeast Asian Nations (ASEAN), as well as China, Japan, South Korea, India, Australia, New Zealand, Russia and the United States. (Photo: Xinhua)
The digital economy is emerging as an area of focus for future cooperation between China and other ASEAN (Association of Southeast Asian Nations) countries, an expert said.
Xu Ningning, executive president of the China-ASEAN Business Council, said on Tuesday that the digital economy, including e-commerce, 5G and many other sectors, will be a key focus of business communication and cooperation between China and ASEAN countries in 2020.
The remarks came after China and ASEAN agreed to strengthen economic ties in the digital economy during the 22nd ASEAN-China Summit held in Bangkok in November.
"ASEAN countries have emerged as a destination of choice for Chinese investors amid economic uncertainties. We have seen a great number of Chinese companies choose to invest in Vietnam, Cambodia, Laos, and Myanmar," Xu said.
"Despite seeing great investment opportunities, those companies are also facing challenges like a lack of knowledge about local laws and regulations," Xu added. "We called for a commercial service center that can provide Chinese companies with such information services in ASEAN countries."
According to data from the General Administration of Customs, ASEAN has become China's second-largest trade partner with imports and exports totaling 4.43 trillion yuan ($643 billion) in 2019, up 14.1 percent year-on-year.