World wine output falls to 60-year low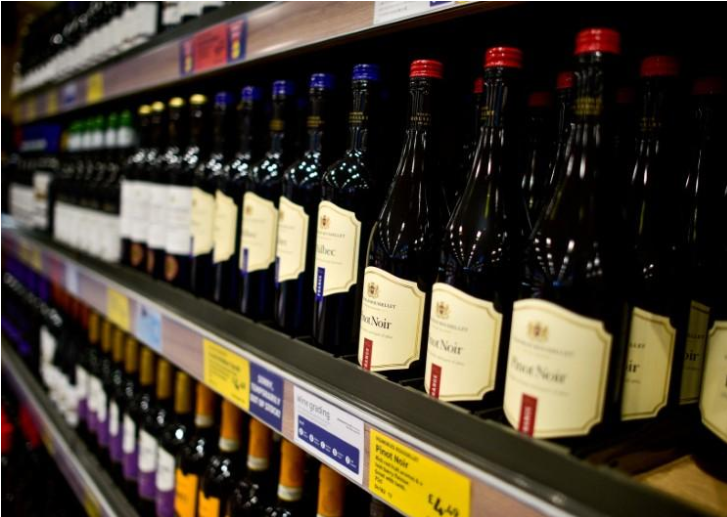 Bottles of wine displayed on a shelf in an Aldi store in London, Britain, February 15, 2018 (Photo: Reuters)
Global wine output fell to its lowest level in 60 years in 2017 due to poor weather conditions in the European Union that slashed production in the bloc, international wine organisation OIV said.
Wine production totaled 250 million hectoliters last year, down 8.6 percent from 2016, data from the Paris-based International Organisation of Vine and Wine (OIV) released on Tuesday showed.
It is the lowest level since 1957, when it had fallen to 173.8 million hectoliters, the OIV told Reuters.
A hectoliter represents 100 liters, or the equivalent of just over 133 standard 75 cl wine bottles.
All top wine producers in the EU have been hit by harsh weather last year, which lead to an overall fall in the bloc of 14.6 percent to 141 million hectoliters.
The OIV's projections, which exclude juice and must (new wine), put Italian wine production down 17 percent at 42.5 million hectoliters, French output down 19 percent at 36.7 million and Spanish production down 20 percent at 32.1 million.
The French government said last year production had hit a record low due to a series of poor weather conditions including spring frosts, drought and storms that affected most of the main growing regions including Bordeaux and Champagne.
In contrast, production remained nearly stable in the United States, the world's fourth largest producer, and China, which has become the world's seventh largest wine producer behind Australia and Argentina.
Trends were mixed in Latin America, with a rise of 25 percent in Argentina after a very low production in 2016 and a decline of 6 percent in Chile.
Global wine consumption edged higher at around 243 million hectoliters in 2017, up 1.8 percent from a year earlier. The United States confirmed its position as largest world wine consumer with 32.6 million hectoliters, followed by France at 27 million.
Chinese wine consumption rose significantly for a third year in a row with an increase in 2017 of 3.5 percent at 17.9 million hectoliters.
On the export market, Spain remains the largest exporting country by volume with a global market share of 20.5 percent, while France keeps its leading position in value with 9.0 billion euros ($11 billion) of wine exported last year.
In total, global exports totaled 107.9 million hectoliters in 2017, up 3.4 percent on the previous year, and 30 billion euros in value, an increase of 4.8 percent on 2016.
(This version of the story amends final paragraph after OIV corrected global exports percentage)
($1 = 0.8201 euros)